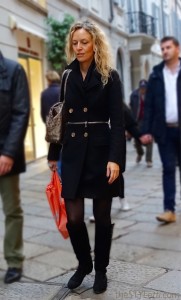 Whenever I set out to update my wardrobe, I have to face an internal battle between sticking with classics or going for something daring and expressive. This year after moving from California to Seattle, I need to stock up on cold-weather garb. Most recently my practical side won out, and I invested in a classic, clean-lined long black heavy wool coat by Cinzia Rocca (arriving by FedEx tomorrow!)
If my coat budget weren't spoken for, however, I would definitely be getting a statement coat. I mean, what better way is there to brighten your spirits on a cold, blustery day – while making a style statement?! So in anticipation of the next time around, I've gathered images of my 18 favorite statement coats seen in San Francisco, New York, and Milan.
Here they are – from elegant to casual to just plain fun!
ELEGANT COATS
1 – A coat with a fur collar is instant elegance. I was captivated in San Francisco by this one in a gorgeous shade of purple. (The 1920s-esque shoes, by the way, give the whole look a retro spin.)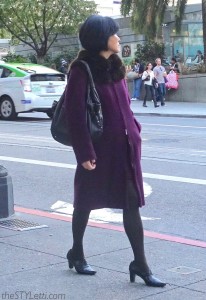 2 – Although this New Yorker first caught my eye for her gait (featured in a former post), I could not overlook her coat's back pleat and hue – both uncommon in leather and making the coat ultra classy.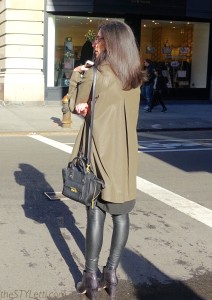 3 – A bright oxblooad color is sufficient to make this classic, sophisticated coat (in Milan) stand out.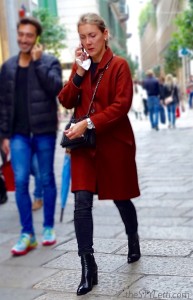 4 – Also tasteful are the pattern, colors, and interior of this coat – cool lining too! The Milanese wearer's accessories and dress underneath reflect refined taste: subtle black and white.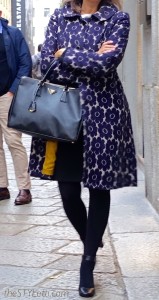 We might contrast that with how the woman pictured below wears her otherwise fine coat. I recently blogged about mixing up patterns and colors, but as you can see it must be done with care.
CASUAL COATS
5 & 6 – These first two are heavy on the '60s retro (very San Francisco! Love the giant buttons! Black thumbhole sleeves to the left are also a nice west coast (read "sporty casual") touch.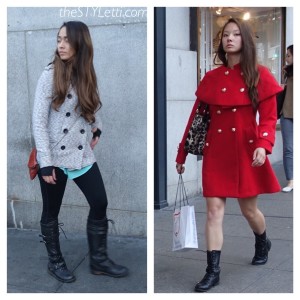 7 – Also quite San Franciscan (think "tie-dye") is this color-dipped coat. I love how the wearer accentuates the color transition with black tights on the bottom and bright red handbag and lipstick up top.
8 – The subtly eye-catching lines of our next in line reflect this New Yorker's taste for something with a more sophisticated, artistic flair.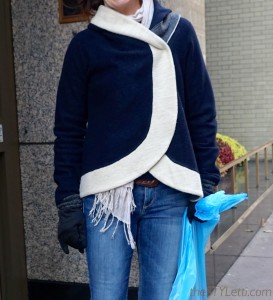 9 – And then we have a very white retro coat seen in New York with exaggerated collar and belt; from a distance, the white knit hat almost looks like a pill box.
10 – Two of my favorite coat trends this fall/winter are three-quarter length (or shorter) sleeves and fur collars. This coat spotted in Milan has it all! The sparkly ivory sweater peaking out at the bottom of the sleeves and waistline also makes for a festive touch.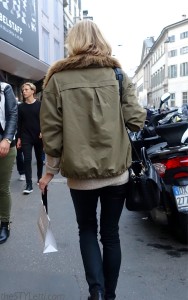 11 – Yes, I had to include a puffer coat, but wait, this one is special! Thinner panels are so much more flattering that the first sleeping bag-like models. And the coat (seen in Milan) has super cool shorter sleeves or else, is attached to black leather ones – cooler yet!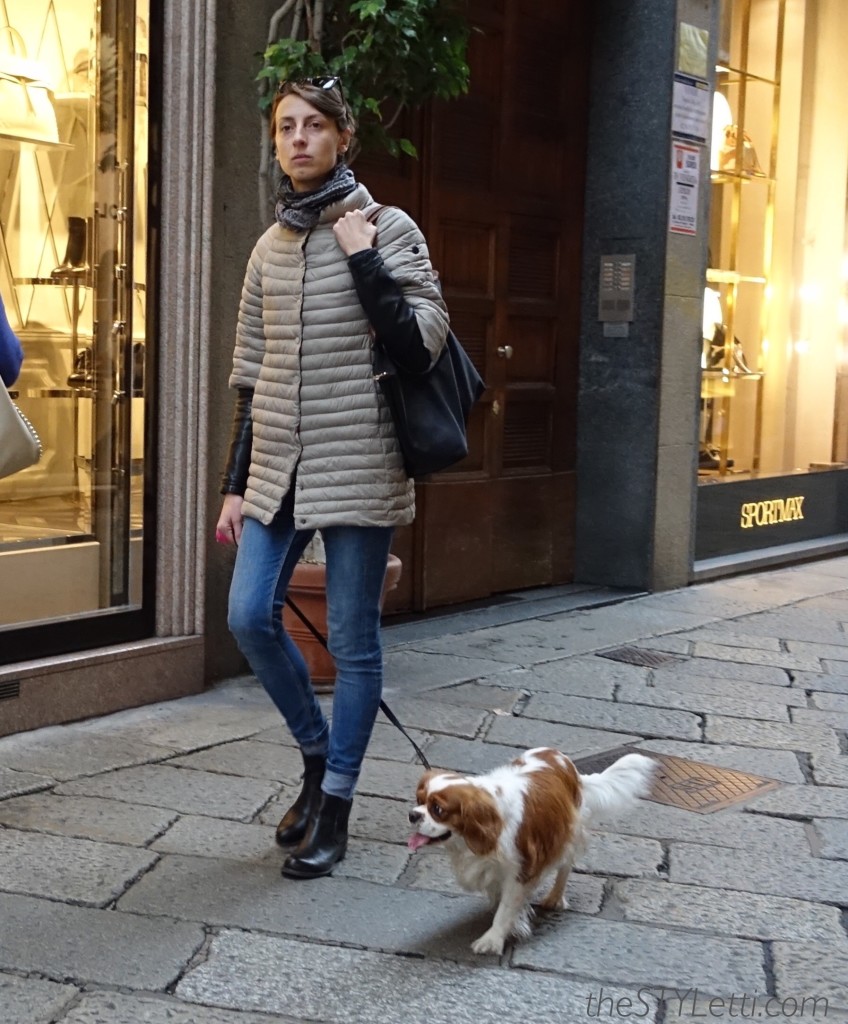 12 – With a bright pink coat, you'll never be lost in a crowd – even near the Quadrilatero d'Oro, Milan.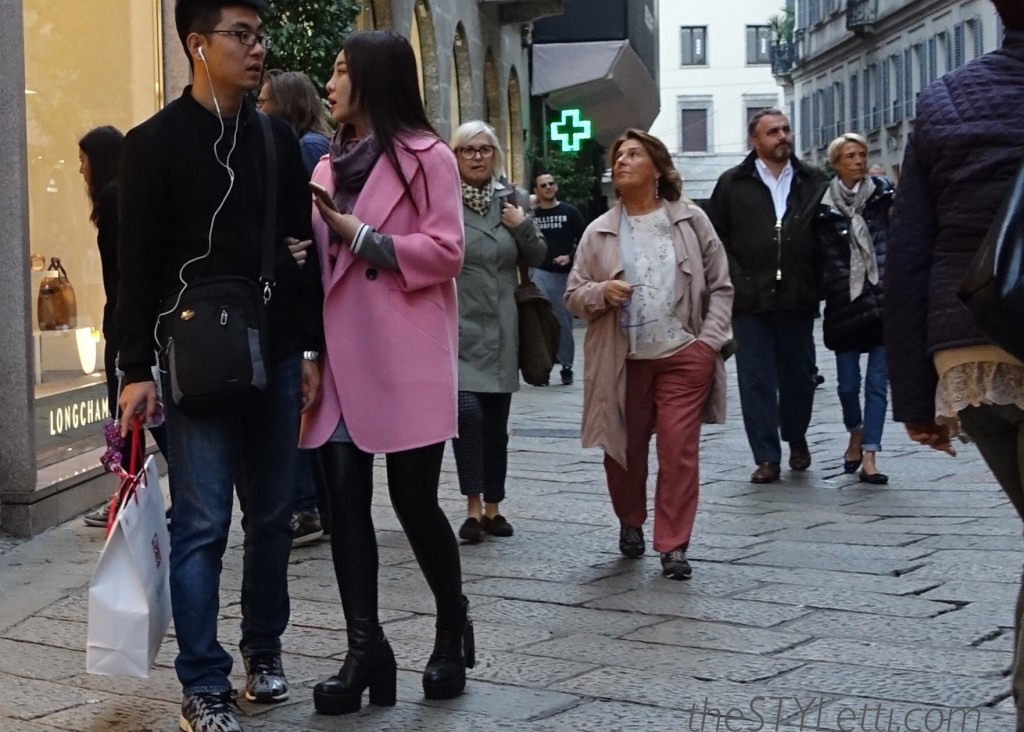 FUN COATS
13, 14, & 15 – Genuine fur is iconic. For some of us, it represents ultimate luxury and refinement, while for others, it is an appalling exploitation of innocent animals. Faux fur? It's just plain fun! These New Yorkers go for the gusto.
16 – The long vest – okay, maybe not actually a coat – is an interesting new trend in outerwear, allowing for great mixes of texture/materials.  Leather would look awesome under this one, don't you think?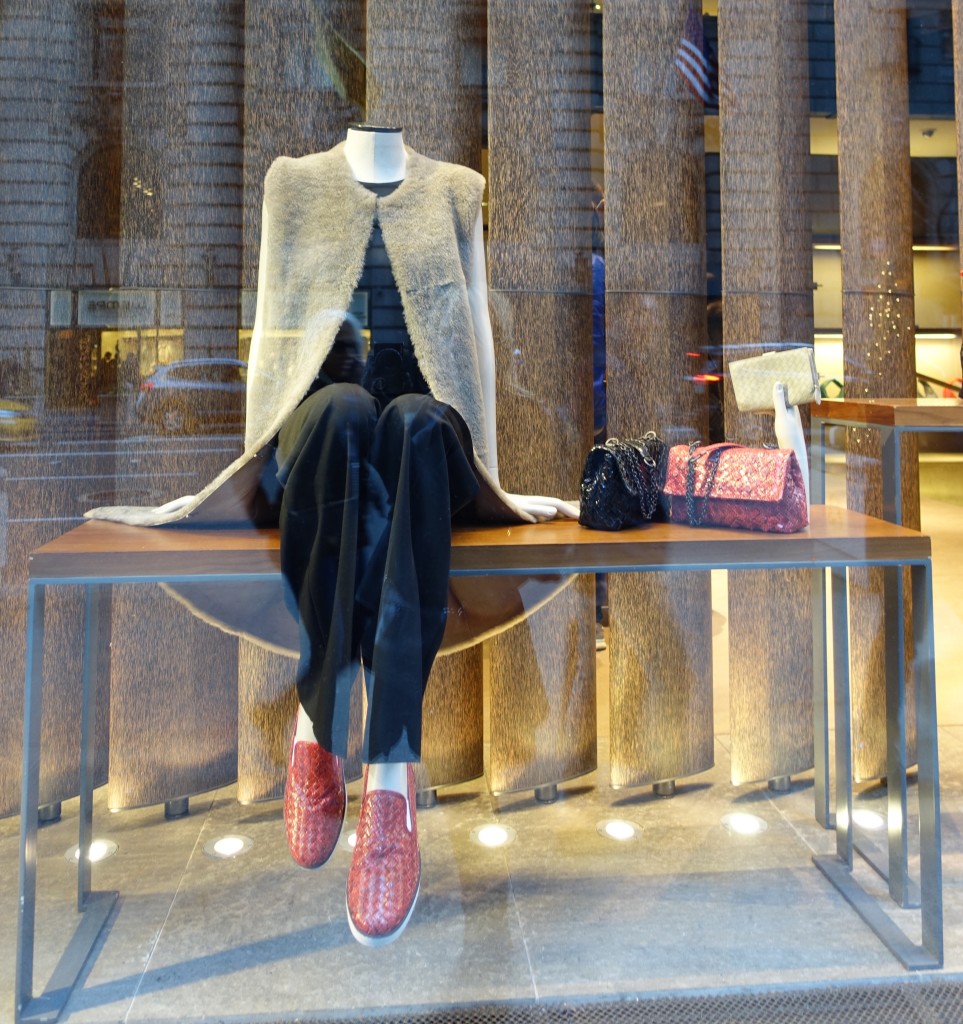 17 – Here we have the idea put in practice in New York.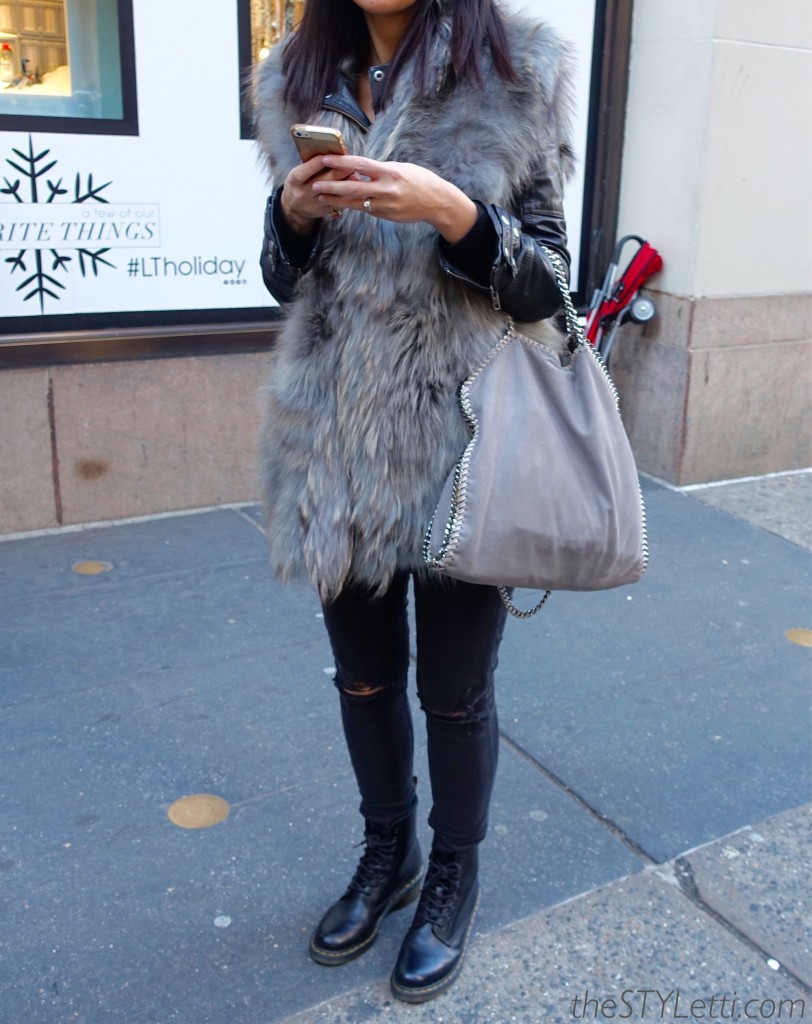 18 – Or best of all is this spectacular Milanese mix of materials, textures, and cuts.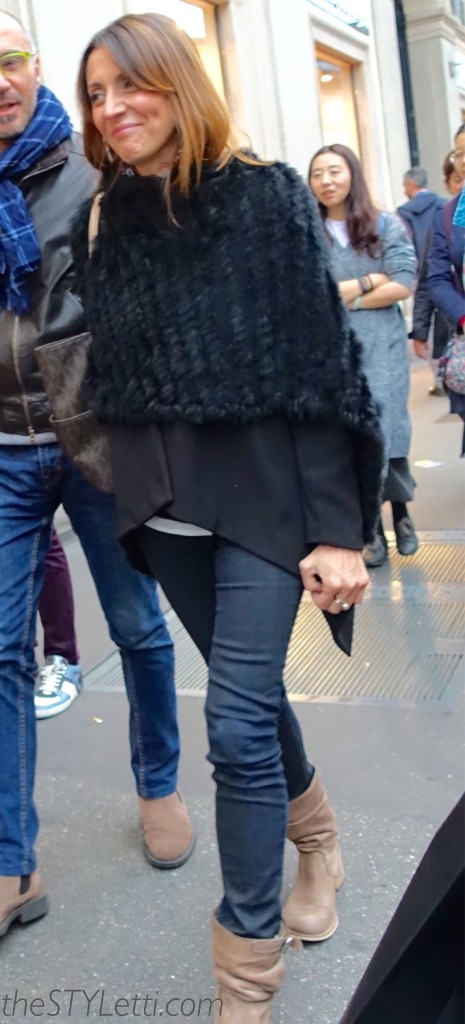 "People will stare. Make it worth their while."

– Harry Winston (jeweler and former owner of the Hope Diamond)
A statement coat is just one of those things that makes us do a double-take or at least to linger with our glance. I intend to adorn my classic long black wool coat with a statement blue faux fur stole (like the one featured here).
But the next time I'm in the market for a coat, it will have to be a statement coat!
Which is your favorite?
XO, Janea