I hope you enjoyed my post about the perfect wedding gown for the big day. While the gown is without a doubt the most important part of the bridal ensemble, we all know that attention must be given to certain extras like princess slippers. 😉 I want to share with you my experiences finding those splendid extras and as a traveling bride, helpful tips for getting everything safely overseas. I also want to share special photos of a very happy day with you!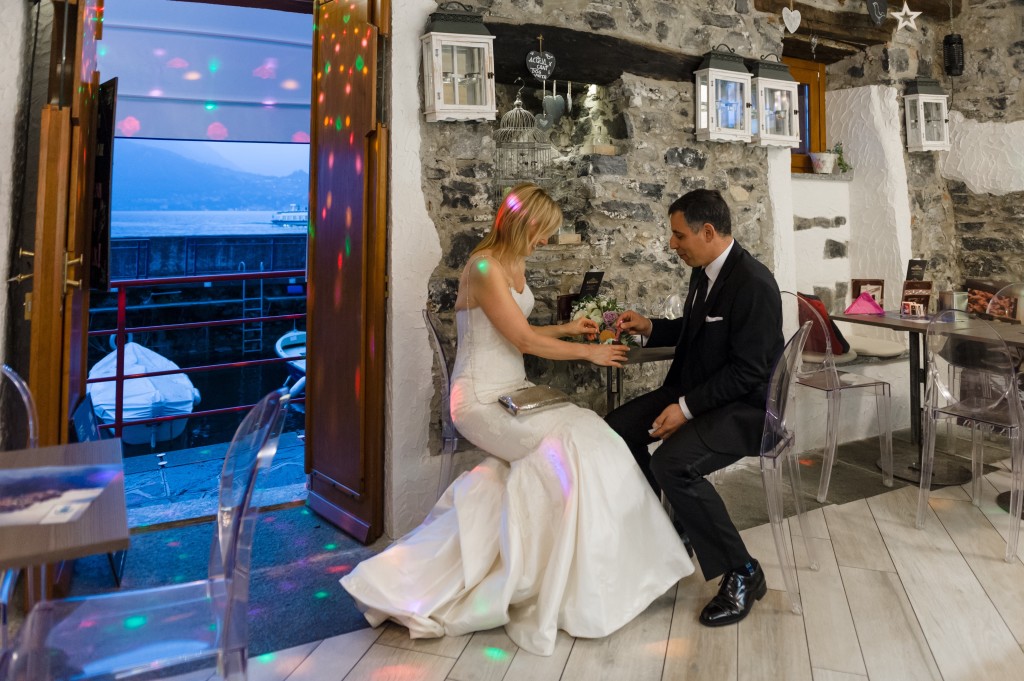 When Mark and I were engaged, neither of us was interested in attending to details like flower arrangements, menus, a giant cake, and invitations. All we wanted was to privately exchange vows in a beautiful setting without having to adhere to protocol (hence, our "wedding gelato").
My bridal accessories were likewise minimal. I was fortunate that my Matthew Christopher gown – simple and elegant – was intricate enough to (practically) stand on its own.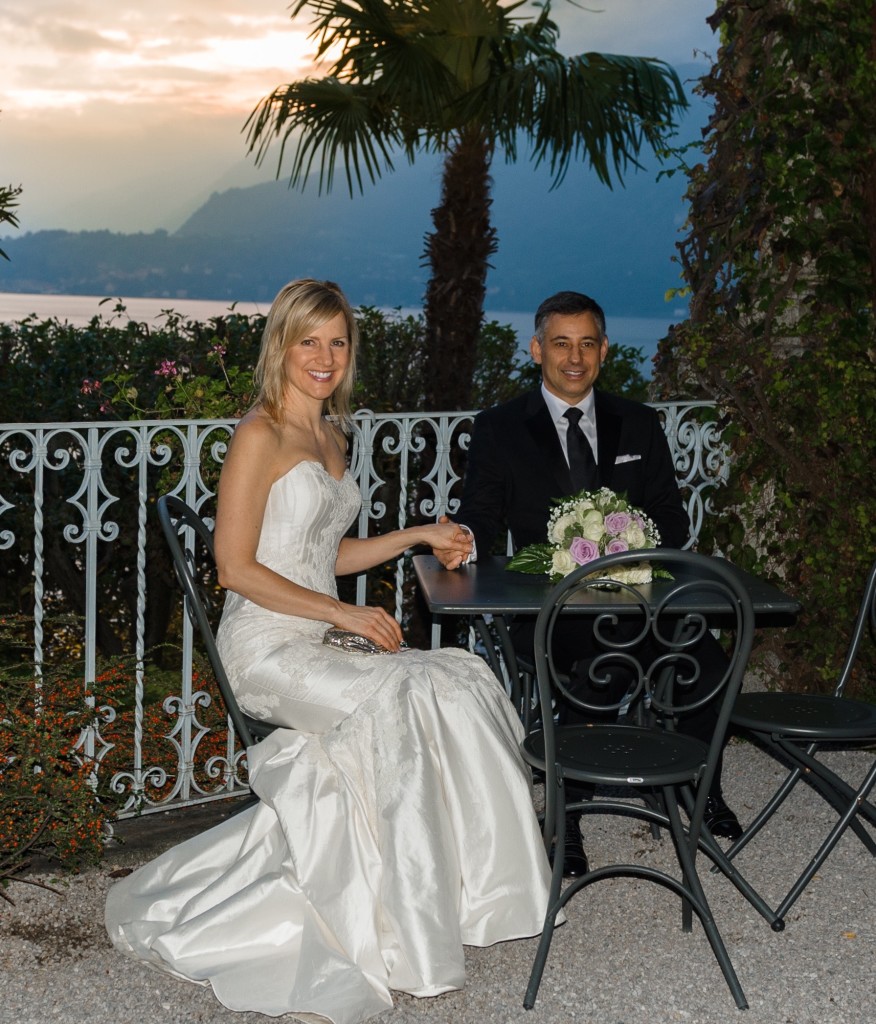 My wedding shoes, however, required extra time and consideration!
I had admired a pair of silver high-heeled Jimmy Choo slingbacks in stores for nearly two years. I really, really wanted them but could not justify the price tag for occasional dining out or an unspecified fancy occasion in the future. They were almost out of stock when I was ready to buy my bridal shoes.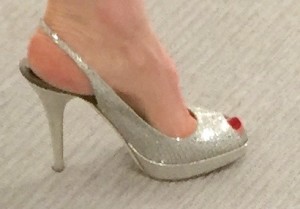 I tried them on with another couple pairs of sparkly heels, because in the back of my mind, I feared a slingback strap might slip as we climbed castle stairs to exchange vows at the top. However, the more "secure" sandals were…let's just say, not all that princess-y.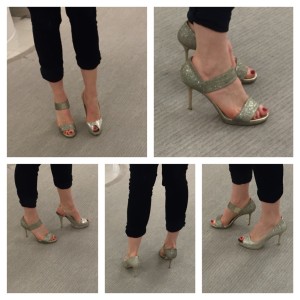 Soon enough I came to my senses and realized that this was no time to be pragmatic. I decided that I would make the Jimmy Choo slingbacks work. After all, they were my dream shoes.
And being so well made, they gave me no trouble as I walked up and down steps (in the castle and Varenna village)…for over two hours!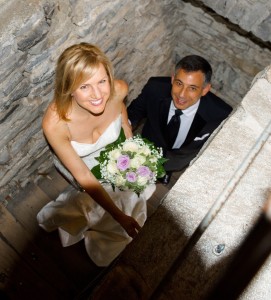 Shopping for my bag was not so straight-forward.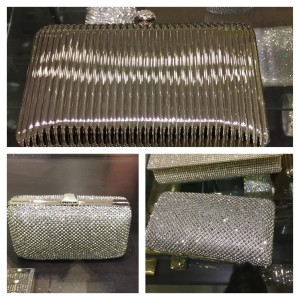 While comparing silver evening bags to match my sparkly sandals, I remembered that at home, I had purchased something similar years ago at a resale shop for a Halloween costume (Marilyn Monroe). It was prettier than those I saw in stores, and it was vintage. ("Something old, something new…")
I decided that it was perfect…although a hinge became faulty on our big day, and the bag stopped securing properly. We actually have a wedding photo of us attempting to repair the bag ????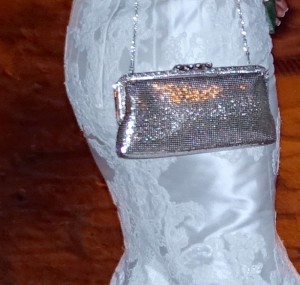 I decided that it was perfect…although a hinge became faulty on our big day, and the bag stopped securing properly. We actually have a wedding photo of us attempting to repair the bag ????
A flower bouquet was the final touch. We drove to 2 villages and the nearest largish town for this one. In Italy, florists aren't easy to come by in less urban areas, but with some intermediate-level Italian and an iPhone to show pictures, you can end up with something beautiful like this.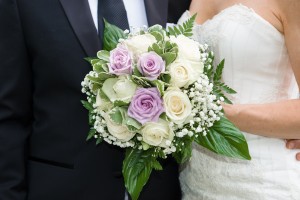 In my last post, I mentioned wonderful alterations by my seamstress Cheing Saelee. Cheing also offered great suggestions for a traveling bride and the big day:
1) Pack the dress in a carry-on with rollers to have everything wedding-related in one place: dress, shoes, bag, and undergarments. She stuffed my gown with balled up tissue paper and covered it with a plastic bag (to prevent spills and staining).
2) Spanx-style silky shorts – they don't have to hold you in! – help prevent panty lines and aid with slipping into a fitted gown. Light-control Spanx worked for me – comfortably!
3) A Conair garment steamer is a big help. For my dress of fabulously forgiving silk, she suggested simply hanging it for a day. But the dual-voltage steamer was great for Mark's tux.
One last tip (from me):
4) Before having your glass of red wine before dinner, drape a towel over the gown – just in case. 😉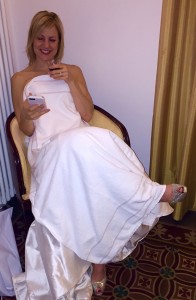 As you see, accessorizing your wedding ensemble and then taking it all to an exotic, distant location might seem complicated. But take it from me, it can be done rather simply with the tips above and is so worth it!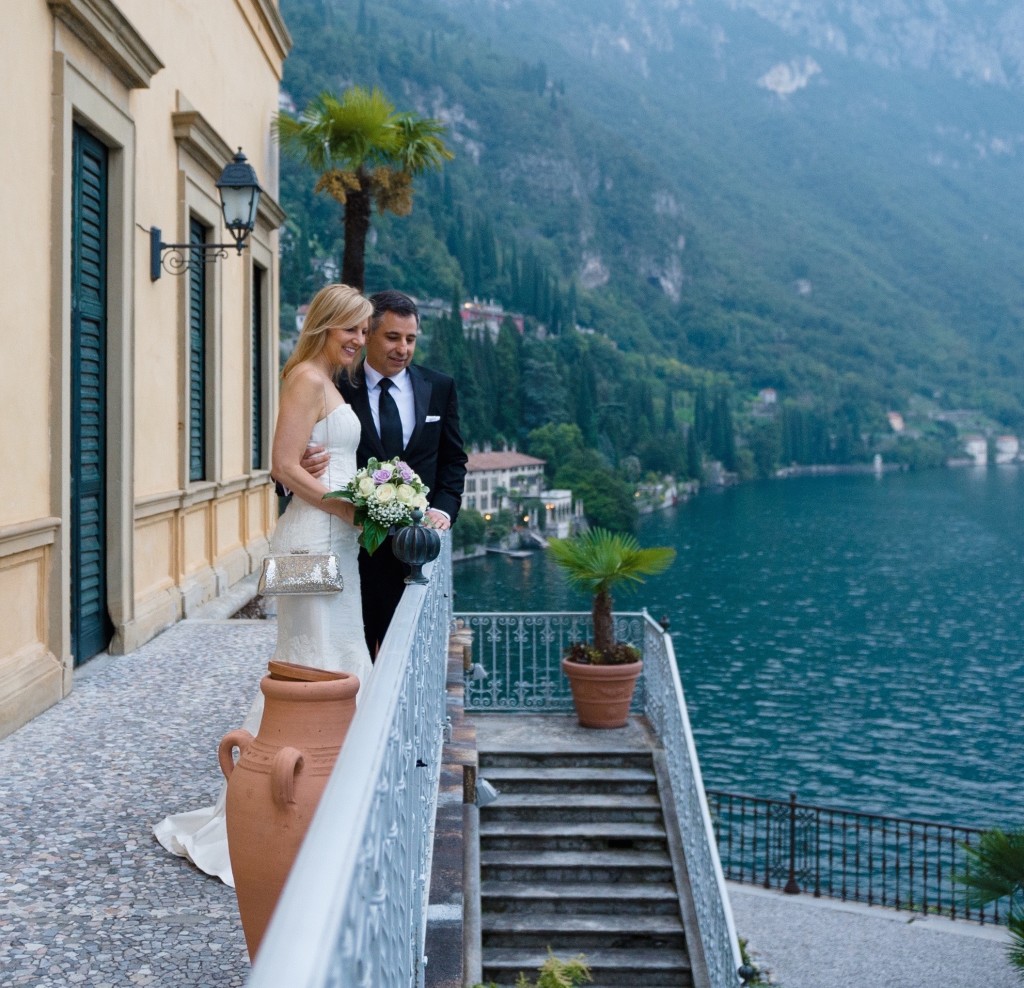 If you'd like to see a few more wedding photos, check out my post on how I chose my wedding gown.
XO, Janea
---