Although I like to differentiate between style and fashion, I relish them both. I love seeing fashion in the way of a designer's latest collection on a catwalk. I enjoy the artistic vision and intentions portrayed in dramatic, provocative ways. And then there is that whole other level which equally fascinates me: the interaction between fashion and people with their own views and agendas who choose and/or combine garments to reflect their own personal style. That dialogue between designs and those (often co-creators) who wear them is magical.
While most fashion designers select youthful men and women to model their creations, I love it that we need never lose our style. In fact, it seems that for some individuals, as Ari Seth Cohen of Advanced Style keeps proving, it can evolve into something really awesome in our later years.
On people-watching strolls around San Francisco, I have spotted a sampling of men and women with a truly cultivated sense of style, some sophisticated and others, playful and forward-looking.
Shall we take a look?
The lovely ladies pictured below seem to have a well-seasoned understanding of what best suits their coloring and figures. Oh, how I wish I possessed this degree of polish in my earlier years! I recall a brilliant idea of wearing a black skirt over black pants and short, spiky hair in my twenties.  Not exactly expressive of my true inner self nor a very flattering look.
The dress of our next two muses is also chic, but a bit edgier. I love their shoe selections and can only hope that I will have the sense of style and in the case of the lady to the right, sense of balance, to pull off something like these two.
Although I don't anticipate ever dying my hair a non-natural color, I have to admire the adventuresome spirit portrayed in the look of the lady to the left.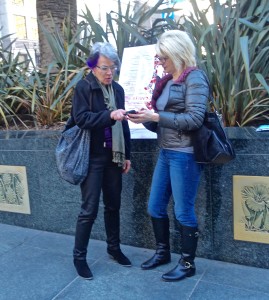 Our gentlemen muses all look quite dapper, wouldn't you say? I delight in their touches of style: the cool business casual duo with sport jackets san tie, the fedora on the gent in an ivory jacket…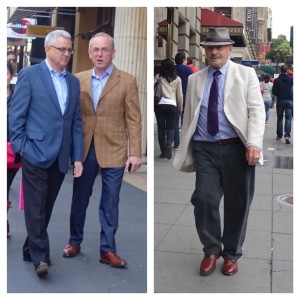 a brightly colored scarf-sweater combination and impeccable beige suit with contrasting bow tie.
Yes, I think we can say that style is age agnostic. While we might not always look like we are in our twenties, we can certainly look forward to cultivating an even more stunning style in middle age and beyond. Woohoo!