When you are pregnant, there are so many things to plan. As a result, you might not want to bother so much with your wardrobe. At the same time, you want to look professional at work.
My colleague Heather (pictured below) mentioned it is simply too costly for her to go out and buy maternity suits she would wear only a few months. Even if you could find suits to fit your budget, the purchase might not be how you really want to spend your "mad money". Here are some of her money-saving tips/tricks to look professional at work while you are pregnant:
1) In the first few months, stretchy professional dresses with a blazer are an ideal combination.
The jacket can be worn open (unbuttoned), while a dress with "give" will often accommodate to a larger belly. Hopefully, your closet already contains some of these dresses, as it happened with Heather. If not, you can at least reduce your spending by buying dresses in a stretchy fabric which match or coordinate with jackets you already own.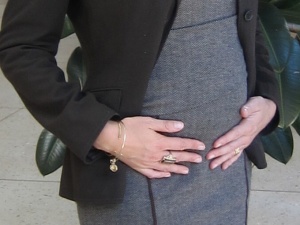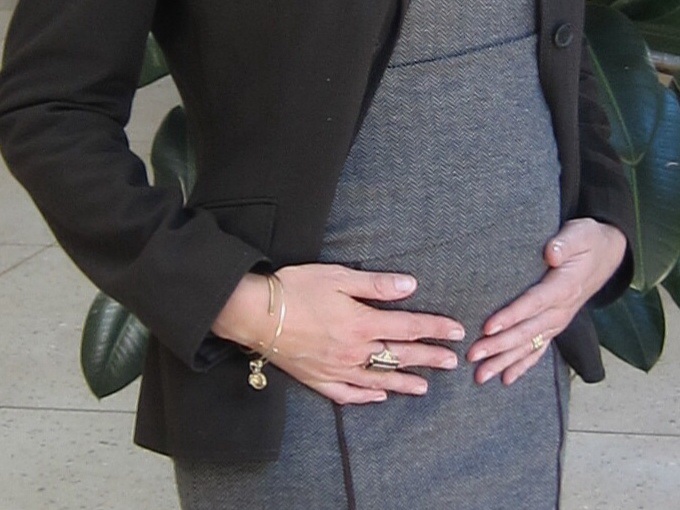 2) A jacket can be buttoned at the top and unfastened at the bottom.
Heather fastened only one button in the look pictured below. As a result, the jacket is fitted from the collar and shoulders down to the top of the waistline, highlighting her slender frame. Clothing which is fitted in areas other than the belly is infinitely more flattering, in my opinion, and looks more modern and distinguished than garments which loosely drape over the entire body.
3) Since skirts tend to be larger in the hips than in the waist, you can often pull up a suit skirt to cover your bump.
If you are trying this at home, be prepared to end up with a shorter skirt, but as you can see in the photo below, it can still be a decent length and flattering.
Heather did have the advantage of a concave belly in her pre-prego days. If that weren't the case or if she gets considerable larger further into the pregnancy, some tailoring can provide more room in the belly area, although this does require a bit more from the pocketbook.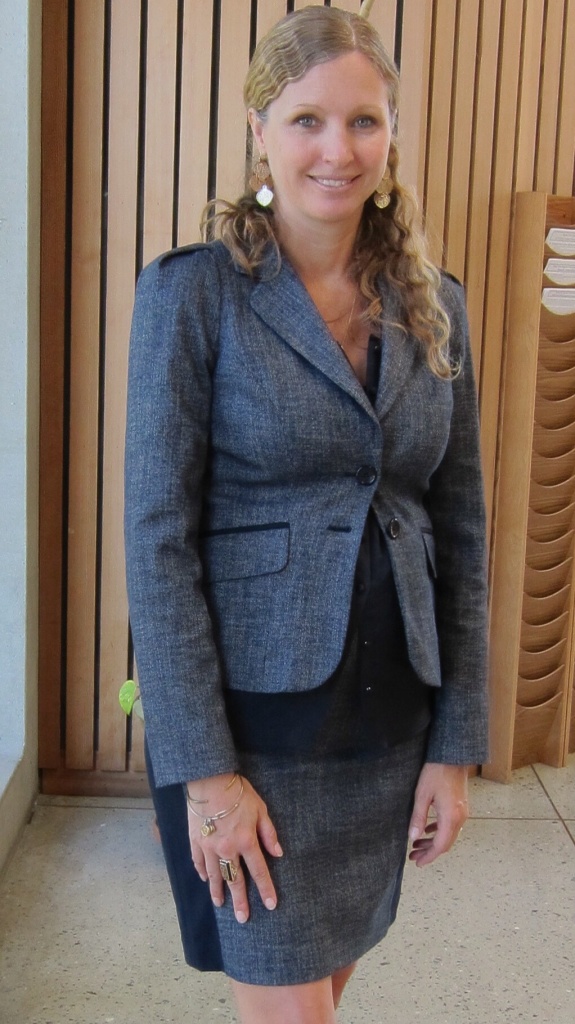 4) Lastly, you need not tuck in your top.
Notice that Heather's blouse is untucked to cover the "jerry-rigging" as she calls it. If you want to try this, it is best if the blouse closely matches the suit color. A contrasting color would draw attention to the pregnant belly, and this can be cheeky and fun for casual dress, but the subtlety shown in the example above projects a more sophisticated, professional image.
Even before "showing", I noticed Heather often wore untucked tops with suits, so that details of a top were visible between the jacket and skirt/trousers. It is an unconventional look which does work when done the right way. The exposed top is almost an accessory, adding spice and a little extra color. For a great article regarding this look, check out a posting on Commandress here.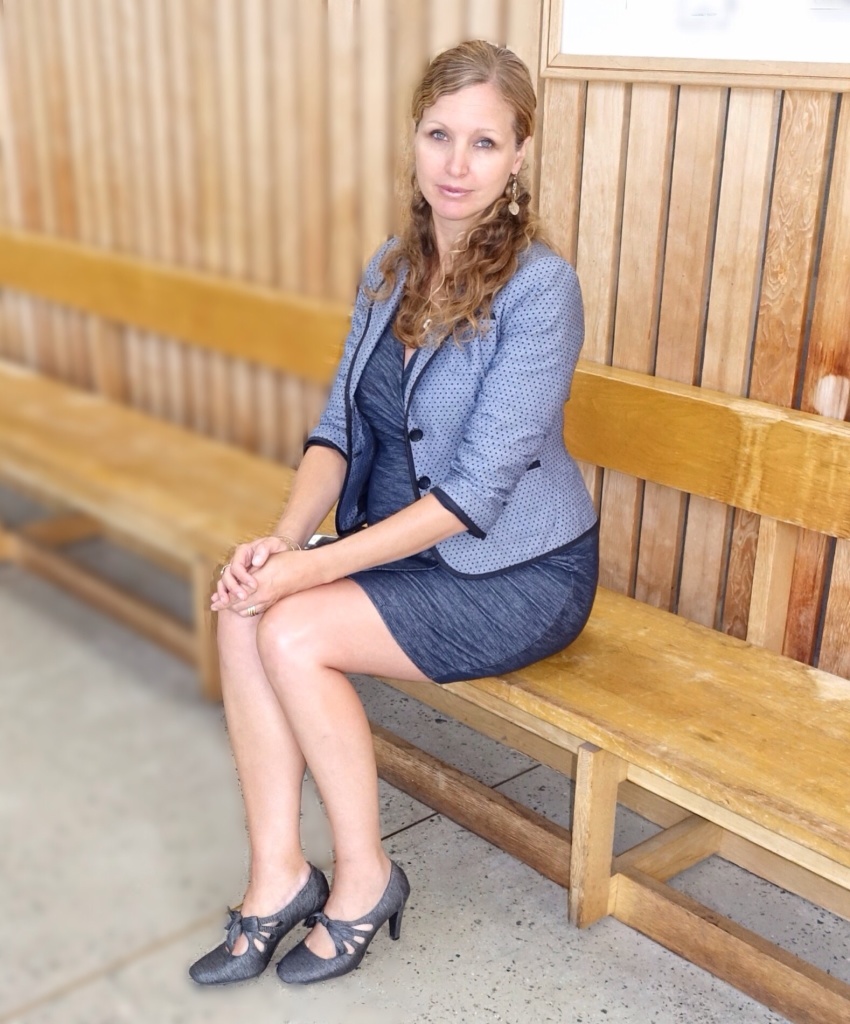 If I had not been made privy to Heather's clever fitting tricks, I would have assumed her ensembles were put together at a special boutique for maternity wear. So you see, you truly can expect to carry style into your pregnancy without breaking the bank. Do you have any tips for maternity dressing to share?
XO, Janea
---
????