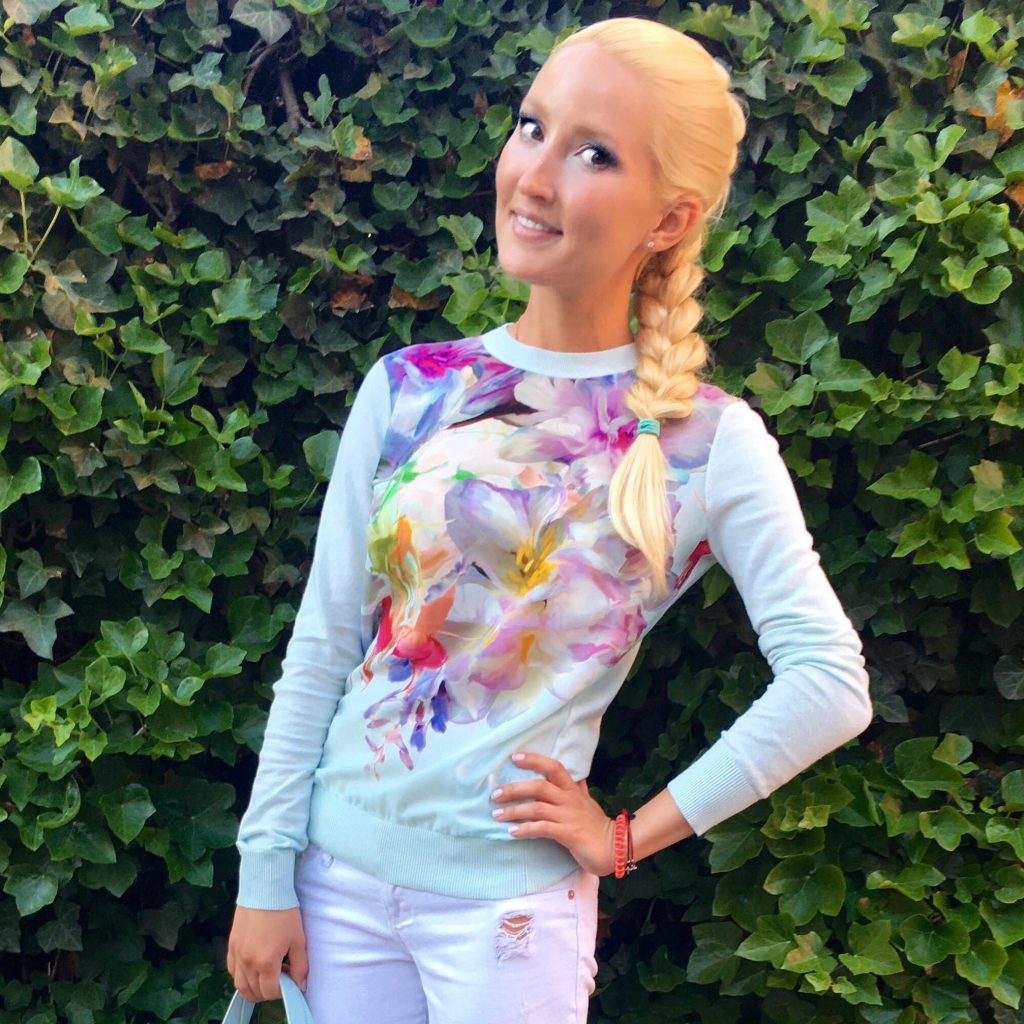 Once upon a time (any given day, pretty much) I would start my morning off by opening my 3 closets of "nothing to wear" and agonizing over the same question, "What will I put on today?"
Today was an exception, and I was especially inspired. I immediately selected a two-sided sweater (in front, a silk print and in back and for the sleeves, fine cotton) which I bought last week – on sale! – at Bloomingdales along with a matching bag.
After quickly finding a pair of pants to go with the set, I had just one problem: choosing the right heels…
I considered wearing Tory Burch heels in aqua blue – the very same shade you see on the back and sleeves of the sweater. But then I thought it would be too boring if I stuck with this same dominant color.
And so I decided instead to look for shoes the would match the colorful silk print. I had three options: purple, yellow and pink. Naturally, I voted for pink and pulled on these Christian Dior heels, which I adore!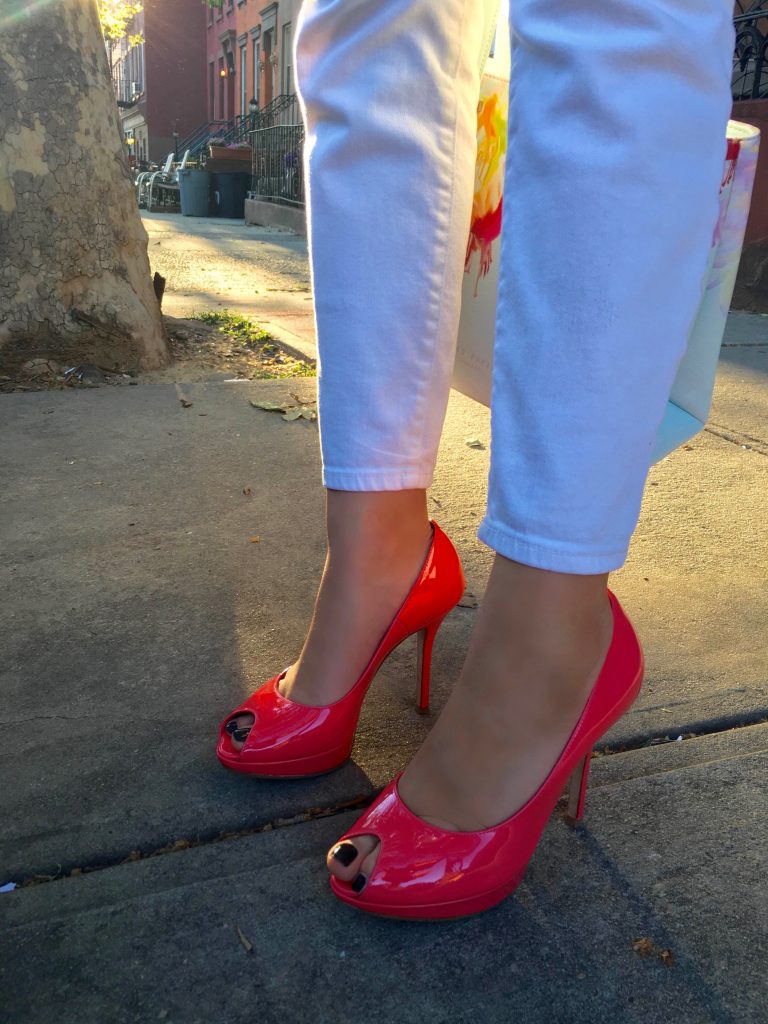 As I was looking through my wardrobe, I happened to make a series of discoveries which led me to some conclusions about myself. The first is that I am particular. My closets do not feature a wide range of brands; I clearly have favorites, and of each, I own several pieces. I also noticed that I am consistent. If I like a piece, I tend to buy the same garment in many different colors and shapes.
My third discovery is the focus of my post today. While going through the closets I noticed that there are no shades of grey. Let me explain what I mean. First of all, my wardrobe is very colorful. But aside from that, if you look at my most popular looks, they look either super-girly and angelic or sort of rock-and-roll, smoky-eyed devilish (so-to-speak).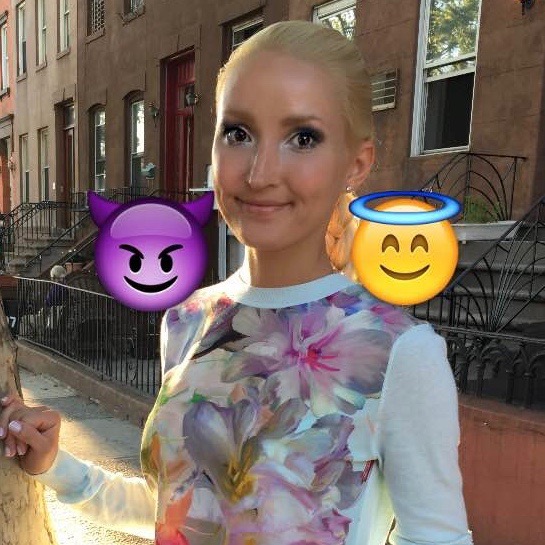 Even my manicure choices support these choices. I usually have either a French manicure or have my nails painted black – sometimes dark red.
I also find it interesting that I own quite a bit of clothing by what I consider to be antagonistic fashion brands. My Ted Baker collection, for example, is very dressy, pastel, naïve, elegant and calm – I call it princess style…
while my All Saints pieces are usually all black, edgy, metal, cold, and sometimes provocative. And I love them both!
And so, that is why I say that in my wardrobe there are no shades of gray; it's either black or white, angel or devil without much "in between."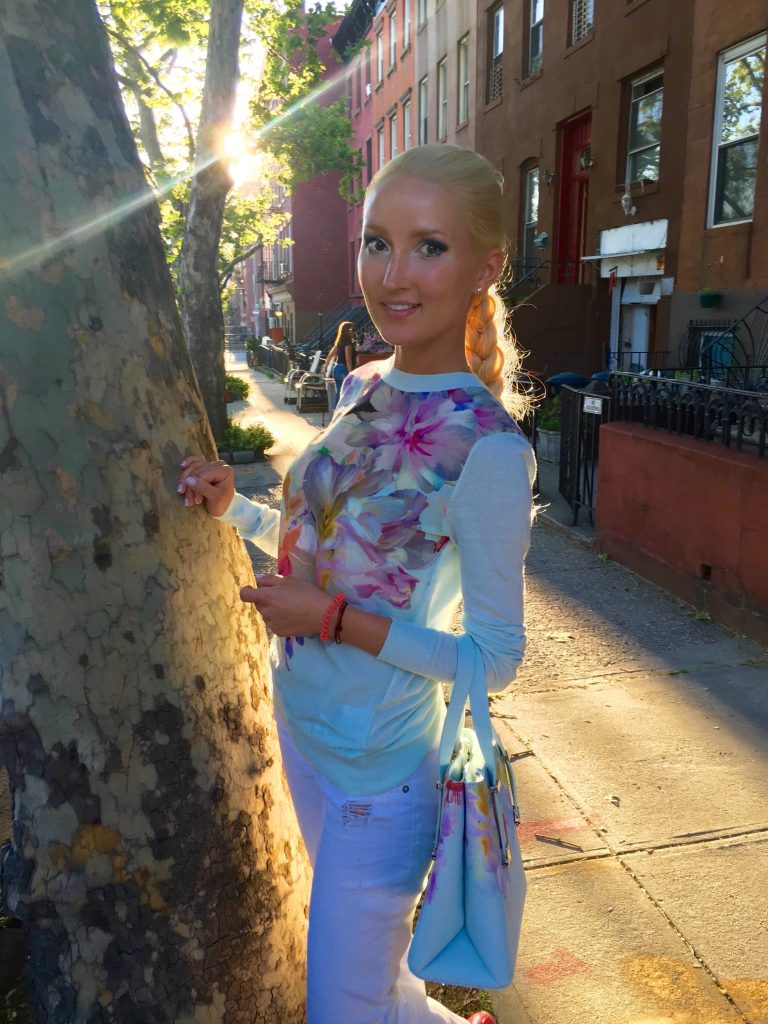 This look is definitely one of my girly looks. The blouse and bag are by Ted Baker, while the white jeans are by Abercrombie & Fitch; they are old, but I haven't found the same model recently. Christian Dior heels nail the angel look.
Do I have a split fashion personality? Maybe 🙂 Shall I show you my devil-fashionista side next week?
Psst! Want to shop the looks? Here's some link love for
---
?