If you love fashion, I suspect you also love art – especially the wearable kind! That's why I recently interviewed artist and mask creator, LANCE VICTOR MOORE. Welcome to Part Two, starting with this surreal butterfly mask.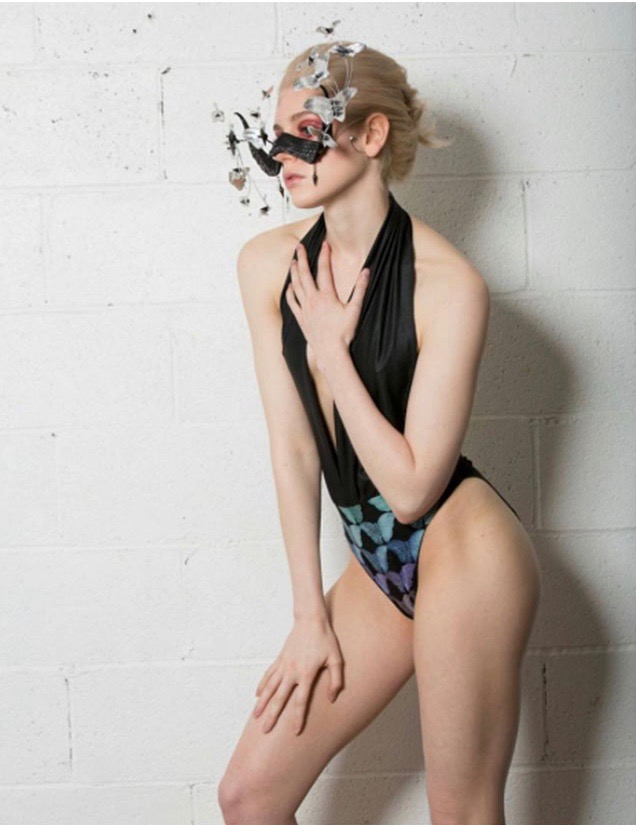 BUTTERFLY MASK
I met with Lance in early December to chat and pick up two of his MASKS THAT MARK AND I BOUGHT. I first admired his work at shows of designer EMILY PAYNE. When I met up with him, Lance just began creating this butterfly mask for a photo shoot of Emily's.
In the next two weeks, Emily and I are planning something different. She designs beautiful swimsuits with very pale moths on them. And she wanted me to come up with a mask to go with them. She wanted it to feel extremely light, like a butterfly. And she didn't want to distort the model's face but add to it.
So, I played with some designs and asked myself, "How can I make a mask that doesn't really look like a mask? I ended up designing this open piece that just rests on the bridge of the nose. There is also going to be a fine chain that will come behind it from the nose.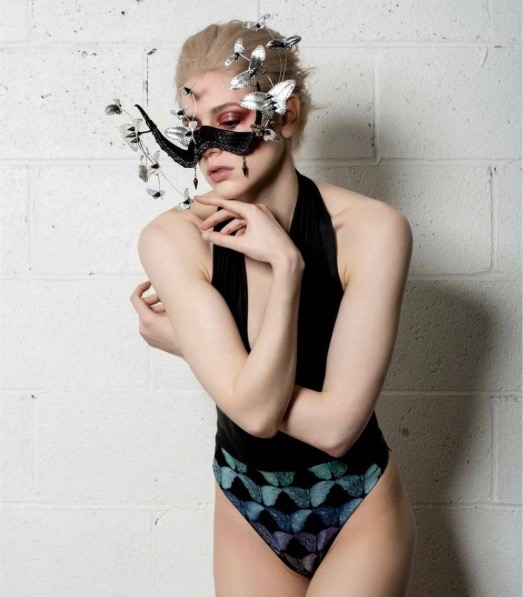 It will almost look like petals are rising up from it. On top, it will have hand-punched, chrome sculpted moths that I will hand-paint in light lavenders and blues. And the edges will be painted with liquid leather, a mixture of ground-up leather and polymer.
As you can see, the butterfly mask was a huge success!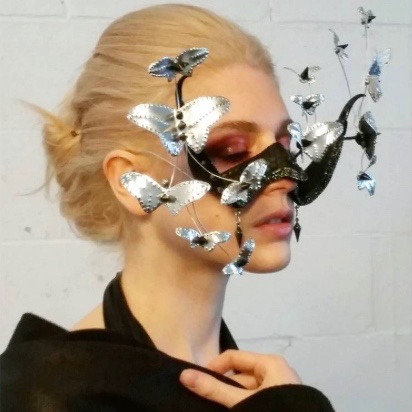 After hearing about this collaboration, the following question begged to be asked:
How did you start working with designers?
I fell into it, actually. They learned of me just from word of mouth and people with whom I've worked who had positive experiences working with me. They would say to me, "Hey, I want this thing, and I don't know who can build it." Chances are that I can build it one way or another. Of course, I won't tell you I can do something if I can't. I don't want to disappoint anybody.
When I first started working with Emily (Payne), I don't think she expected what I came up with. She seemed to expect something relatively rudimentary, because of experiences with other artists who sort of threw things together last-minute. And she herself is very thoughtful about her designs, which I appreciate. 
But you know, our conversations have been relatively simple as far as her input. She's said, "I want something done with wood; I want something done with porcupine quills; I'd like something done with shell."
This slideshow requires JavaScript.
Photography by Charles Schoenberger at Emily Payne shows
Why Do You Create Masks?
I find it so interesting that masks are something human beings have in all cultures. It's a way of instantaneously changing people's face-to-face interactions with you. I've always been a jack of all trades.
And finally, the big question: how did you become the kind of artist who makes these masks?
Both of my parents are artists, and so, I was exposed to galleries and art at a very early age. My father's a very well-known Christian artist. But my mother Victoria, a spiritual and feminist-oriented artist, is the one who nurtured my creativity and artistry.
When I wanted a costume one day, she showed me how to use the sewing machine to make it myself. One of the very first things I made was a Cat Woman costume. I was obsessed with Michelle Pfeiffer's. And I wanted the boy version. What I created had metal claws and everything. It seems that even back then I had a thing for masks! And that portrayal of Cat Woman still informs my designs from time to time.
I am self-taught on designs. I went to school (Cooper Union in New York) for art history and color theory. And I painted. I picked up techniques for mask-making by watching my mom sculpting. But I've learned mostly through trial and error. I am known to pull apart a mask that was too simple and then superimpose the pieces onto another mask in progress, for example.
A lot of my inspiration comes from looking at things and saying to myself, "I can do that better," which can sound more arrogant than I mean it to. What I'm trying to say is that sometimes I will look at some piece of art and think, "I'm curious as to why someone did it in this particular way, because if they had done it differently, it would come across better." And so, much of my stimulus come from that.
Well, you have certainly taught yourself extraordinarily, Lance!
Hope you, dear reader, have enjoyed enjoyed these interview posts of Lance Victor Moore. If you're interested in a mask for yourself, be sure to check out LANCE'S WEBSITE!
XO, Janea
---