A dear reader recently suggested that I offer tips for women over 45 on how to look good. I believe that part of looking "good" at any age means having a dynamic look.
When we interact with our surroundings by taking in an outside influence here or there – rather than setting in concrete a style that worked ages ago – we prove that we can retain that childlike flexibility, curiosity, and zest for life which to me, are among our most beautiful qualities as humans.
In this post I want to share the street style inspiration for my latest update: sneakers as part of an everyday look for the first time since junior high school. Here are my recent faves when it comes to sneaker style. I believe there's something for everyone – even your (pretty) obstinate heels girl!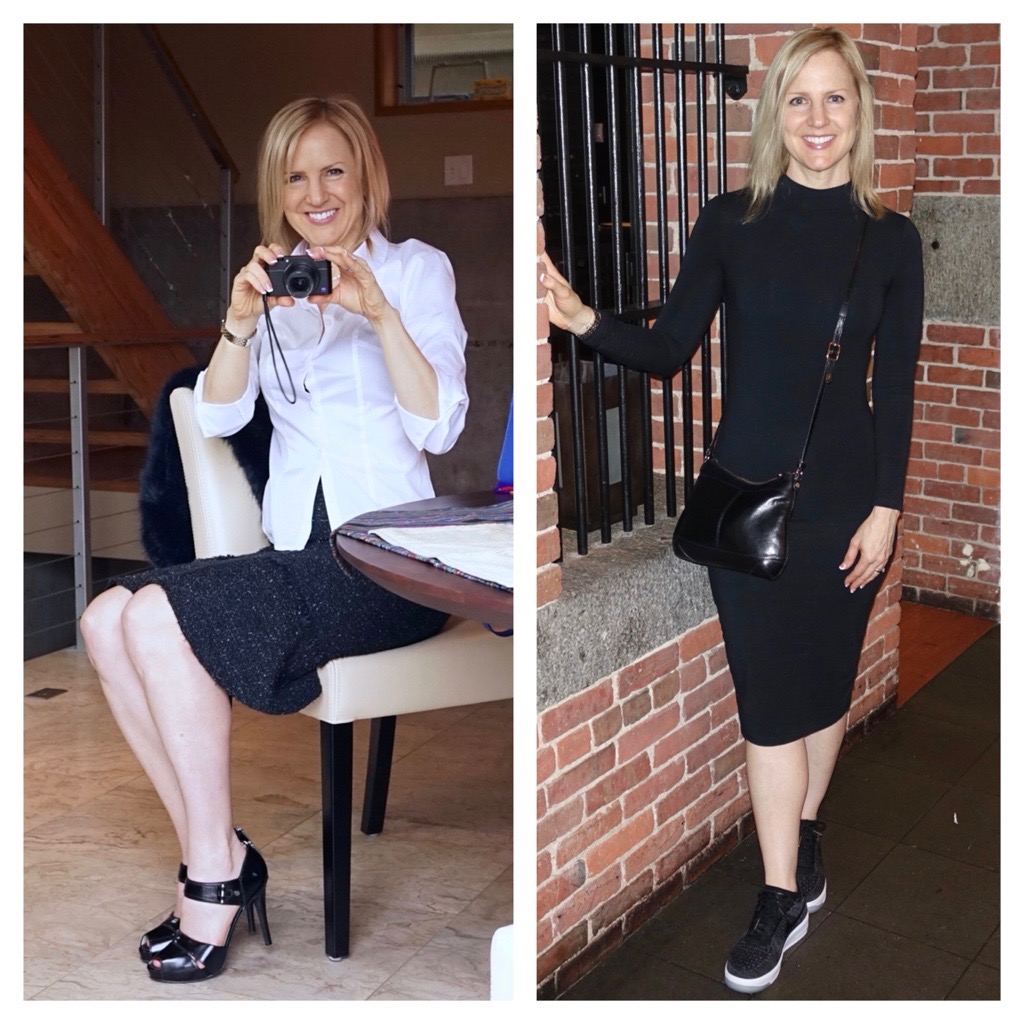 Let me give you a little background. I have always been a girly-girl. I love heels and dresses, and I'm particularly drawn to classic, tailored looks. I also love the leg-lengthening effect of a high heel!
On my trip to Italy last October, however, I was confronted with awesomely-styled metallic and wedge sneakers, fun high-tops (very popular!),…
This slideshow requires JavaScript.
and even sneakers with a heel!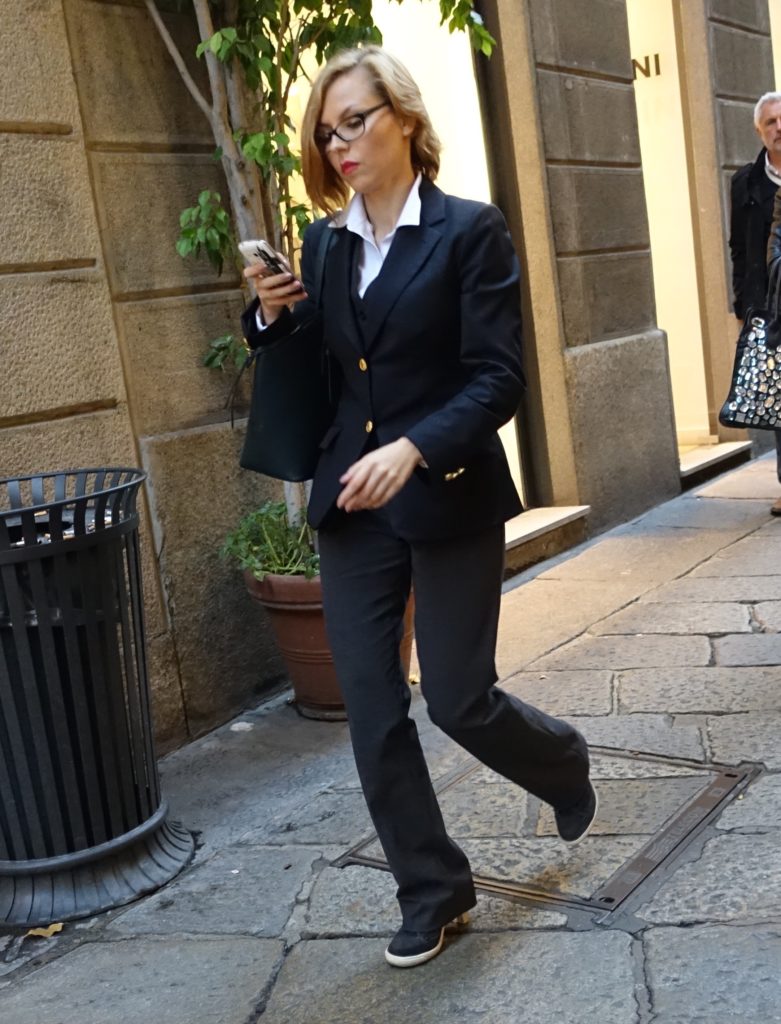 At some point, I realized that I couldn't just sit in the audience any longer – I wanted to participate in this movement, especially since it was starting to look like fun.
Here are the top 7 sneakers styles that caught my eye.
1) I can't resist admiring high tops – even if I don't do tomboy.
Those with wedge heels can be styled to look more feminine (as in the slideshow above), although I figure if I'm going to wear a heel, I might as well go with pumps or sandals.
2) Now white sneakers, particularly Adidas – and particularly Stan Smiths! – are more me. They go with so much and are a classic in their own way! The internet is full of articles on how to style Adidas.
They go nicely with dresses – what an easy look!
Or for something a bit more complicated, they look chic with wide-legged cropped pants.
3) Another popular combination is black sneakers with white soles. These too are versatile and look great with elegant-cazh outfits. Since I wear a lot of black, it's definitely a winner in my book.
4) Then there are sneakers that double as sports footwear. They seem particularly tricky to style (and definitely require color coordination). But if you're up for the challenge, here's an inspiring look from L.A….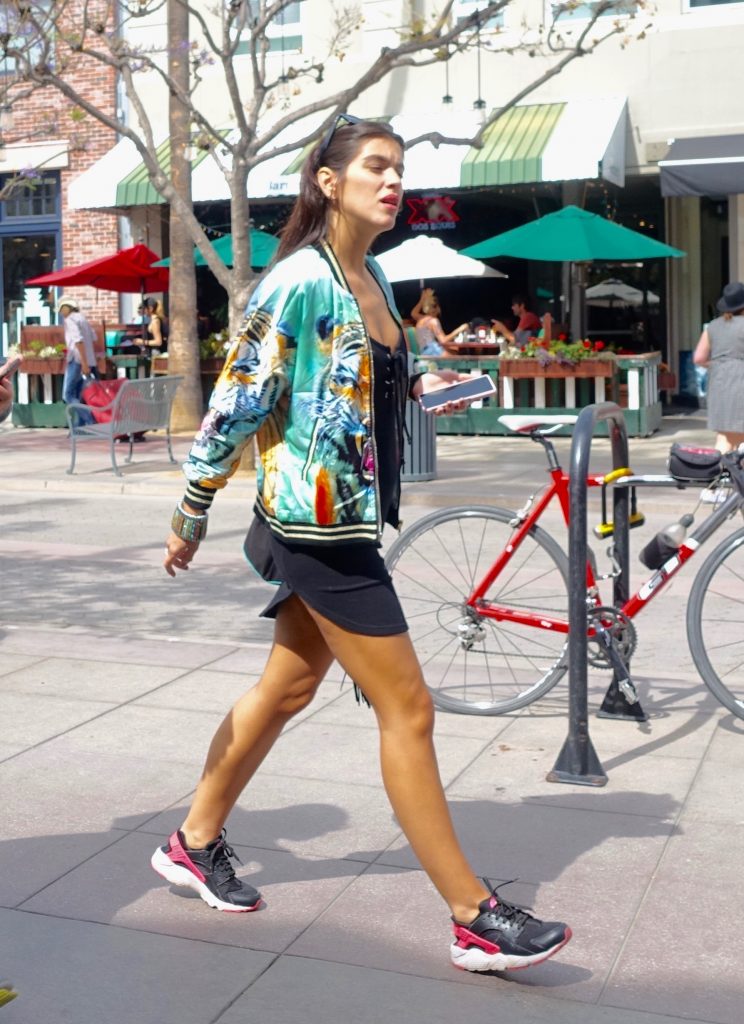 5) Something just as sporty but a little more stylish in general is Lilya's favorite, an athletic-looking sneaker with a sleek, narrow toe box – reminiscent of styles from the 70s. I love the delicate look – for being sneakers, and yet, they aren't flimsy/cheap-looking like white Keds 'Champions" – don't hate me if you own them!
It is important to match or coordinate colors of these sneakers with your outfit. and so it is advisable to do as Liliya and own pairs in different hues. I'll admire them from afar for now, since I am a minimalist.
6) Then there are Vans or Vans-inspired sneakers. They come in fun patterns and colors and look great with cropped narrow-legged jeans. They seem to look especially good on women with slender thighs (count me out!)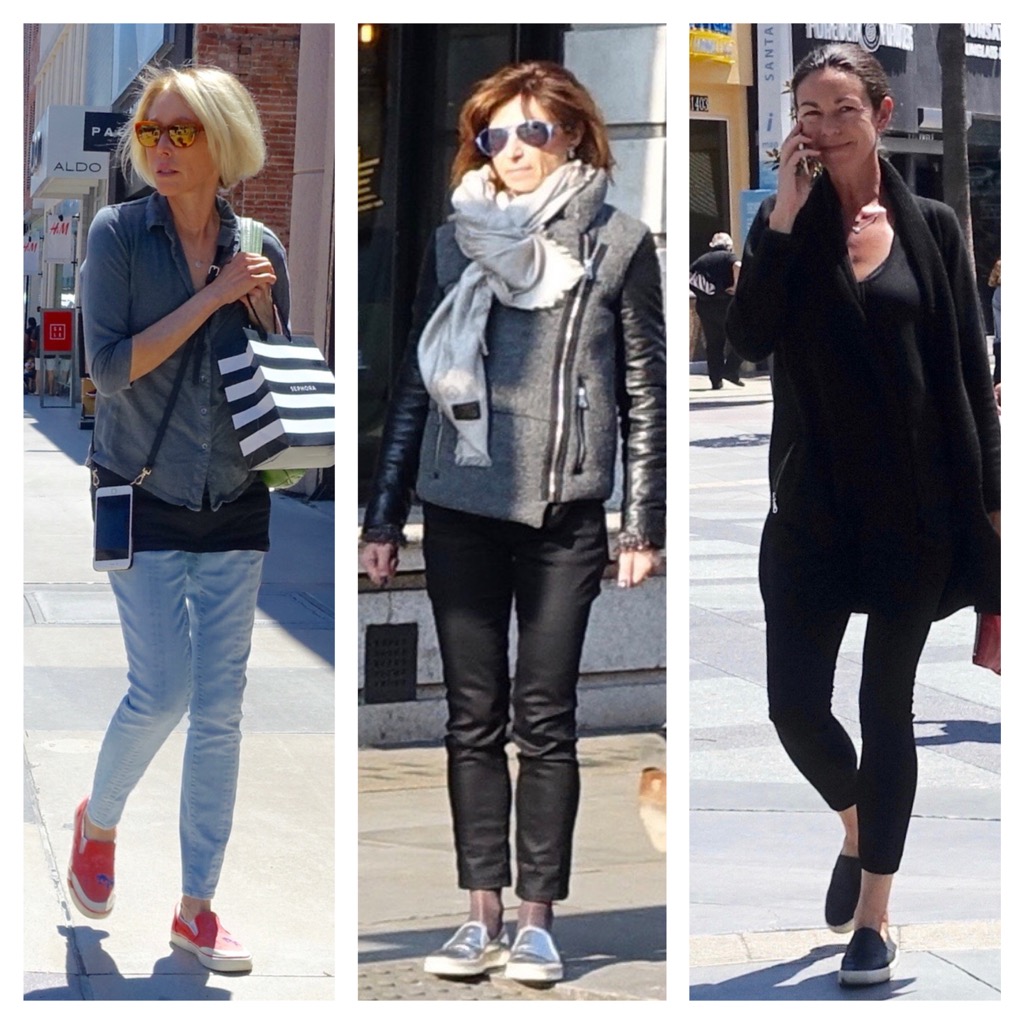 However, one needn't be super skinny to pull off this fun look.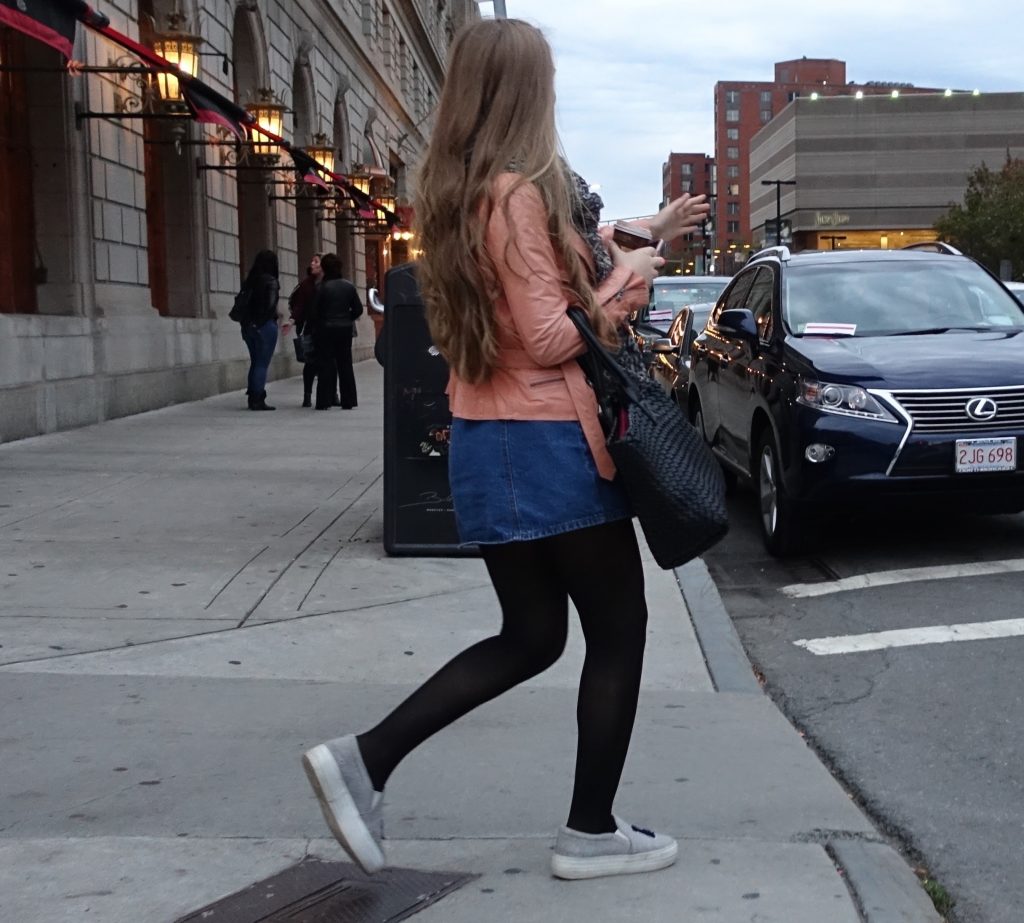 7) Of course, we can't forget high-end designer sneakers like monster-faced Fendis. I figure that if I get really good at wearing sneakers, I could later move up to something more exclusive…

…and/or cheeky.
Although white Stan Smiths caught my attention, the sneaker that won me over is the low-top black Nike Air Force Flyknit. I love the thick white (sorta high) sole and its incredible lightness. And if I do say so myself, it goes quite well with a dress. Yes, this is my sneaker choice – for casual dressing fun!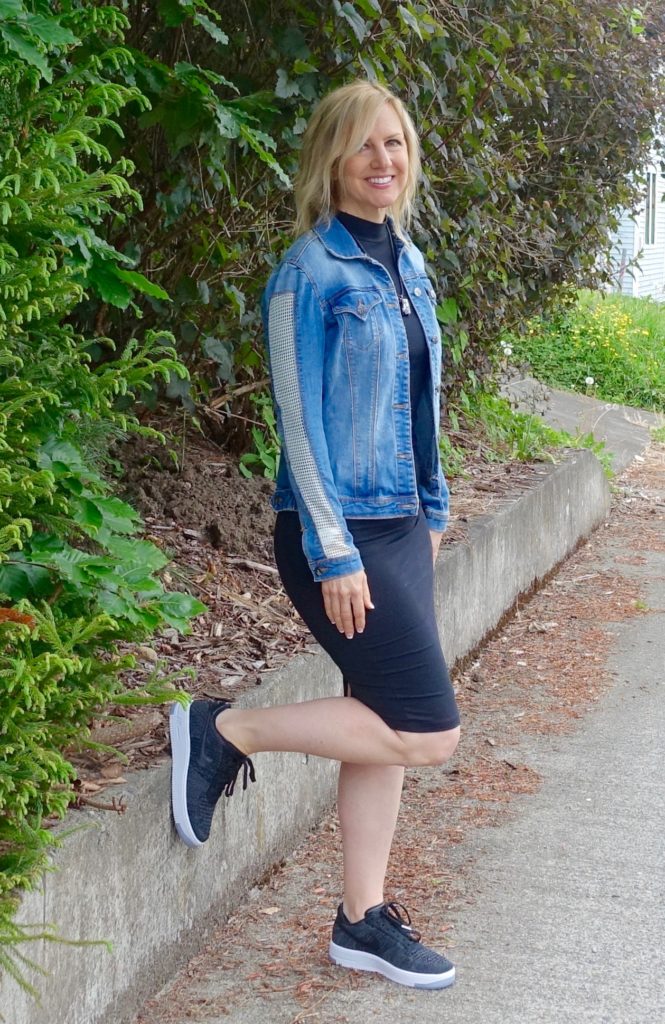 Wondering why I haven't mentioned Converse? That my dear reader, deserves its very own post – coming soon!
What is your sneaker style?
XO, Janea
---