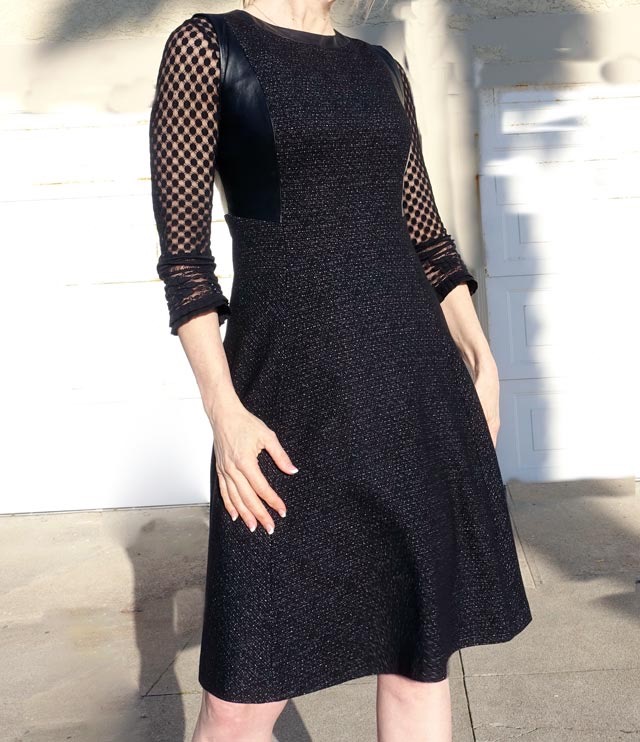 How do wear that black wool dress for work when you're tired of wearing all black? Why, you style it for spring with brightly-colored footwear, of course! Red pumps are one fabulous option…
This winter has seemed unusually cold to me. During frequent trips to the east coast (New York and Boston), I was greeted by blizzards. While in central California, it was flooding and landslides. That's why I packed this very warm wool dress in my suitcase (from Seattle) for work in California.
Of course, as soon as I put it on, the sun came out. No problem. It was the perfect excuse to pull out these red pumps I bought on vacation at Bellagio in Italy. This was actually the first time I enjoyed wearing this dress I purchased at Nordstrom's Half-Yearly sale last summer.
So, how did I end up buying something I don't enjoy?
You might ask why I even bought this dress. Well, I didn't have a chance to go to a Nordstrom store during the sale and don't love crowds anyway. And so, I ordered four dresses online, planning to keep two or three. That is, after I tried them all on and decided which I really wanted. (I just love Nordstrom's lenient return policy!) This one ended up being a keeper, but I have to add, only because it looks awesome with sandals or pumps and worn sleeveless.
Once winter came, however, I realized that I could not really wear it comfortably without a top or sweater underneath and for work, a blazer on top. That added instant bulk, and then when I tried it out with boots, I appeared to have instantly packed on a good ten pounds.
I wore the dress once before to work in a place where I am not really as picky about my outfit – okay, I'll admit that I have an outfit-experiment station! I wore it with flat, over-the-knee boots, because I was feeling a little sniffly and wanted to be warm, regardless of the consequences. On that day, my trekkie (Star Trek fan) husband pointed out that I bore a striking resemblance to the crew of the Starship Enterprise. And so, the dress hung in my closet a few more weeks.
How the dress finally worked
On the day of this shoot, however, I truly enjoyed the frock. I took these photos near one of the beaches of Santa Cruz around sunset. People were walking, holding hands and dog leashes. Several stopped to compliment me on my "pretty dress." Besides the fact that Santa Cruzans are some of the friendliest people in the world, I think they were right.
The thin, lacy shirt I wore underneath didn't add bulk, and helped to add another texture for interest. Further, my blazer cinched at the waist – perfect for a fit-and-flare dress and a pear-shaped body. The star of the show in my opinion, however, is the footwear: these bright red suede pumps. I felt like sort of dressed for spring without having to wear something uncomfortably lightweight.
Lesson learned: make sure when trying something on for a future season, you style it in accordance with that season. And, always have a pair of red pumps on hand – they resolve a myriad of style problems!
Have you redeemed any challenging clothing purchases?
XO, Janea
Note: Due to a death in our family, I will not be putting out a fresh post on Monday. But we'll be back with some great style inspiration on Wednesday. Be sure to check back!
---