It has taken me a long time to accept athleisure as legit. I wrote one of my first blogs on the STYLetti about alternatives to yoga pants, which I saw then as an insidious enemy of true style.
But along with athleisure options, I too am (hopefully) evolving. I mean, how can we not be intrigued by the styling of sweatpants? That isn't to say that you'll soon see me sporting leggings as pants – I don't and never had Kendall Jenner's shape!
It's kind of like 90s bling. Not many people I know were into multiple piercings or tons of gold chains at that time, but I confess that a gold-colored Gucci crossbody bag is currently calling my name.
Today's feature photo for Glimpses is actually a combination of athleisure and bling.
I love this woman's – I say this word without hesitation – style. She is able to peacock in something akin to sweatpants no less. And I think that a good dose of bling (large gold watch, studs on the handbag and metallic sneakers) – not to mention the camo – is precisely what allows this look to go beyond shlumpy and enter the realm of chic.
W 32nd Street near 6th Avenue, New York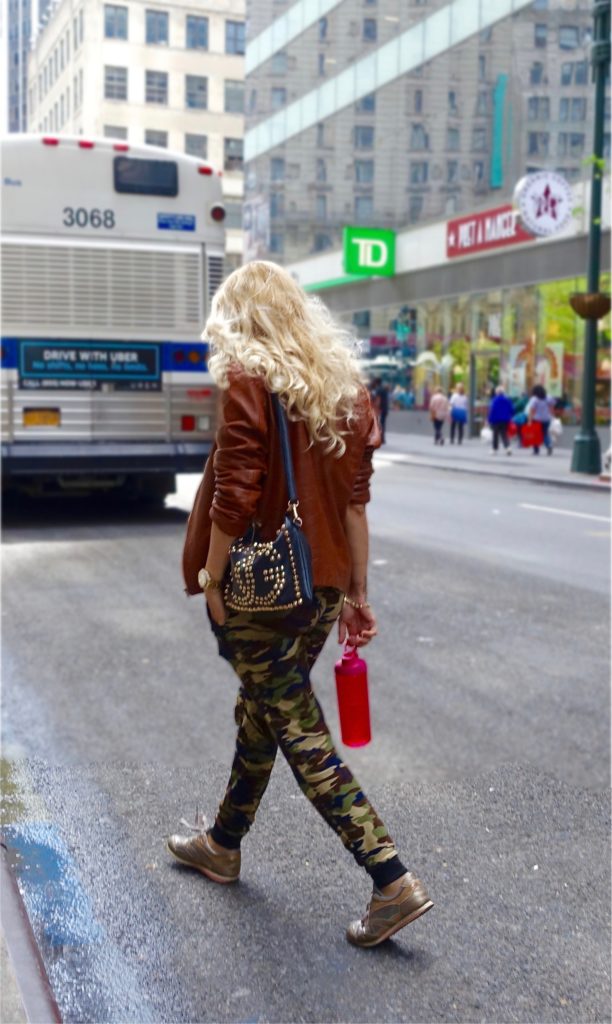 XO, Janea
---
?