When I got dressed for dinner this past Saturday, I had no idea that I would be posing for an outfit post. I mean, Mark and I had a full day – yoga, lunch with a dear family member, visiting the EMP Museum (music, sic-fi, pop culture), and then collapsing onto the sofa for a long nap. When we finally woke up (two alarms later), we had minutes to get ready for our dinner reservation at a favorite Seattle restaurant, Serafina.
These are often the times that I am most inspired. Expectations are low – I twisted my hair up in a messy up-do. Even if that weren't the case, I can comfort myself with the wise words of one of my idols:
"If you make a mistake in what you put together, the fashion police are not going to haul you into jail." – Iris Apfel
In actuality, I quite liked this outfit of the night (#ootn)!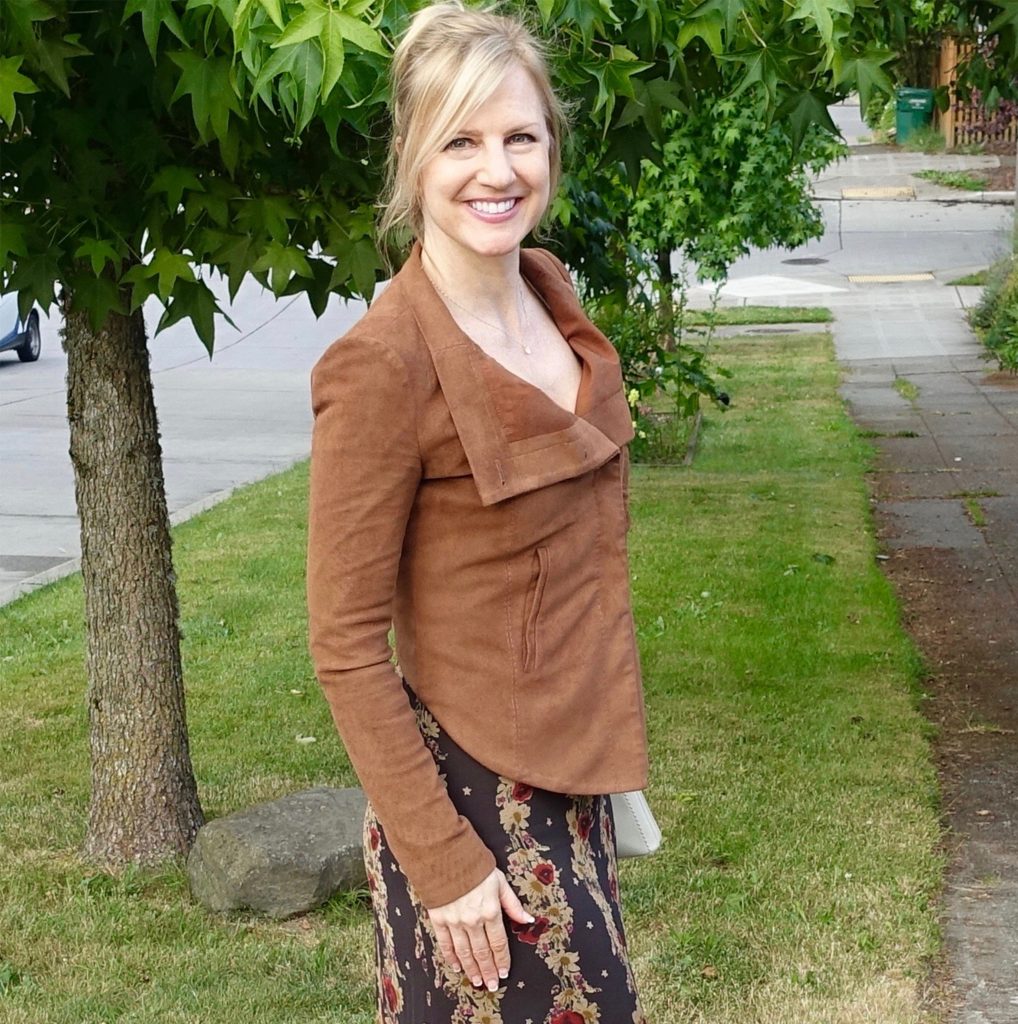 In Seattle right now, the sun sets past 9:00 p.m. As you can see, it was still quite light out, as was the day a constant shift from bright sun to cloud cover and intermittent clouds  – typical summer weather here. And so, my choice for the evening was a lightweight strappy maxi sundress in a floral pattern…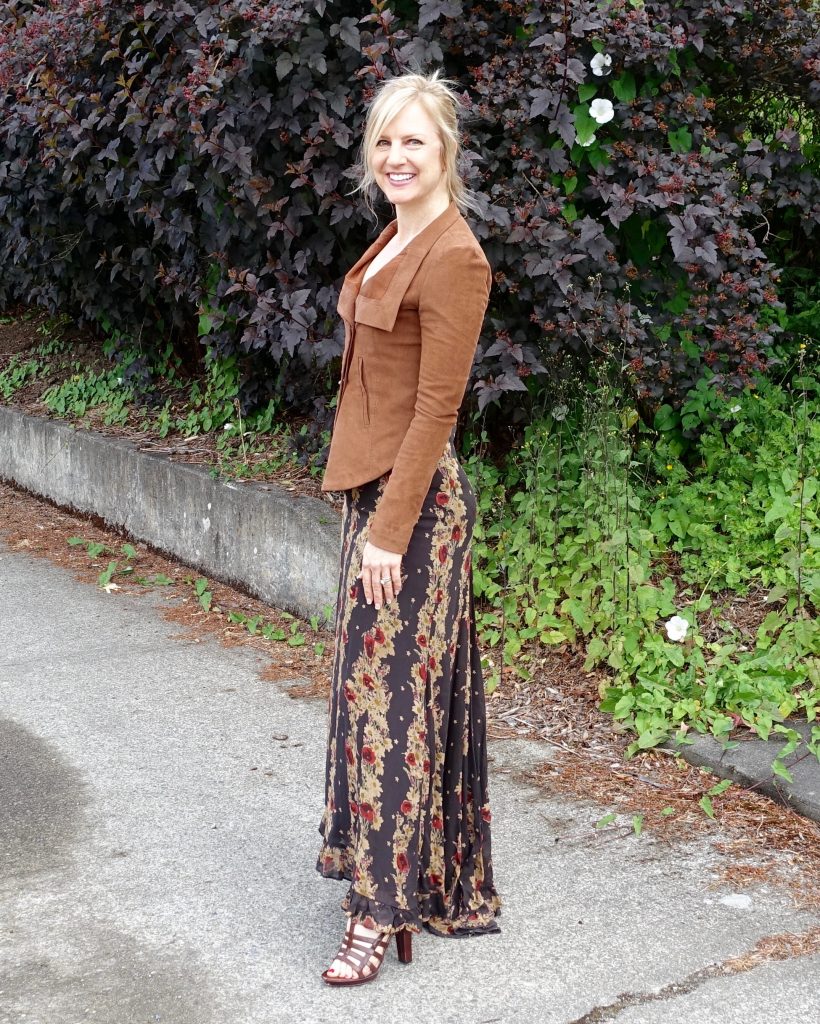 and I layered it – layers are your friend in these parts – with a summer-weight ivory cashmere cropped sweater (hidden) and a suede cropped jacket.
With this, I wore platform gladiator sandals, which I don't wear very often, since they are are pretty high: 4 3/4″ with a 1/2″ platform (121 mm., 12.5 mm. platform). But I had to keep this dress off the ground, and they are actually quite comfortable because of the platform.
Dress and cashmere sweater – old / Jacket – BCBG / Sandals – Joan & David
One feature I especially like about this outfit is how the jacket comes up higher in the back than in the front. I feel it really suits the cut of the dress, in which the hem is lower in back. I also love the fact that the lower hem in back is subtle – not too drastic.
It actually looks to be a flamenco style, which is exactly what I feel like dancing when I wear it.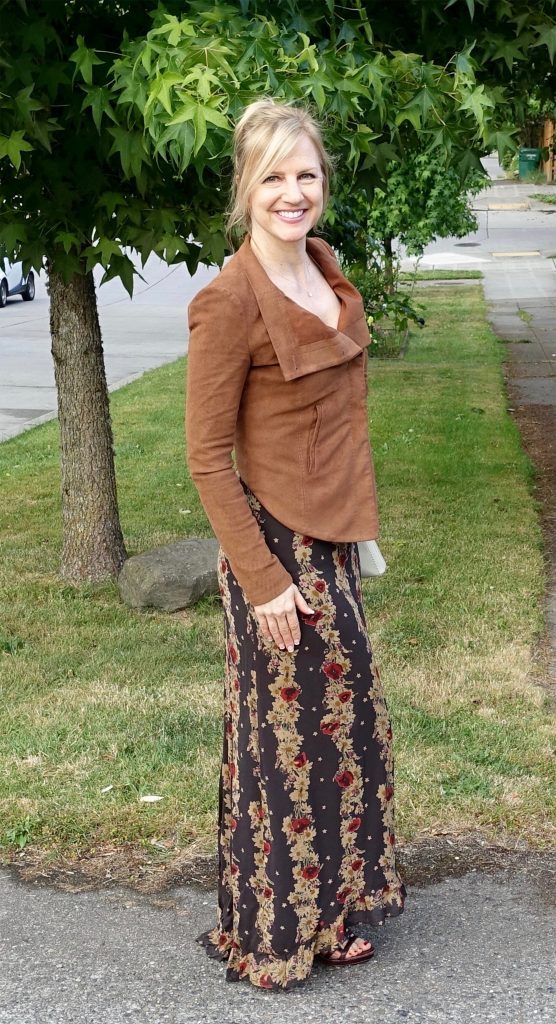 In spite of the fact that I can vouch for Serafina being one of the finest restaurants in Seattle – consistently perfect multi-regional Italian food – the clientele is always dressed casually. Sometimes I will go ahead and dress up formally just because I feel like it, but on this evening, I went with the flow – when in Rome…I mean, Seattle!
Overall, I felt comfortable in terms of temperature and in wearing something boho-casual (with a dash of drama) for this lovely dinner date.
The only thing I won't show you is my handbag. Now for that, the fashion police might make an exception and haul me off! (Currently shopping for something boho.)
XO, Janea
Psst! If you'd like to shop this look, here is some link love for
---