New Yorkers are bold!
When I contrast New York City with my new home of Seattle, Washington, I am reminded of the huge differences I noticed last summer when I traveled from Italy to Norway: worlds apart! I would describe Seattle culture – similar to Norwegian – as valuing understatement, practicality, and frugality, while New Yorkers – like Italians perhaps – are more prone to "going for the gusto!"
Even though I grew up in Washington of Scandinavian stock (before an extended migration to California), I feel a special affinity with New York style. I love the blends of theatricality, subtlety, refinement and daring. And I love the lack of timidity when it comes to color!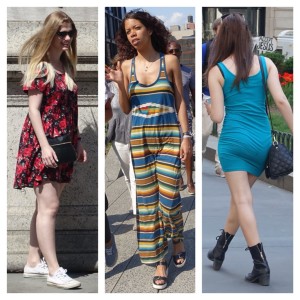 During my last Spring visit to New York, I couldn't help but notice flowers in bloom before the New York Public Library, around Union Square and the High Line. They weren't the only blossoms of color; many a New Yorker was at least as vibrant in his/her weekend Spring attire.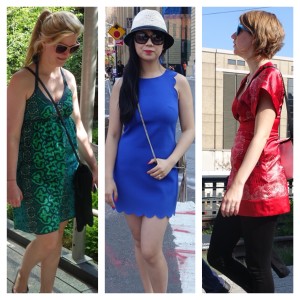 As I previously pointed out blogging about New Yorkers donning yellow to gold tones and shades of orange, these people are not afraid to do color. A full spectrum is on glorious display this Spring!
While New Yorkers are obviously not the only people who dress in bright hues, have you noticed how so many do it with panache? Check out the artistry of our last muse. I love the way he combines lime green, red and fuchsia with more muted, neutral hues – and it works!
What I adore about New York style is that people seem to be willing to go the extra mile, intrepidly taking risks, and oftentimes, results are spectacular. And so, their personal aesthetic becomes a living art, a way of interacting with their surroundings/culture. Convenience and comfort seem to be secondary concerns.
I hold a special place in my heart for New York where I always see bold gestures of style – and color! Hope you have enjoyed these examples.
XO, Janea
---
????