When you see a person with hair dyed an unnatural color, something bright and vibrant – maybe blue, pink, or canary yellow – what do you think? Wacky, bold, and adventurous? Or maladjusted and weird?
I went through a time in my life in which my hair was very short and stood straight up. Although it is a great style on Halle Berry, I can't say it was the same for me. Regardless, it was so freeing to ignore convention and express what I wanted at the time.
When I see people today with brightly colored locks, I imagine they might experience something similar. I also notice that some pull it off enviably well, coordinating their look with just the right attire for that alternative hue up top.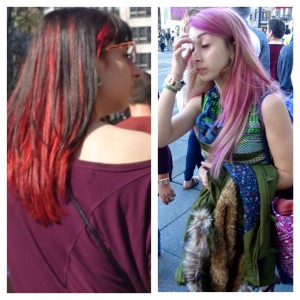 The muses here seem to be of the same mind as me when I say it is just plain wrong while wearing your hair bright blue to dress as if you didn't have neon hair. The attire which to me coordinates best with brightly colored hair is either 1) vibrant and colorful itself (matching) or 2) monotone and dark in color or muted – preferably black with some creative touch (contrasting, but not too much). 
It appears to be loads of fun to play up – via one's clothing selection – the dramatic aspect of brightly colored hair. At the same time, I have to hand it to the muse pictured below (at center), who somehow pulls off a totally ordinary, laid-back appearance…aside from the two-toned mohawk.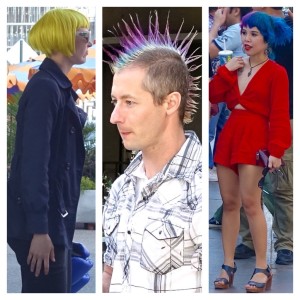 I love it when people don't take themselves too seriously and get truly creative with the way they dress…or dye their hair. I applaud those bold enough to stand apart from the crowd in order to express themselves with whichever hue they please. Hats off especially to the muses here for doing it so very well!