Brown shoes with black pants – for heaven's sake, WHY?
I know some of you will be saying to yourselves, "Why not?" After all, a lot more flies in fashion than ever before. It's now okay to wear black with brown, combine neutrals, wear white after Labor Day, and for women, let the world see your bra straps. But I must say, I cannot abide by brown shoes with black pants.
Note the way these gentlemen's attire – although sharp and elegant in most every respect – simply fails at street level. The shoes are a blatant announcement to the world that the wearer lacks fashion sense or at least, that his black shoes are being resoled.  
Now if the brown shoes had some black stitching and were worn with a brown belt and another prominent brown clothing item, I might be willing to consider the combination. A person who is extraordinarily clever and stylish might pull it off. Otherwise, my advice is: avoid it altogether.
As you can see below, a similar combination works no better on women. I simply see no rationale for wearing the brown boots, which instantly catch your eye for all the wrong reasons.
In contrast, notice how easy on the eyes it is to pair a navy suit with brown shoes. It is quite a harmonious look, don't you think?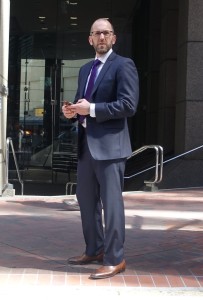 I say we leave the less common clothing combinations to the more expert style and fashion gurus. What do you say?