"Now this is why I live in California!" is pretty much my mantra during the holiday season. It is a special treat to be able to go to the beach on Thanksgiving, Christmas and New Years. And pardon me for bragging, but some days I still leave the house with nary a jacket. In this wonderfully temperate climate, you do see traditional dressing, although it runs the gamut from shorts to wool coats. I trust you will enjoy perusing the following looks which I believe capture the spirit of transitional dressing in the San Francisco Bay area.
The outfit pictured below was spotted very recently. No joke! It didn't exactly seem to me like shorts- (nor skorts-) wearing weather, but with temperatures in the low 60's, hey, why not?
The next "transitional" look is priceless: sandals! with sweater, scarf and sunglasses. Viva California!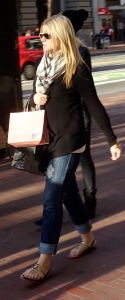 Tights are sometimes all a girl needs on cooler days. I love this look with a colorful flower patterned skirt and faded denim jacket: a perfect combination of feminine and casual.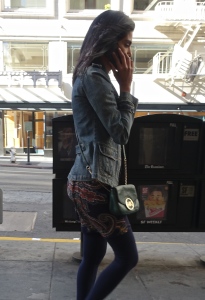 As shown below, tights also save the day…or at least allow a woman to comfortably don an even shorter skirt.
Speaking of the skirt, plaid is a total San Francisco thing. What's cool about it is its versatility and myriad associations. It might evoke a British royalty/Ralph Lauren outdoors in Vermont look or a Vivienne Westwood punk vibe or Pacific Northwest woodsy grunge. It might suggest a combination of those influences or allude to yet another, like the Scottish kilt or parochial school uniforms. I'll leave it to you to interpret the next 3 plaid looks.
Now that we can actually get by with wearing coats (some of the time), why not make one the highlight of your outfit? When it is just a bit breezy, a trench coat is of just the right weight and fabric. Lilac with white polka dots is a nice choice, and bright red always gets my vote.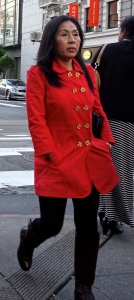 Another option is to wear a neutral colored coat with a pair of shoes which liven up the look. "Popping" red flats certainly fit that bill and are tastefully paired below with more muted/neutral colors.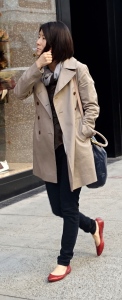 What a treat to see a plaid coat (shown below) paired with a lighter plaid flat cap! The (summery) red espadrilles make for an even more interesting mix. And I love the cut of the coat with a center pleat in back, which flares out to resemble a cape. (Skinny black jeans help establish that the coat rather than the wearer widens at the bottom.)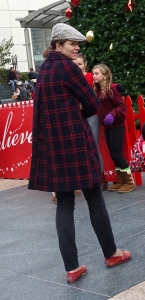 The boiled wool coat pictured below is not only transitional in style but also in shade, fading from black to light grey. Paired with skinny black pants and black flats sans socks, it is an adorable half-commitment to bundling up.
Next we have another wonderful juxtaposition of seasonal attire: green wool coat with short black dress, bare legs and black sneakers. Smart and cheeky!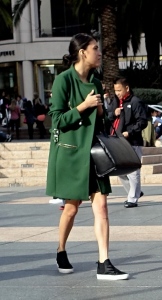 Although I constantly rejoice to be in this temperate region of the world, wintery storms this week have led me to suspect we will be seeing more of the kind of look featured below.
As I touched upon previously, red – of any tone – is a winner in my book. Black leggings are a wonderful way to maintain a svelte look while wearing heavier layers on top. With even thicker layering, higher heeled boots or shoes help to prevent the Michelin Man look.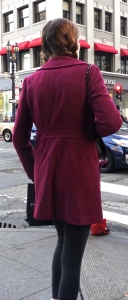 In rain or shine, I am so thankful to be in the San Francisco Bay area. It is a place full of surprises, often of weather and always of its residents. Perhaps less than standard seasons influence Californians to be less conventional; styles observed on the streets certainly tend to be more experimental and creative than those in other parts.
Here's hoping you have enjoyed glimpses of these muses of transitional dress in California. In viewing them, I know I am further inspired to dress in accordance with our interesting (non) seasons and my own fancy. How about you?