While in Milan recently, I was thrilled by the sense of style possessed by just about everybody there. No matter how casually a person is dressed there, I always seem to discover something perfectly marvelous about his or her ensemble. 
I want to share some photos of some of looks I observed which weren't necessarily the most eye-catching but which exemplify extremely inspiring qualities I noticed about Milan style – even at its most cazh.

Attention to detail 
The three Milanese muses above demonstrate fabulous style with what might appear from a distance to be ho-hum: black skinny trousers/leggings with white tops.
But here's the difference:
Look at the lovely accessories on the woman to the left: perfectly polished smart-androgynous shoes with black tote bag of fine leather, and matching belt. The white blouse is anything but ordinary with longish short semi-puffy sleeves, and her pearl earrings add just that much more sophistication to the mix.
The black denim jeans of the woman (in the center photo) are also worth noting: of a lovely sheen, perfect fit, and contemporary hem – just above the ankle. The woman to her right simply sports a grey tee and black leggings, but again, the fit (not to mention condition) of each item is impeccable. A (very clean!) pair of Chucks and delicate pendant necklace are the icing on the cake: creating a fine balance of fem and androgyny. 
Notice as well that this muse, who dons more casual footwear than the other two, appropriately carries a more casual beige tote of a sturdier leather. In Italy, in contrast to the U.S., I never see a woman carrying a handbag which is too elegant or casual for her outfit. 
Trendiness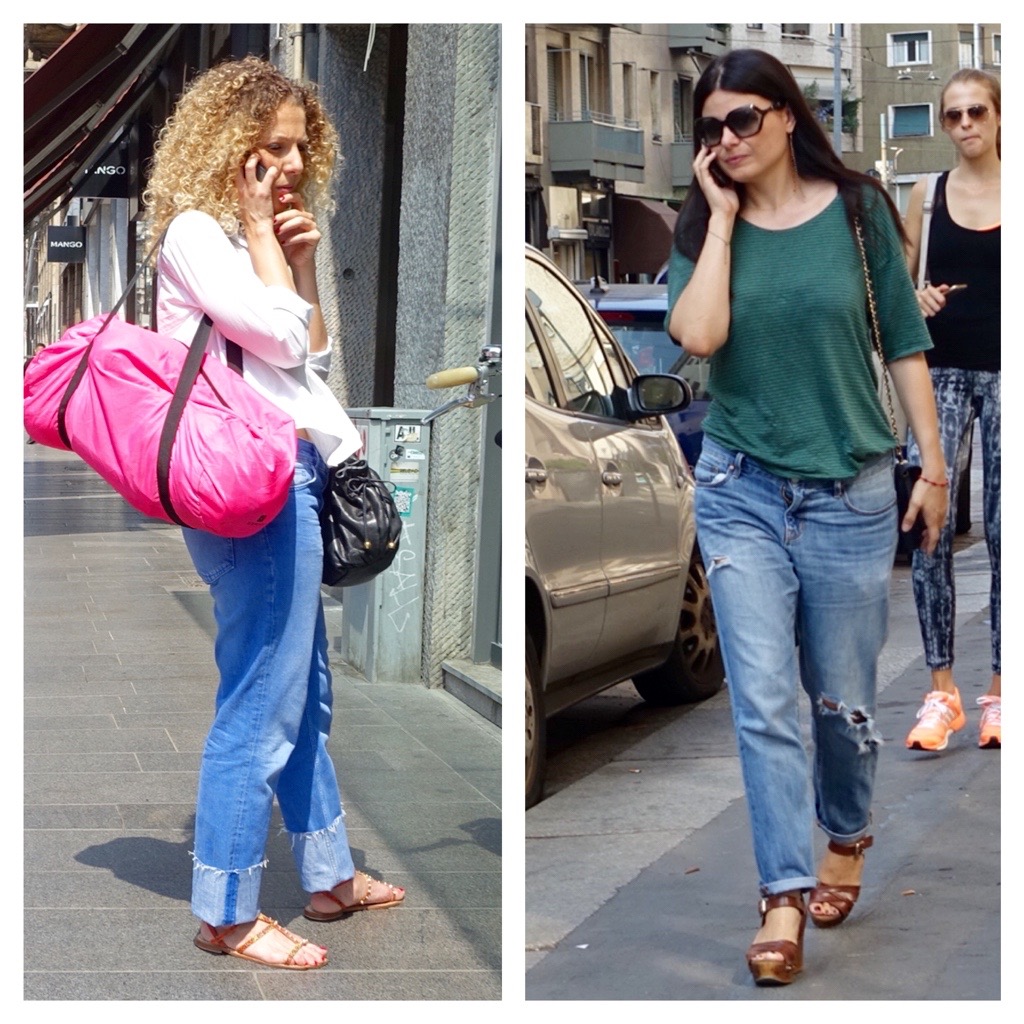 When it comes to fashion trends, Milanese seriously bask in them. For all we know, these are most likely (relatively) typical women in Milan. However, the way they finesse current fashion rivals that of our celebrities in the US. 
The turned-up hem, as on the muse to the left, is still more prevalent on the pages of fashion mags than on the streets in the US. And I take off my hat to the ripped boyfriend jeans to the right with platform sandals and (it seems) purposefully "sloppy" tee – I mean, look at how it is still sort of tucked in! – and equally "sloppy" absence of a belt. It definitely seems to be planned effortlessness.
Adventurous
These next two muses illustrate once again how adventurous Milanese women are when it comes to fashion and styling an outfit. I love the wide-legged pants on the muse to the left, which I wrote about longing to see more of (in the US), in an earlier post. Of course, her fine Italian-made (I assume) leather tote and beige platform sandals are nothing to sneeze at!
I simply adore the palette of the muse to her right. The hues of her top and trousers make an interesting combination (with sunglasses to match the top!), but the third color of the handbag makes it stunning. As Julia wrote in her post about Russian and Italian style, Italians seem to have an innate talent for creating beautiful things. I mean, just check out this Italian train interior – the colors!
This must be the true mark of a people's style: being able to dress completely cazh and preserve a true sense of style. If I were to rate how people in Milan in their execution of this, I would have to give them two thumbs up! 
I hope you have been inspired as I have by these visions of cazh dressing at its finest. Cazh does not have to mean boring!
XO, Janea
---
????