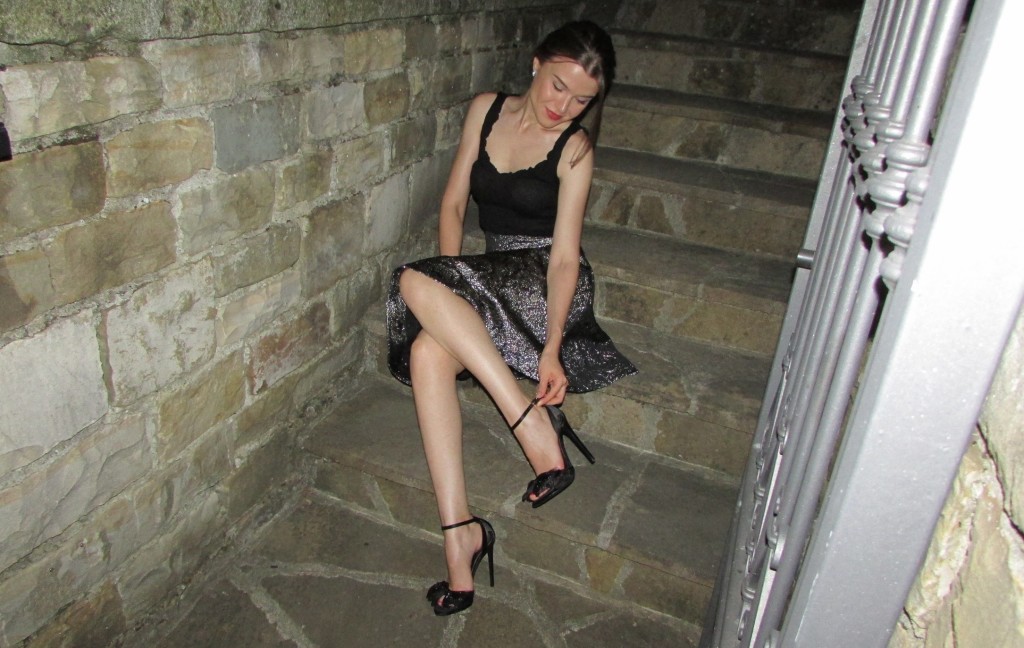 Has this ever happened to you: you fall in love with some shoes, but the shop doesn't have any in your size?
Well, it happens to me 9 times out of 10. Imagine this: you spot the perfect shoes. You want to try them on to feel and see how they fit, see yourself in the mirror wearing them, buy them, and then put them on right away because you can't wait. You know the feeling, right?
So, you walk up to the shop assistant and…"I am sorry, we do not have size 4 (European size 34), but you can try a 5 (EU 35)." You agree, hoping they'll fit (deep down knowing that they won't). And as you put them on, you confirm that they're too big! Not wanting another pair, you go back home desperate and sad.
Finding shoes for small feet is a challenge. Not only because shops rarely sell really small sizes, but even when they do, the pair you want is often picked over. If you are a Cinderella like me, I would love to share with you my tips and experiences.
The easiest footwear to shop for includes high boots, ankle boots, Uggs, and sneakers
– simply because they won't fall off your feet. You can insert an insole in order to prevent slipping (a fur insole for winter) and voila! A size 6 (EU 36), boots, sneakers, or trainers becomes a 4 (EU 34). 🙂
I absolutely love these Giuseppe Zanotti high boots; I always get compliments on them. The heel is very high, yet so comfortable!

Victor & Rolf ankle boots are very classy, and the size fits me well.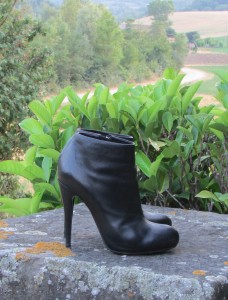 Ballerinas are difficult to fit; I have only two pairs in which I feel comfortable, and I always put gel cushions and heel shields in them. I recommend the Scholl Party Heel collection; you can also find similar products in drugstores and pharmacies.
Classic Louis Vuitton ballerinas. If you buy something from a classic line, you can wear the it for years, and it will always be in fashion.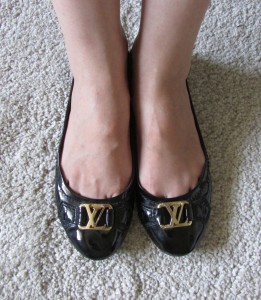 These Dolce & Gabbana ballerinas are less classic, but I love the blue color and gold hearts.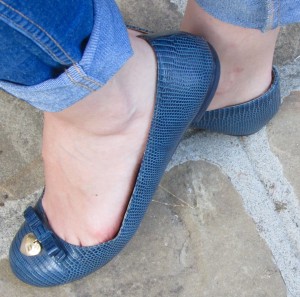 I don't think that I could wear these ballerinas without gel heel shields, maybe only in hot weather. By the way, if you are searching for summer shoes, try them on when it's hot out or after lots of walking, because these things make feet swell.
Sandals and pumps are among the most difficult to find in a small size. Ankle straps are a a great way to prevent slipping – even if the shoes are a little too big, you can still walk in them. I've found that some brands make shoes in a smaller size, but that size might not be sold in every country. Gucci, for example, sells size 4 (EU size 34) in Italy but not Russia.
I bought these Gucci pumps years ago; the silver-bronze color goes with everything, just like nude.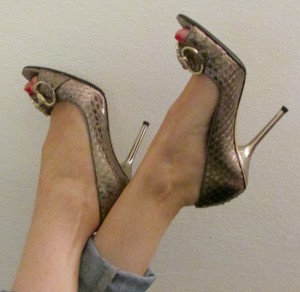 I could not resist getting these Red Valentino slingback in a cute Barbie-doll style.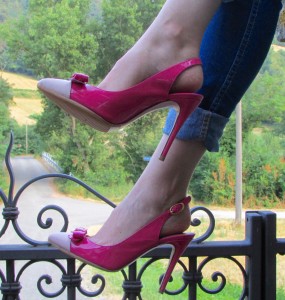 Fabi sandals always attract attention, and their closed shape make them so comfortable.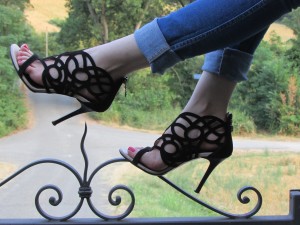 I searched for classic black sandals and was lucky to find these at Aldo.If your sandals have a more substantial back (around the heel), it makes them look smaller on your feet. Aldo sells small sizes of good quality at affordable prices.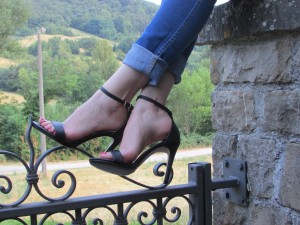 I am in love with every single detail of these Dolce & Gabbana sandals; they are simply gorgeous, a masterpiece!
Never underestimate kids' lines, of course. You won't find heels, but some of their flip-flops and flats are cute. 
I recently needed beach flip-flops and couldn't find them anywhere. Desperately, I went to Benetton and found these cute girly-girl flip-flops to match my pink and white bikini.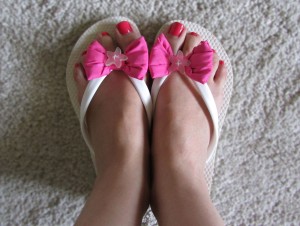 Flat sandals are the absolute most difficult to find for women with petite feet. I think I went to all the shops in Milan before finding some that aren't too big and don't hurt my feet.
I love these Dolce & Gabbana flat sandals – classic and so colorful that I can coordinate them with much of my wardrobe. They are great for both day and evening wear because of the crystal adornment.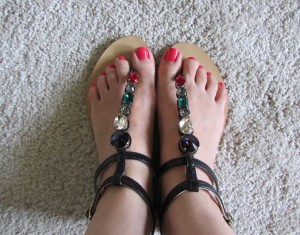 If you have continue having problems finding great-fitting shoes in stores, check out websites or brands offering custom-made shoes. If you want to stand out from the crowd, handmade products are ideal.
I am skeptical about ordering shoes online, because you can't be sure if the sizing is precise, if the shoes will fit, and so on, but custom-made shoes always fit perfectly. I definitely plan on ordering a pair one day.
Find out what works best for you, and walk happily ever after!
Remember, never look back; if Cinderella had returned to pick up her shoe, she would have never become a princess. Cinderella is proof that a new pair of shoes can change your life. 🙂
---
✨