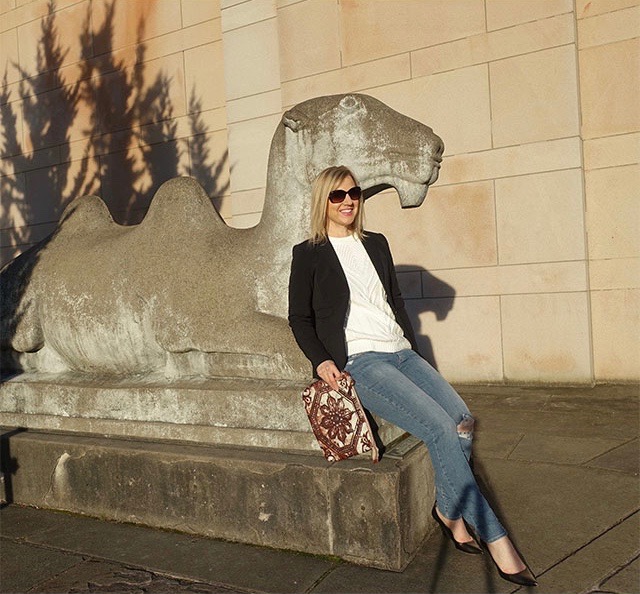 Is the title of this post throwing you off a little? Okay, distressed denim isn't exactly a "classic." But I've noticed that this look has become…well, classic when it comes to street style!
PAIGE distressed jeans / Vince Camuto sweater (on sale) / Theory blazer – similar / Stuart Weitzman pumps (old) / Campomaggi clutch (old) /  Elsa Peretti® bone cuff bracelet 
Here's the recipe:
Pair of ripped jeans
White tee/sweater – depending on season
Blazer – black, navy, or red for example
Pair of high-heeled pointy-toed pumps
Of course, it's always fun to add a few signature pieces as I did here with the Elsa Peretti® silver "bone" cuff and Campomaggi clutch.
Jeans fit
To be honest, I never dreamed that I'd be the proud owner of ripped jeans. First of all, I actually wrote one of my first posts in protest of the "ridiculous" trend. (It's in my private files.) But now that they're well, classic, I've stopped snickering at their impracticability and have sort of wanted a pair.
A second deterrent has been my pear/womanly/curvy shape. Once in a blue moon, I find jeans that actually fit AND flatter. I mark it my calendar as a day of miracles. And then I love them to pieces…until they stretch out or I discover that they give me plumber's crack when I'm seated.
But then I discovered the brand PAIGE®! A woman founded it, and so, it makes sense that they make skinny distressed jeans cut to fit my shape. And the fabric has only 1% spandex; so, they don't just fit temporarily!
Styling for a Skinnier Look
Of course, I can't pretend that I simply relied on the jeans' fit to dissimulate my…let's just say, bottom-heaviness. This ivory cold-shoulder sweater draws attention upward, and I love the way that the shoulder cutouts echo the theme of (chic) holes in my clothing. Speaking of which, knee rips are far superior to thigh rips if you want to visually slim your legs. If, on the other hand, you want added volume there, by all means go for completely shredded jeans.
Another great boost to my silhouette are high-heeled pointy-toed pumps. I've owned this gunmetal patent leather pair forever. They are a serious wardrobe basic, and I think that they add a note of sophistication to the trendier pieces of the outfit.
Lastly, I purposefully chose a largish envelope-shaped bag for a slimmer silhouette. There's something to be said about a bag that doesn't attach to your body – especially the waist!
I hope that you like this "classic" distressed jeans look. Are you a fan of ripped denim?
XO, Janea
---