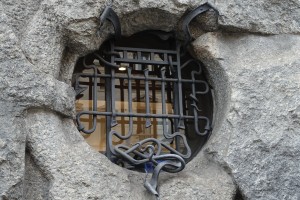 I love Milan! It is truly a fashionista/style blogger's dream: exquisitely dressed men and women populate the streets year-round.
I thought you might also want to have a glance at some looks I recently captured of what I call classic Milan.
I call the looks classic, because although some include modern elements, they illustrate that quintessential Italian touch, that amazing ability to coordinate an outfit to the very last detail. Italians seem to relish fashion in the purist manner, luxuriating in textural and color delights which elevate us all (wearers and viewers alike) beyond the potential humdrum existence of daily life.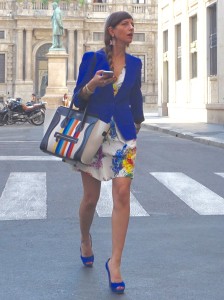 I suspect that not all muses I shot are native Italians, but it certainly seems that the city has an effect on all who come and especially, those who stay a while. I mean, how could you not be moved by such a tradition of grand style and relishing of fine dress?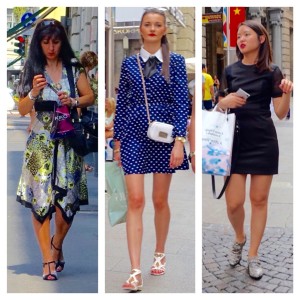 Ah, the beauty of a white top with black skirt. It can offer the simplicity desired to go all out with texture, cuts, and design. Or it can simply serve as a statement of elegance and refinement.
The muse below illustrates the rich way Italians bend the rules and get away with it – quite artfully! Who else would think of pairing black and white attire with earth-toned accessories?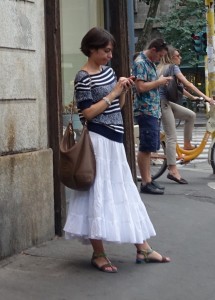 Or the following combination of patterns and color of the lady muse below? (I simply had to also feature her companion, by the way, as the most interestingly dressed hipster I have yet to spot.)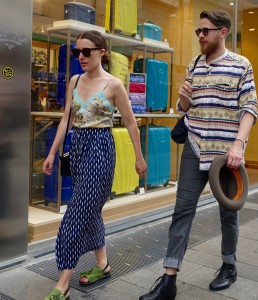 Our next pair of muses take the tank top and trouser look to charming extremes. Simple, understated, and elegant describes the left one, while the one to the right clearly favors interesting detail.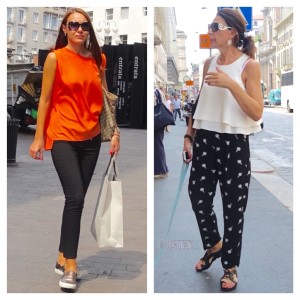 On a lovely figure, Missoni and Missoni-like dresses compete, in my mind, with the Venus of Milo.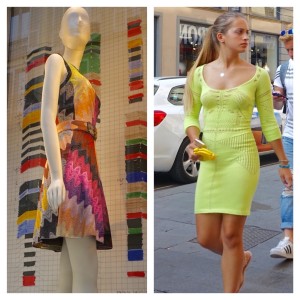 A colorful palette was used for our next examples of "walking art." Yellow is not the color of handbag we might typically select for the ensemble to the left, but now that you see it, would you substitute it for any other?
The main theme in the ensemble to the right is the dress: a lovely contrast is created by the richly colorful and patterned front and the flowing, semi-sheer purple fabric in back over a red lining. Large purple dangle earrings, ivory handbag and bronze sandals are perfect compliments.
Our final muse masterfully combines color, cuts, and texture while maintaining an air of simplicity. Would you have thought to wear black sequins during the day?
I have to ask, where else can you find this kind of style in the middle of a heat wave? Brava to these stunning muses of classic Milan style! I hope they have inspired you. They have certainly given me some wonderful images with which to play in my mind, in my closet, and when I next go shopping.
xo, Janea
---
????