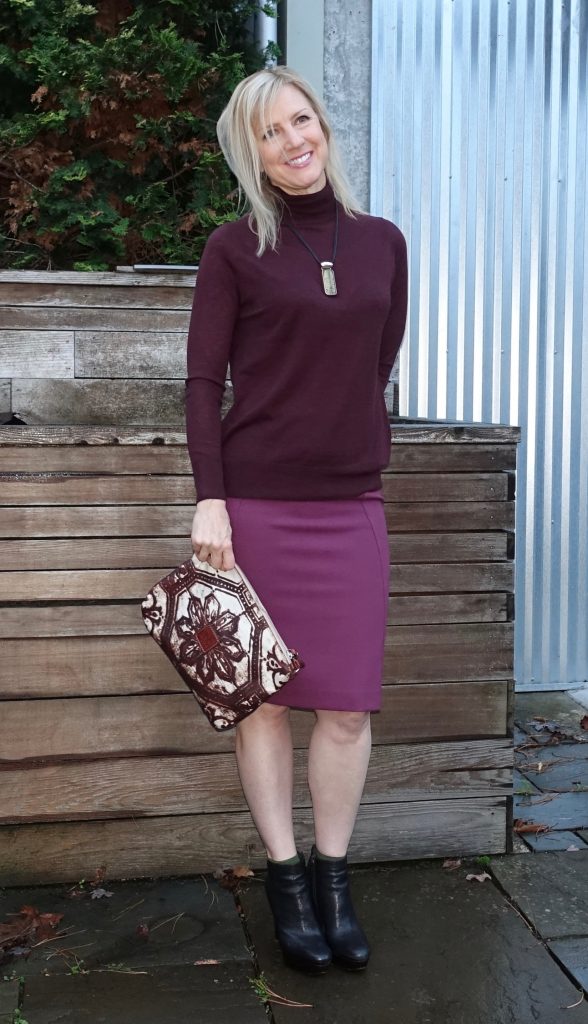 One windy day in Seattle, I decided that I would dress in a way that I seldom see in this city. I wanted to wear BRIGHT colors in something other than athletic gear. Almost two years ago, I blogged about Seattleites dressing in color. But I now have to agree with a friend who at the time suggested they were tourists. (There's something about overcast skies and rain that seems to make people want to dress in dark colors.) Here's my colorful outfit.
It must be the rebel in me!
Conditions weren't exactly the same as with hurricane season in Miami, but it was definitely windy and rainy most of the day! As a sun-lover, I guess I needed a little rule-breaking to put me into a good mood. And it worked!
My color-blocking experiment
In putting together this colorful outfit, I broke an old rule. I'm referring to that saying, "Red and green should not be seen except upon an Irish queen"? But I also broke a personal rule to avoid any sort of color-blocking!
In my recent cold-weather style tips post, I touched on the technique. Color-blocking is basically when you wear blocks of solid colors together. It is great for a little drama and has been a hot trend for some time.
With my pear (or as a friend recently suggested I put it, "womanly") shape, I am always trying to create one long silhouette. I often achieve this by dressing in monotone or with a similar shade on my top half as my bottom. If anything I'll de-accentuate my bottom half with a darker color. This time, however, I experimented with equally strong complimentary colors.
A success!
I think that basically, I pulled it off as long as the jacket is unzipped. Otherwise, the fact that the jacket is short and very fitted makes it look like some of my top half got squeezed down into my bottom half. 😉
The fact that the color of my skirt is close to that of my sweater makes for a somewhat continuous line, I must admit. And the sweater was not so bulky as to distort my figure. Another option would be to add a slightly (or even much) longer jacket – in green or another bold color like mustard perhaps? – that cinches in the waistline and flares at the hips.
Playing with color
Besides the rule-breaking part, I enjoyed this colorful outfit because it brought out my creativity. Putting it together almost felt like painting! My final touches were an olive-colored Murano glass pendant and clutch with a gothic print in a warm brown to match the tone of my burgundy sweater.
If I wear this again – I totally repeat a look that works! – I might just make one tiny color change and switch out the green anklets for black ones.
What do you think of the look, and do you ever wear bright colors to brighten your day?
XO, Janea
TO SHOP THE LOOK: Vince turtleneck sweater / Halogen seamed skirt – fun alternative / Halogen jacket – similar / Campomaggi bag / Stuart Weitzman booties – similar
---