Wouldn't it be cool if someone made a shoe as comfortable as the Nikes pictured above and sexy as a skyscraper stiletto?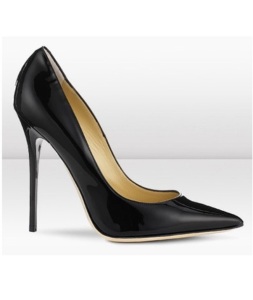 I have found through extensive personal research that although well made heels are infinitely more comfortable than cheap ones, there is basically an inverse relationship of beauty to comfort when it comes to women's shoes. In other words, there are 1) walking shoes and there are 2) pretty shoes. Let's be honest with ourselves: orthopedic is not sexy!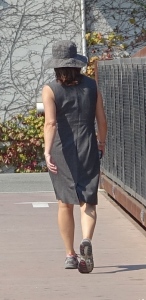 More and more articles are popping up over the interwebs about the hazards to our health of sitting for prolonged periods of time. Those of us who wish to prevent these effects opt for a walk in the morning and/or afternoon. Or we park a considerable distance from the office and take the stairs rather than the elevator. Not only does it make us feel good that we are taking care of ourselves, but we end up with more energy and less stress. If we tried doing all that activity in stilettos, however, the damage to feet and back – not to mention discomfort! – would outweigh the benefits. So, how do we enjoy more mobility and still be able to (play) dress up for work?
I discovered a trick which solves this dilemma: wearing both the comfy and the bomb shoes…at different times, of course!
You know those soft cloth bags with a drawstring which come with nicer shoes? They are perfect for protecting footwear from scuffs and scratches during travel…to the office. With those in tow, you can wear your "walking" shoes for all that extra cardio during the day and worry less about sore feet, sore back and scratching a leather-covered heel in a crack in the sidewalk.
The shoe bag (within a tote) is also a much more sightly and neat way to transport shoes. If you don't already own a small collection of those bags, there are tons online. I know a couple women at work who keep a few pairs of dressy shoes in the office instead of transporting them daily, but I prefer to have all my shoes available at home for non-work activities.
So, on weekday mornings, I simply choose a walking shoe to wear and a pretty shoe to stick in a shoe bag. It has become such a habit that I now have some regular combinations. For a brown shoe outfit, for example, I have a couple pairs (pictured below) both by Stuart Weitzman in the same tortoise shell patent leather. How easy is that?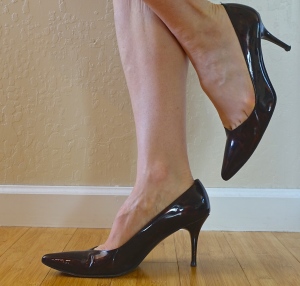 You will notice that the walking shoe pictured above has a slight wedge heel and not a super wide toe box (but wide enough for comfort). Both features help to visually elongate the leg, and the heel is much more agreeable than a perfectly flat shoe for walking or standing for long periods of time. It isn't as comfy as a Birkenstock, of course, but is quite sufficient for strolling around town at lunchtime or a brisk mid-morning walk in the park.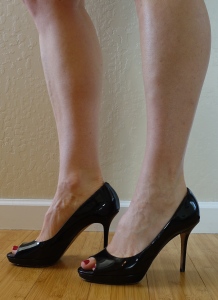 On days I want to wear my all-time favorites, Jimmy Choo black patent leather peep toe pumps (pictured above), I happened to find a great  flat pair of black patent leather shoes with ankle strap (featured below). That little strap goes a long way to make an outfit dressier, and as you saw in the Stuart Weitzman walking shoe above, it has the more comfortable wedge heel and relatively narrow toe box.
Now when I'm in the mood for dressing in all black except for a shoe in a color that pops, I opt for the duo pictured below. The blue Born mary jane to the left gets me to work while the Stuart Weitzman burgundy peep toe pump to the right gives my look the lift I want while I'm there.
The blue walking shoe is cushioned and has a platform, which means the incline is not at all steep (visually deceiving!) I also opt to wear them when I have on a pair of tights or dark stockings. Some height of heel and a narrower toe box counteract the thickening effect of tights and create a more tapering/lengthening effect.

Although ballerina flats have the potential of making legs look stubby or gangly, I have found they look best sans hosiery. The photos below show quite acceptable looks with flats. Our first muse wears a pair very similar in color to her skin. What better way to extend the line of the legs? A great choice with shorts!
Every woman ought to own at least one basic pair of black flats. They are a safe staple for office wear when you want to get around.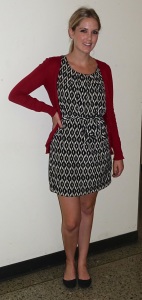 A little bow over the toes never hurts. Nor do long slender legs.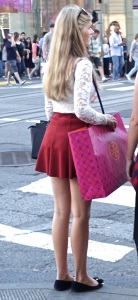 The bright green flat pictured below is exceptionally cool and cute. The color is awesome paired with the turquoise ruched dress, and they don't look the slightest bit orthopedic as do most mary jane style comfort shoes.
Our final muse wears ballerina flats in a beautiful azure blue. I currently happen to be coveting a similar pair (sigh!)
By doubling up on shoes for the day, not only do you save your feet and back (and figure), but you also extend the life expectancy of your heels. Less frequent are visits to the cobbler for new taps (those rubber pieces on the end of the heel which preserve it and keep you from click-clacking down the hallway).
If you think you might give this strategy a whirl, I'd love to hear how it works for you (or not).