When dressing monotone, I really like mixing textures. The more contrasting they are, the better. That's why I love wearing knitwear with leather. Take for example this long sweater with vegan leather leggings by Aritzia which you may have seen here. It makes for the perfect travel outfit.
Okay, I know what you're thinking: what about those shoes?! I wore this to fly from Seattle to San Jose, California. It is a very short flight; otherwise, I would have worn more comfortable (flat) shoes and maybe stashed these in my carry-on.
One thing I especially like about these boots is how seamlessly they blend with the leggings. Both have a smooth, sleek finish and perfectly match in color.
Traveling cozy
The rest of the travel outfit couldn't be more comfy. The leggings are like a second skin, if you'll pardon the expression. I would choose these over jeans for air travel any time!
And since I often get cold on planes, especially in my chest area, I wore underneath the sweater a sheer black top with a higher neckline. And I of course, used my favorite blanket scarf – as a blanket.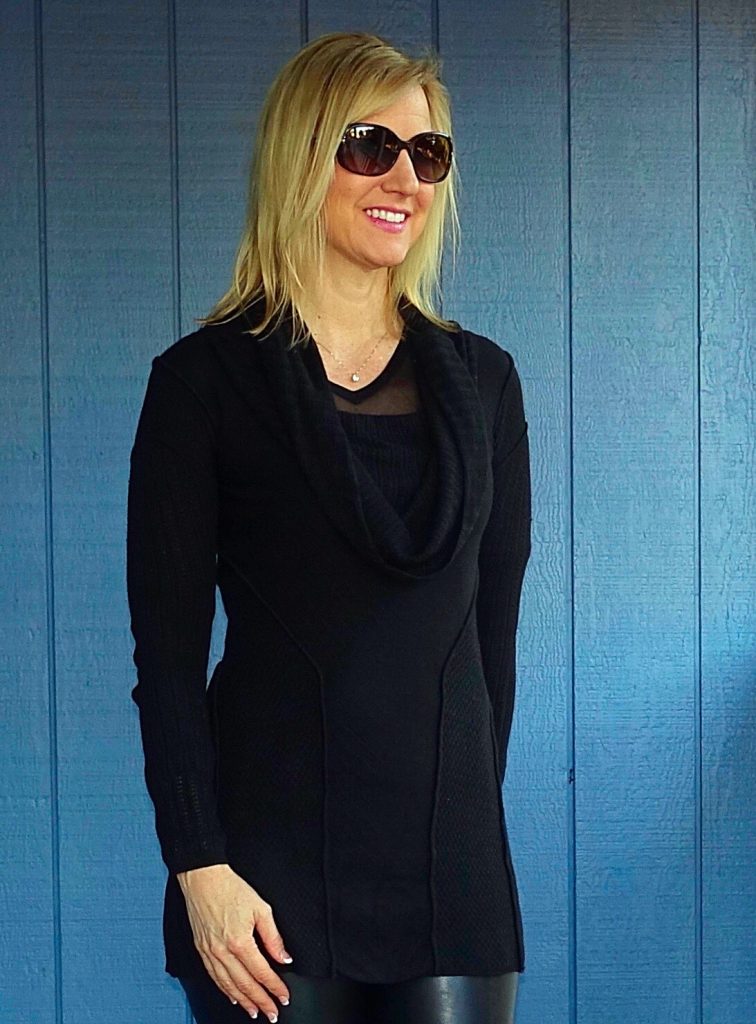 Making the travel outfit chic 
The outfit was perfect (elegant enough) to go straight from the airport to our dinner reservation. Mark's and my final destination was Santa Cruz, and we arrived at rush hour. No problem! We took advantage of being on "that side of the hill" to visit a fave sushi spot. It was the place of our fourth date. 🙂
As it cooled down that evening, all I needed to add was this light trench coat. Perhaps you recall it from my cozy work outfit post?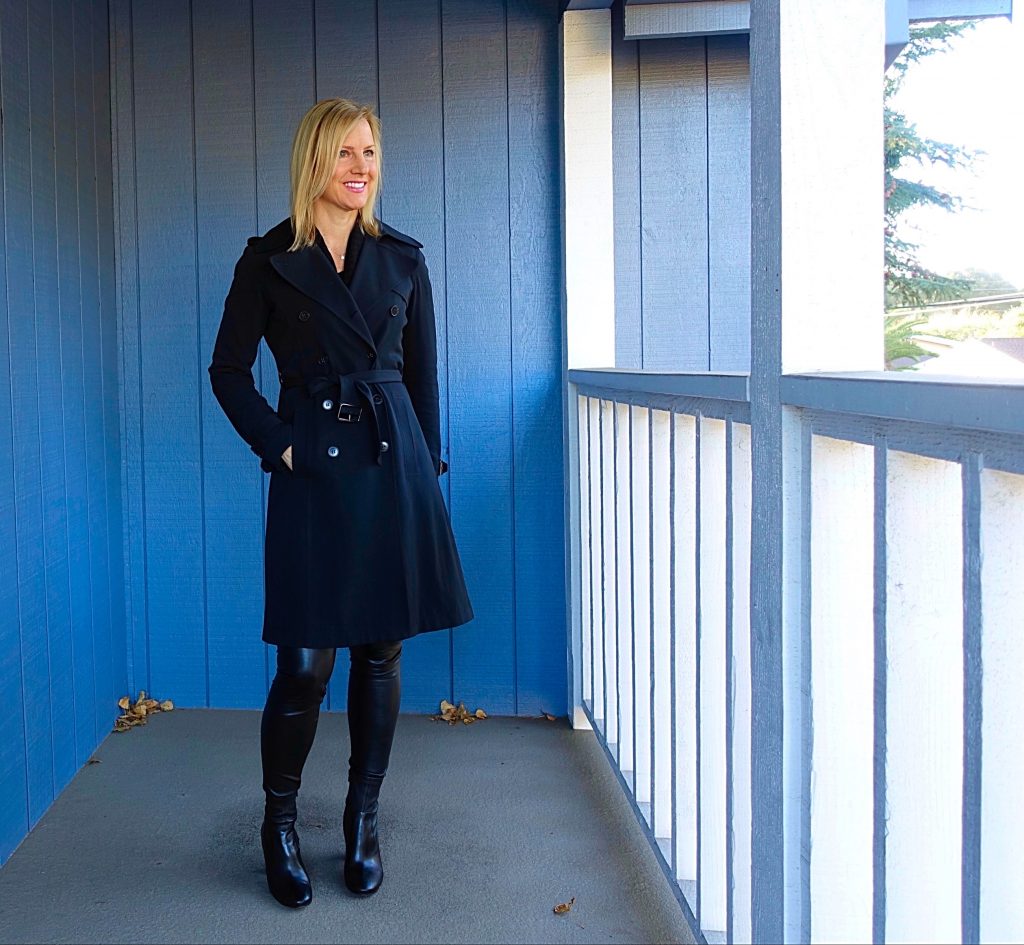 Paying attention to body shape
With a pear shape, it can be tricky to pair leggings with a long sweater. First of all, if the hem hits the thighs, it can draw attention to that area. Also, the horizontal line will make the area look wider. Going monotone, however, the silhouette is not broken up at all.
For an apple or rectangular shape, a bulky sweater with leggings can be a winning combination. The same goes for an inverted-V shape – that is, if the sweater has a V-neck. For pear or hour-glass shapes, on the other hand, it's a shame to add bulk to a slimmer waistline.
And so, I appreciate the way that this sweater is more fitted in the waist and has two panels curving inward toward the bottom – so flattering! The large cowl also adds volume to a smaller bust area.
With the fleece sock trick, I might even be tempted to try this out on a longer flight. What is your favorite travel outfit?
XO, Janea
---