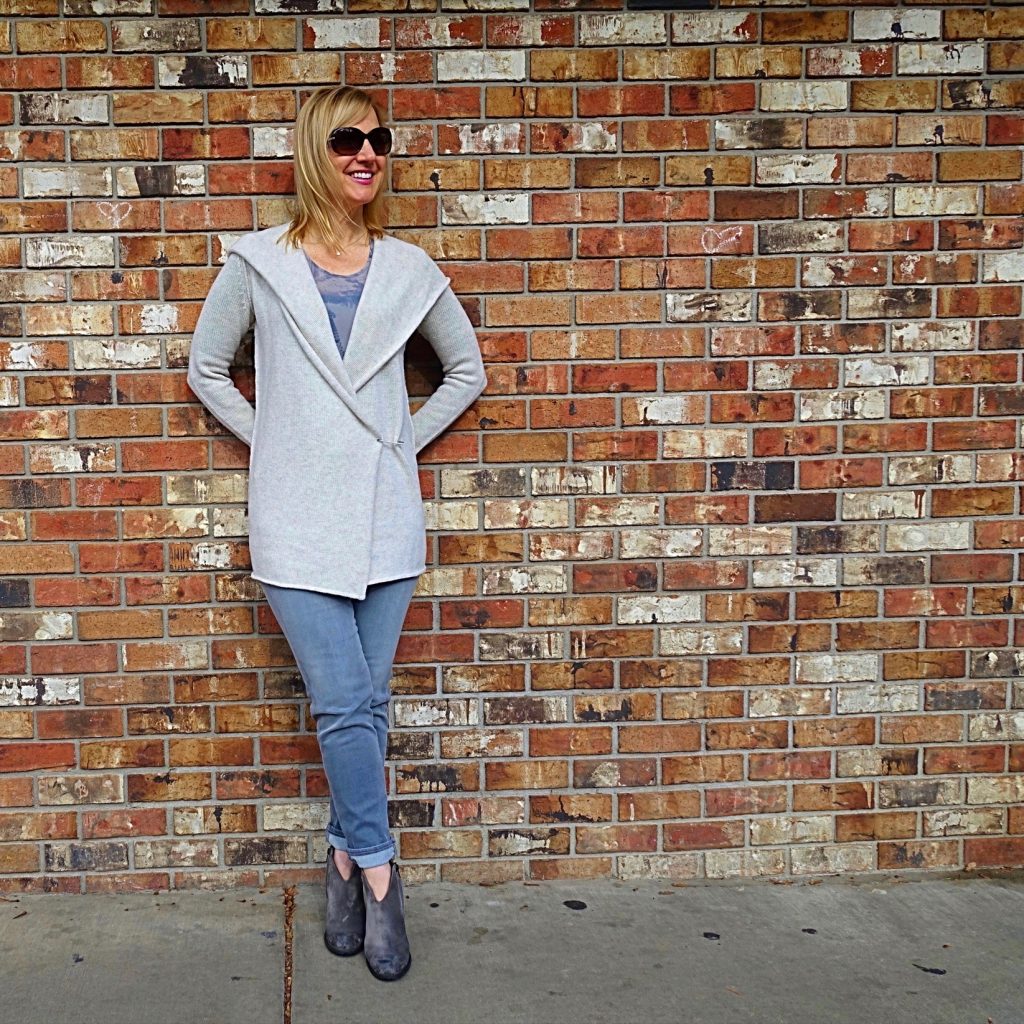 While traveling by just about any means – car, train, or plane – I want above all to be cozy. And this outfit with a soft, safety-pinned sweater certainly met that requirement! This year, we decided to spend Thanksgiving week in our real home, California. Since we need a car there and began worrying that later this year, the pass might be covered in snow, we scrapped our plane reservations and headed off on a road trip from Seattle.
One of our favorite overnight stops between Washington and California is Ashland, Oregon, famous for its Shakespeare Festival. The town is small and quaint, filled with cute boutiques and high quality restaurants. But for me, the jewel is Lithia Park, the most picturesque place for a walk or hike after spending hours on the road.
Vince hooded safety-pin cardigan / Dance top (old) / Hudson jeans – similar / Paul Green booties – similar / Aritzia wool coat
COMFY ROAD TRIP OUTFIT with a bit of attitude
I really enjoyed the comfort level of this outfit. The little hood on the sweater actually made a difference when a light rain would – constantly! – start up as soon as we had set off walking without our umbrella. I also like how the hood looks worn outside the long, wool coat – it's a much less stuffy, more youthful vibe.
The hoodie sweater is made of a yak-wool blend. Yak is supposed to be warmer than merino wool and rougher, but I swear that I thought the sweater had cashmere in it – it's so soft. And speaking of soft, these jeans by Hudson are so stretchy that they feel more like pjs than jeans. The high waistline is also great for curvy-bottomed women; I love how they keep the waistline in back from creeping down (and allowing in cold drafts!) when I'm in a sitting position.
Even the boots are cozy! The Paul Green brand means well-made, super-wearable footwear, and these deliver on that promise. I also love the sexy cut-out in front, which along with their well-worn look (I bought them very recently), add to their character.
All together, the neutral oatmeal and grey tones make for an effortless casual-chic look.
BACK IN CALIFORNIA!
From Ashland, we drove all the way to Santa Cruz, California, where we will be sharing a  traditional Thanksgiving dinner with neighbors. There will be no need to dress up. In fact, I'm sure I could repeat my comfy road trip outfit.
I'll probably be in a mood, however, for a skirt, since it is be a festive occasions – feasting to our hearts' content! On second thought, the effortless look with stretchy jeans and sweater with a safety-pin closure might be perfect! 😉
If you are one of our U.S. readers, I hope that you also enjoy a warm Thanksgiving Day with loved ones. And if you are somewhere else, have a wonderful, cozy rest of your week!
XO, Janea
---