Winter travel can be precarious. Highways close suddenly due to landslides – it happened to me three days ago! – or your flight is canceled due to last Thursday's snowstorm. That's why I'm in an airport hotel as I write this rather than flying to New York Fashion Week. Yes, I'm still in San Francisco! How do you best confront the challenge? I like to start by being warmly and comfortably dressed! 
Layers are your friend.
Since you never know what temperatures to expect on a plane – toward the front, it can get warm and muggy while toward the back, it gets quite cool – I highly recommend dressing in layers. My under layers today are a long tank – to avoid those cold breezes up my back – topped by a soft cotton long-sleeved tee.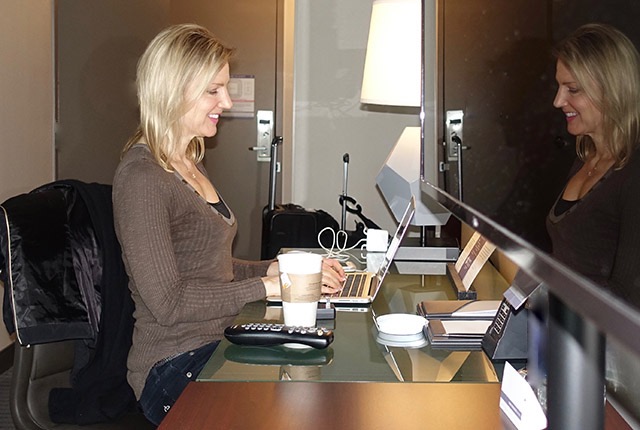 My absolute favorite travel item is a sweatshirt.
I have taken to following my husband's cardinal rule of never traveling without a sweatshirt. It makes the perfect blanket-like garment to keep you so warm that you more easily drift off to sleep if you prefer to be "out" during the flight. It's comforting to me to wear my fleece-lined sweatshirt as I watch TV news about snow piling up on the east coast.
I have to admit that I'm on edge, since tomorrow night I have a fashion show to attend!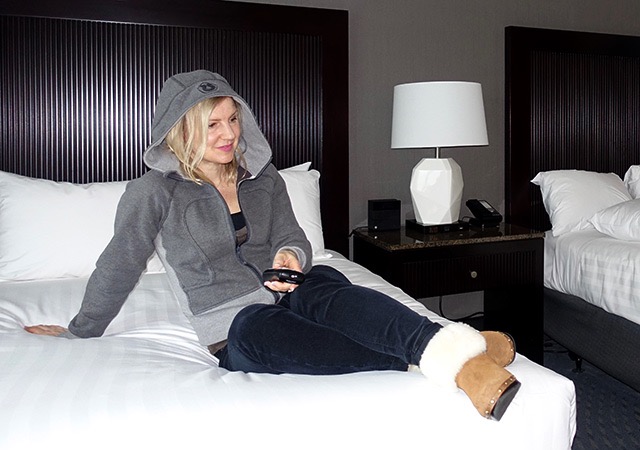 Good news: the storm is slowing down! Time to take another look at the shows going on in New York. Looks like I'll get to wear my new Ugg snow boots for their intended purpose: New York Fashion Week!
I like to wear them folded down, because I think that they look a lot cuter that way. You wouldn't believe how many pages of ugly snow boots I went through on the Internet before finding these! Apparently, Liliya has a very similar pair and likes the fact that they are elevated with the wooden platform – in case of puddles.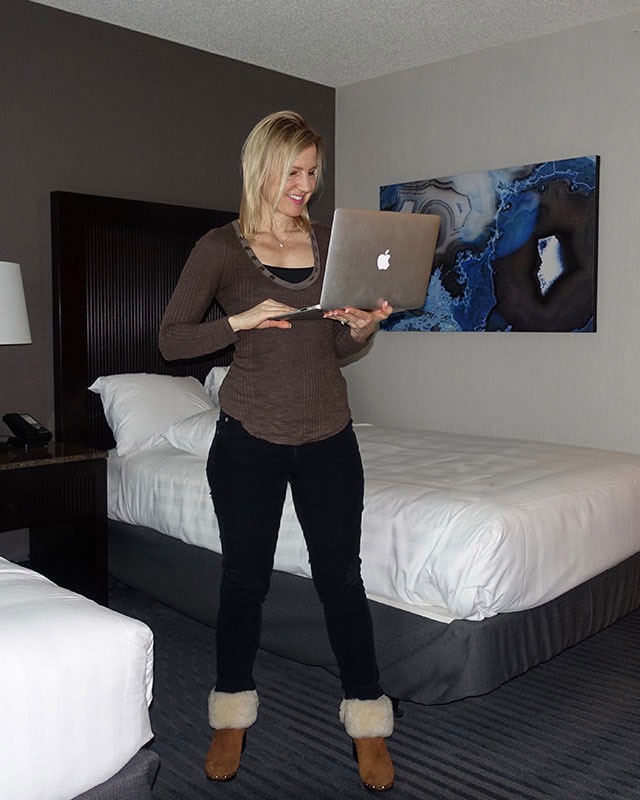 My Rag and Bone skinny jeans are corduroy, by the way, and stretchy. It makes for warmth and comfort while shlepping two suitcases with multiples pairs of boots and coats – I mean, it IS fashion week. Meaning: it's not the time to repeat outfits!
In the lobby of the hotel, I saw a couple of other fashionistas stranded in their snow boots on their way to NYFW. You can tell that they had similar ideas about dressing for winter travel. 🙂
XO, Janea
---