After moving to the Pacific Northwest from (mostly) sunny California, the Seattle freeze hit me hard. I meet super friendly people at work and through my husband, but I was in serious shock the other day – after waiving. smiling, and saying hello to a couple of neighbors, I then watched them simply turn and enter their house. Likewise, my thinnish wool peacoats are pathetic protection from the much chillier temperatures.
On the bright side, I've discovered something wonderful out of the sudden need for real winter clothes. Since my budget doesn't allow for a whole new wardrobe, I've checked out consignment shops. And the results are spectacular! After harvesting my first great pieces, I simply thought the shopping gods are smiling down on me…
…until then it dawned on me: New Year's closet cleaning = consignment heaven. Woohoo!
Not only are those weeding out fabulous closets stocking the consignment boutique racks, but there are many of us who after doing so, finally realize what they are lacking. In my case, it was a real winter coat, and I was dying for at least one non-summer dress for evenings out. Check! Check!
This slideshow requires JavaScript.
Now Boston is a place with real winters! That is probably why the most exciting pieces I've found were from 2nd Time Around on Newbury Street – there are three on that same street! I've also gotten some amazing finds at Fury in Seattle.
I can't wait to share my finest scores!
But first, let me put in a word of caution: while shopping consignment, it is important to check garments carefully for issues.
I have often been on the brink of buying a fantastic designer piece when I noticed a faint stain, ripped seam, or hole. On occasion, these are fixable, like for example, a gown I found last summer at Fury. It was missing a bunch of beads at the bottom, but after looking at it, the owner informed me that the beads are easy to come by and lowered the price. My seamstress, Cheing, then brought it back to its original gorgeous condition. The gown was perfect for our honeymoon.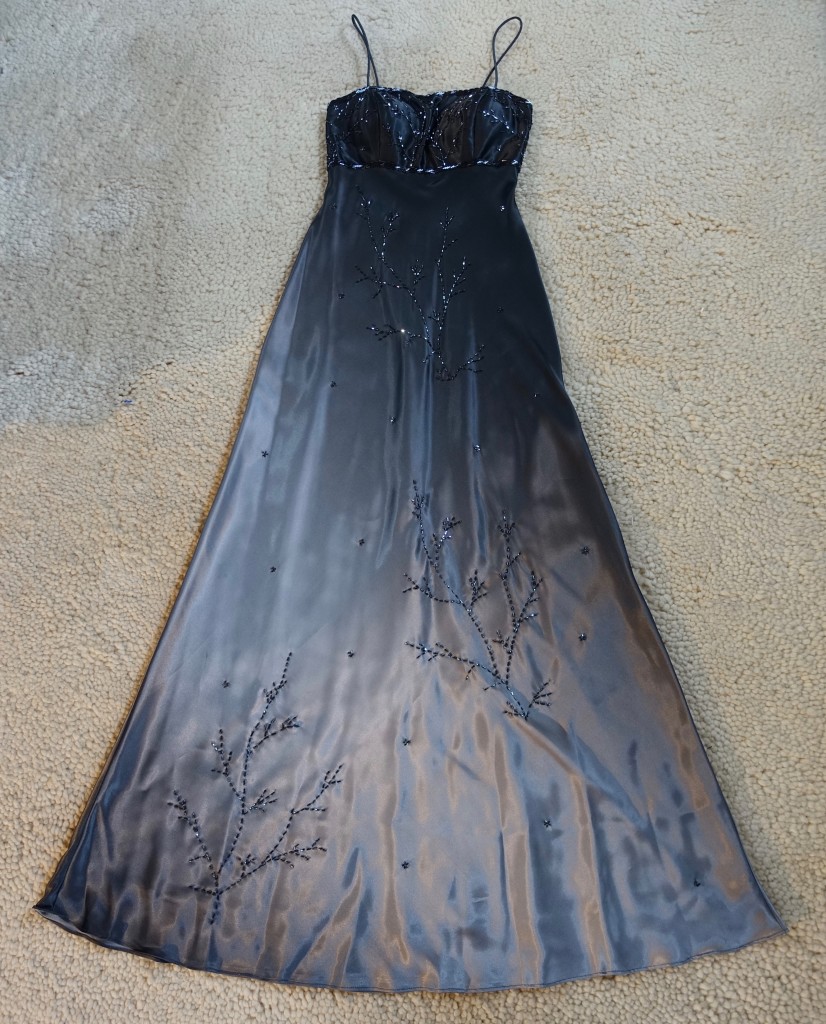 Now here are 3 of my absolute favorite winter consignment buys.
1) Dolce & Gabbana wool coat. In a back corner of 2nd Time Around, I spotted this heavy black wool coat draped over a mannequin. I immediately disrobed the mannequin and put it on – a perfect fit! Since I found a tear in a seam next to a button hole, I negotiated for a further discount (on top of the storewide 50%). Total cost: less than $200!
The very next day, it kept me perfectly warm during a four-hour street style shoot in New York in freezing temperatures. And back home, my dry cleaner hand-stitched the torn seam.
2) MM6 Maison Margiela t-shirt dress. Although it isn't exactly a winter dress, I've made it one – I love it so much! – by wearing it with a long-sleeved top, tights, and boots. I'm packing it for our trip to southern California, where I will probably be wearing it the Monday this post comes out. 🙂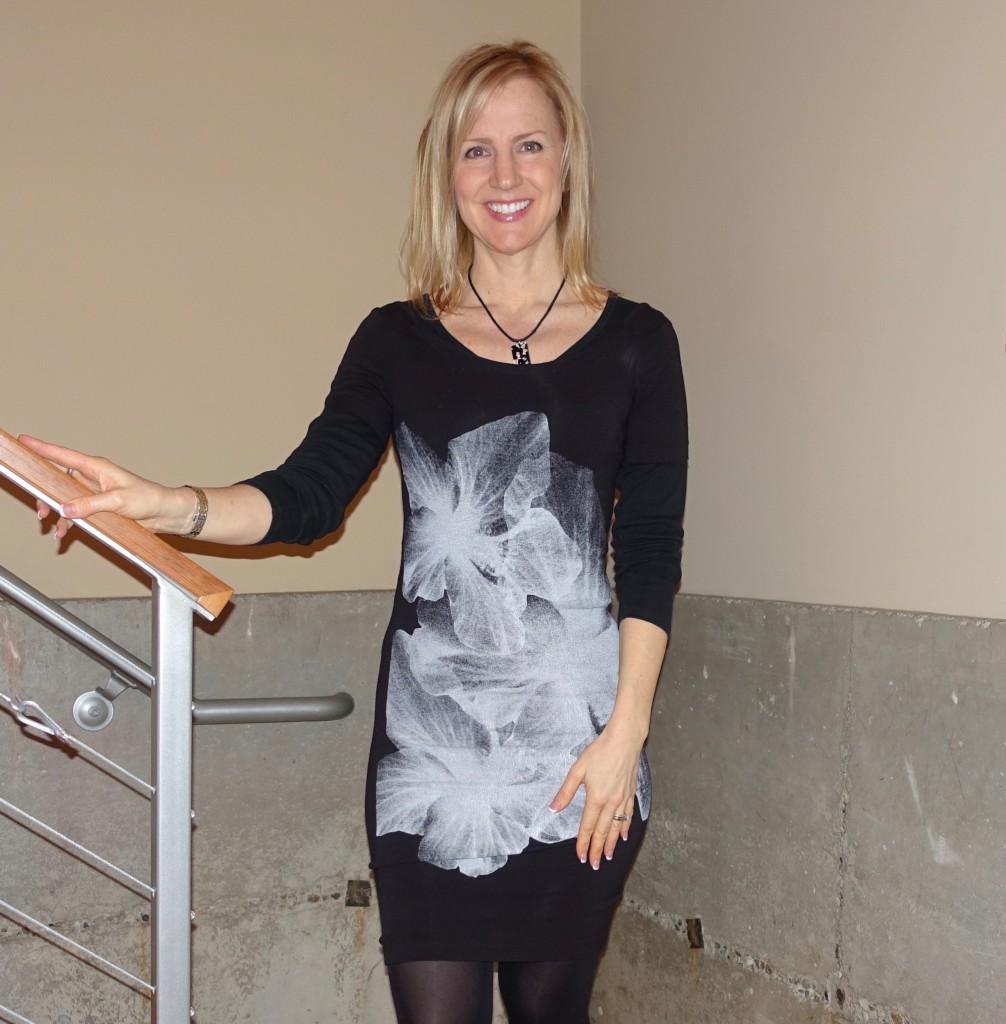 3) St. John cocktail dress.
I recently scored this baby at Fury. While trying it on, I noticed a teeny-tiny hole under the silk sash at the neckline. After showing it to the owner, she lowered the price, and Cheing later tacked down one of the silk flaps to cover the hole. Voila! No more (visible) hole! Ready for Valentine's Day dinner!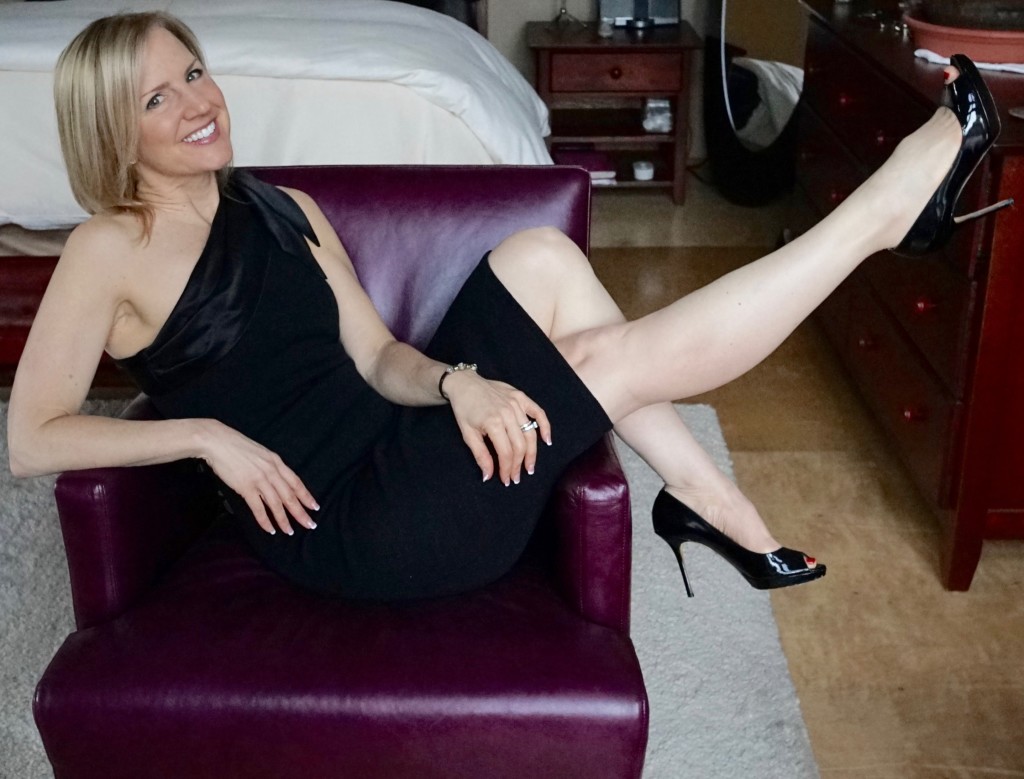 So, what are you waiting for? Last weekend after yoga, I crossed the street to check out a vintage clothing store called Le Frock. For around $40, I came out with a spotless bright white Theory tee and long beige Betsey Johnson cardigan – no issues whatsoever, and they go perfectly with my white jeans and beige booties. Tis definitely the season!
XO, Janea
---
????????