My last two posts have been about my recent quest to bring back more creativity to my style. I've realized that my most memorable and beloved outfits over the years had something in common: they took some scavenging, improvising or at least a fair deal of creativity, and that is precisely what made them unique and a reflection of me. And so, I have done some experimentation with resale.
The most exciting part of this experiment has undoubtedly been the haute couture consignment shop –  resale heaven!
Since I lost my favorite supplier of discounted Italian and French designer clothing, my wardrobe has begun heading in the direction of O-R-D-I-N-A-R-Y, and so, you can imagine my delight when I discovered how consignment shops allow my style to keep evolving.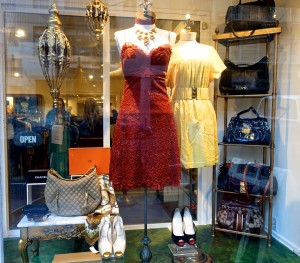 I checked out my first boutique in San Francisco, a shop loaded with exclusive designer clothes.  Generally speaking, prices were higher than resale sites I mentioned in my last post, but were reasonable, especially considering original retail prices and condition (some unworn!)
I tried on a fuchsia Dolce & Gabbana cashmere sweater – too tight, a beautiful grey wool blazer of simple cut but with a boxy shape (not my favorite silhouette) and a gorgeous Chaiken (local San Francisco designer) sleeveless wool midi dress with empire waist…too tight in the bust.
Although I entered starry-eyed, I left the shop deflated. To be fair, however, leaving empty-handed – from even regular boutiques/stores – is par for the course in my world.
The next consignment shop I visited in Seattle had me floating on a cloud…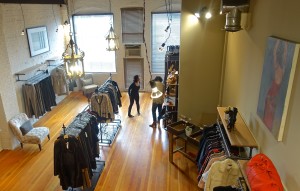 …even while exiting without the bag of goodies on my arm.
Three-year-old Sell Your Sole is a total find! It's more like a designer clothing gallery than boutique: exquisitely arranged, and every item is a gem.
I was the kid in the candy store, first roaming through the 50% off racks. The beautiful dresses I checked out ranged from an affordable $75 to $200.
Some prices were even more approachable at other racks, although a jacket I seriously coveted was marked at $400. Other shoppers appeared to also be fashionistas versed in Prada, Gucci, Jimmy Choo, Alexander Wang and Burberry.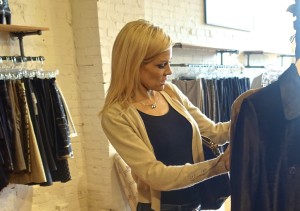 The highlight of my visit was the shoes section. I entered with a faint hope of finding black booties with a reasonable heel, dressy enough for suits. The Paul Green ones I recently coveted at Nordstrom were right there at my fingertips at a fraction of the price…but a half size too small. Close!
Afterward, I concluded that even when I have bad luck with sizing or styles, perusing beautifully made merchandise allows my imagination to go into play mode, and that's always a good thing.
The next consignment shop I visited, Fury, was not as architecturally stunning, but well worth the visit. It overflowed with inventory marked 30%, 50% and 70% off, oh my!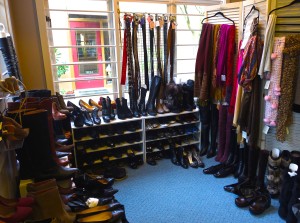 And the shoes! Woohoo! I found my black "booties" (pictured below)! They were Bivels – not high end, but with a nice higher heel and platform – extra comfortable, $30 and cute cute cute! Check out (below) how look with a sleeveless wool dress I found there (not Chaiken, like the one pictured from the San Francisco boutique but more playful).
My fiancé Mark remarked that I looked like a barista in it, ???? and the black cashmere wrap sweater happened to be exactly – I swear, I'm not making this up – what I had told Mark I wished I could find.
On my way out and giddy with goodies on my arm, I noticed a non-boxy grey wool MaxMara jacket with the tags still on it (a sample!) As soon as I saw the price ($86), I marched straight to the sales desk for my encore purchase.
Needless to say, I am now gaga over consignment shops. It may have taken me a little time get over my initial shyness toward shopping outside my comfort zone (Nordstrom et al), but this is just what the doctor ordered for the monotony bug in my closet. Hope you might be inspired to check out some consignment venues near you.
XO, Janea