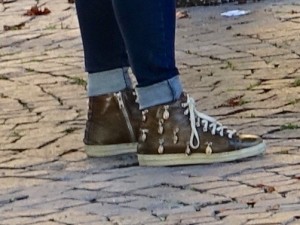 Having recently moved to Seattle, I often lament about how dressed-down Seattleites tend to be. When I think about it, casual (surfer/hippy) dressers in my former hometown of Santa Cruz, California also left me longing for more stylish environs. Needless to say, I was in heaven last July while spending a long weekend with my then-fiancé Mark in Milan. The style, creativity, and taste of people there thrilled and delighted me.
So, when Mark and I planned a honeymoon back in Italy, I couldn't wait to return to "civilization." Once I arrived, however, I was quite surprised to learn that the country has also taken to casual dress…
…albeit with a special twist.
Sneakers are definitely one type of the footwear du jour in Italy, and I have to confess that I am increasingly intrigued by ways I saw them worn. The daughter of our hotel proprietor dressed in a way which first seemed to me to be unexceptional: a cotton blazer in muted neutral tones, light grey skinny jeans, and beige high-topped sneakers with that retro basketball style illustrated above. Now I only wish I had asked permission to photography her. Her style wasn't just casual, it was easy, cool, and wonderfully artful…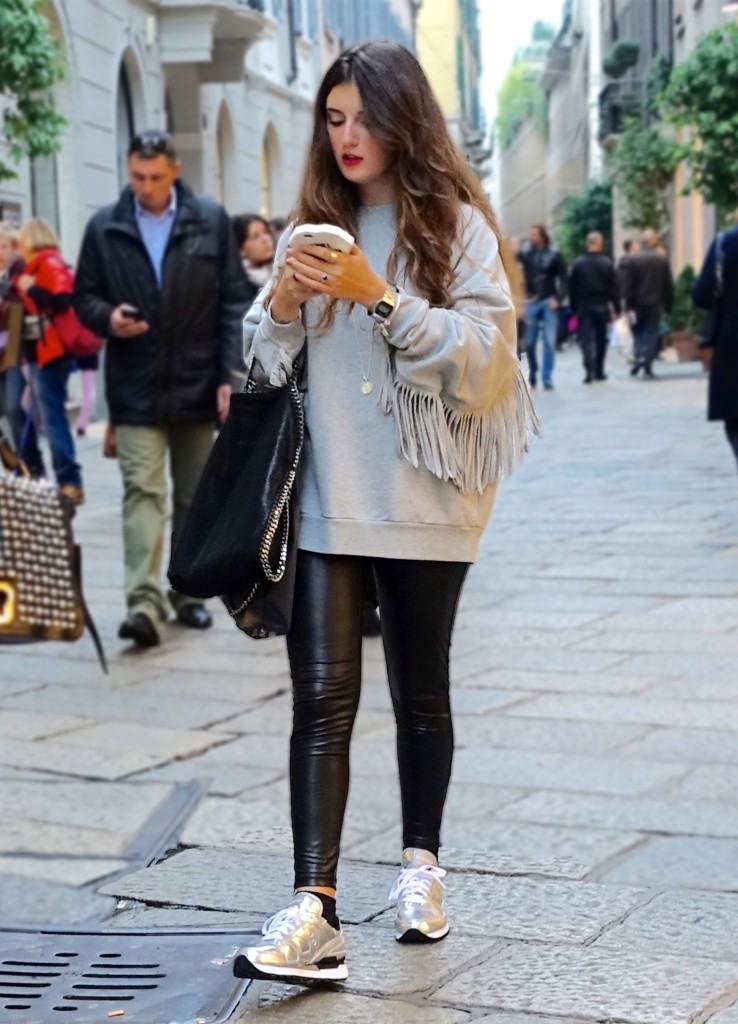 …not unlike that of the muse pictured above. From a distance, her ensemble might look like an ordinary grey sweatshirt, leggings, and sneakers. But, really look! Don't you love the fringe on her sleeves, Stella McCartney 'Falabella' handbag with chain trim, leather/pleather skinnies, and silvery Saucony sneakers? This is nothing like the snean looks I complained about last June.
So, here are a few great ideas I've gleaned from my observations:
1)  Sneakers in a non-sporty brand and materials totally work.
Like the metallic sneakers above, these Chanel sneakers are perfect for a designer-cazh look. Don't you love the jacket, by the way, of camouflage jacket with camo fur and leather sleeves?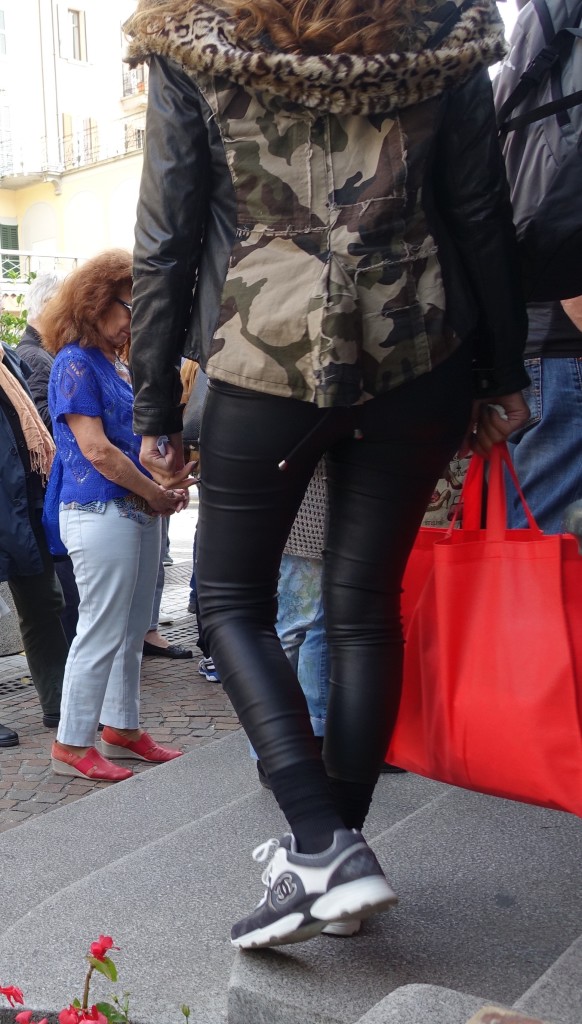 2)  Less sporty sneakers can be a perfect match for more elegant/stylish dress.
Sneakers with a delicate blouse? Absolutely!  

3) Avoid this – yes, I'm going to say it – the American tourist look.
Let's start with the look on the right: multi-colored Nike running shoes with black leggings is simply unoriginal. And while leather culottes are a cool idea, combining them with a sloppy, oversized denim blouse, bare legs, and neon sneakers is not. (While going baggy or loose on top, fitted on the bottom is usually preferable.)

4) If you want to go with neon sneakers, try a more narrow-toed style and pair them with elegant/tailored-looking pieces.
They look great with black skinny jeans on a slender figure. As I blogged previously, it can also work to wear neon sneakers with an equally bright article of clothing or as you can see below, a colorful scarf. Just remember to keep it neat!
5) Of course, there are endless options with Converse…

6) …or Converse offspring.
The look to the right is daring, since skirts with pants and leggings can look sloppy. But in all black with a leather moto jacket and leather sneakers/oxfords, they are fashion-forward and fun!
7) Don't be afraid to wear wedge sneakers.
Even though they have been deemed fashion has-beens by fashion authority, Who What Wear), don't let that stop you, especially if they are narrow-toed and silver in color. The woman pictured below coordinated hers beautifully with a dress and pea coat. From a distance, she almost looks like she is wearing wedge heels, don't you think?


After seeing these chic Italian women, I am so inspired by ways to create stylish looks with sneakers, especially when they are not too sporty (unless retro-sporty) and super neat with clean lines. I hope you too have enjoyed these looks and ideas.
XO, Janea
---
??