If you're like me, you would never dream of walking side by side with your significant other, wearing identical, matching jackets or shirts or even just hats. Way too dorky for my taste! Yet, the more we spend time with our someone special, the more we pick up on their mannerisms, facial expressions, even habits. It isn't surprising that I seem to find couple after couple walking along the street who – although not going for the twin effect – match in style.
I hope you will enjoy viewing the following couple-muses with quite the compatibility when it comes to style. Our first couple shows that there is nothing ugly about a pair of Christmas theme sweaters. They are rather lovely, in my opinion!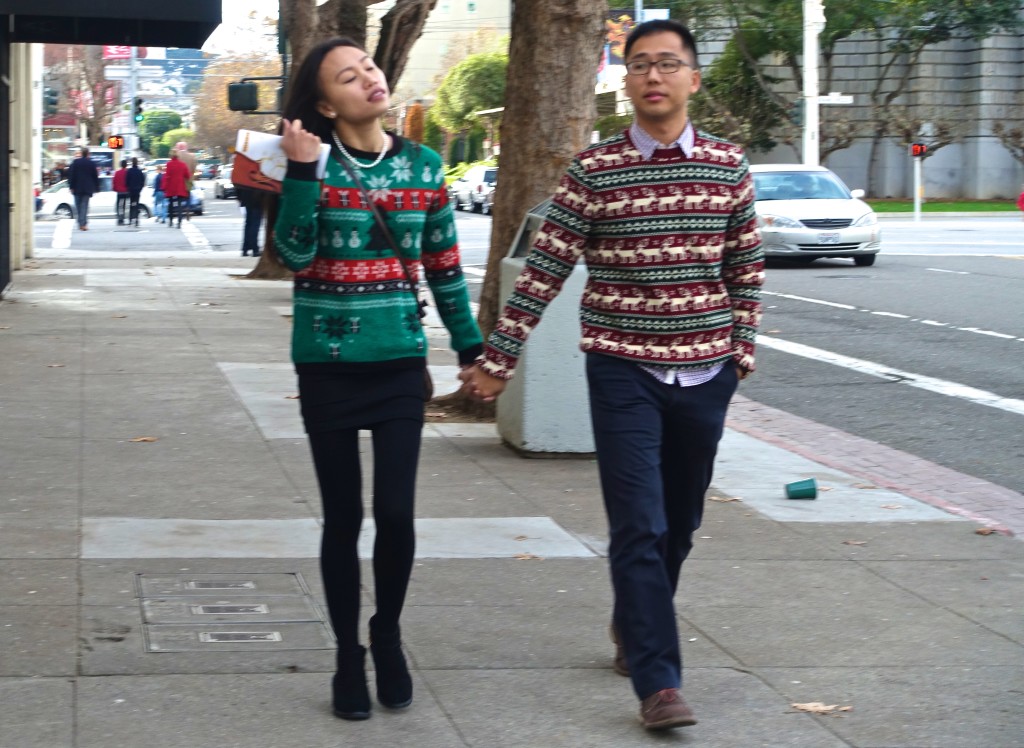 Now what would you call the look below? Hmmmm. Sporty rapper street style?
Our next couple of muses demonstrate an ultra hipster caj (short for casual) look, if you ask me.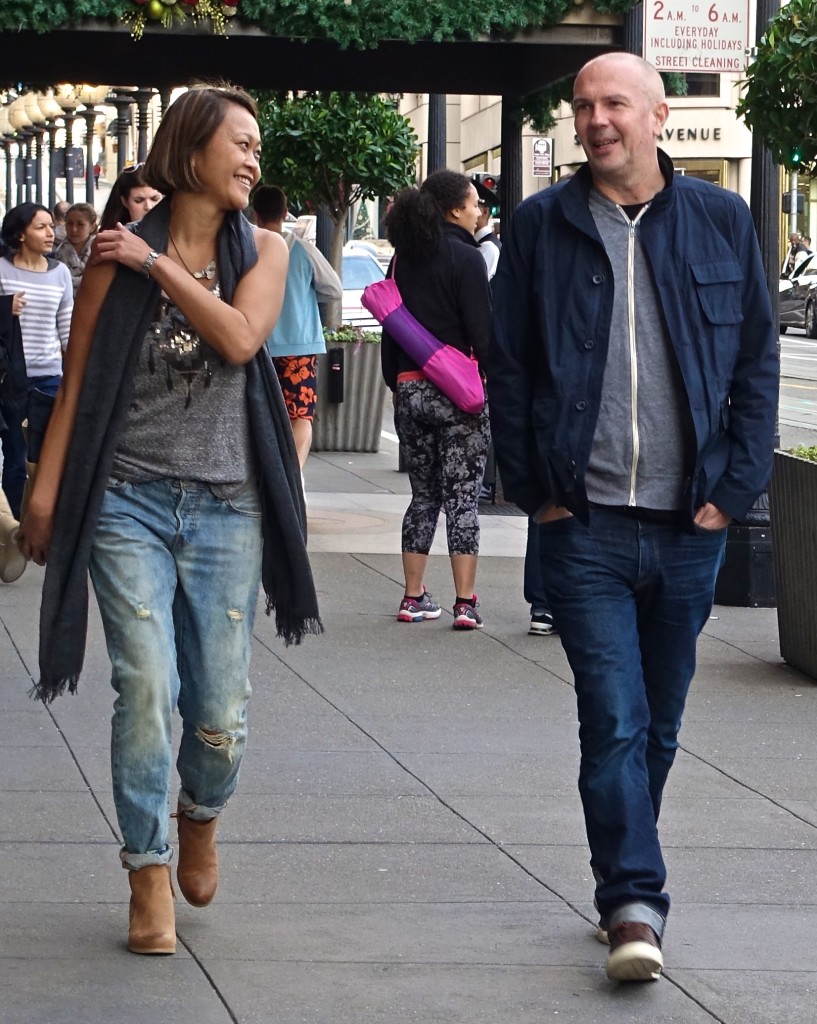 Do you suspect our next couple of muses might be down to earth and unassuming?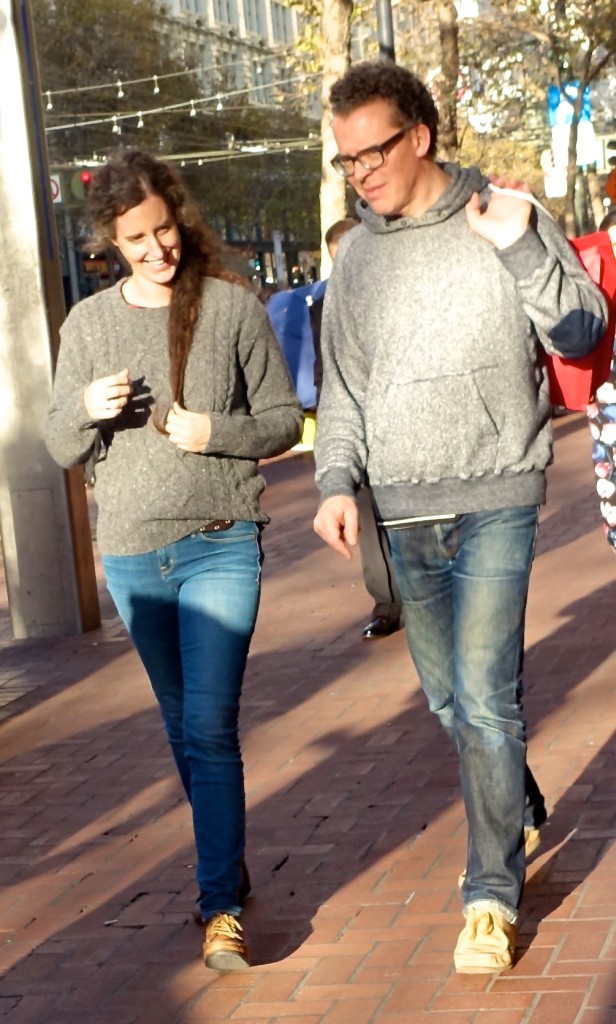 The two pictured below, Norman and Erin, demonstrate a very similar casual American traveler style.
They say that two people who make up a couple grow to resemble each other.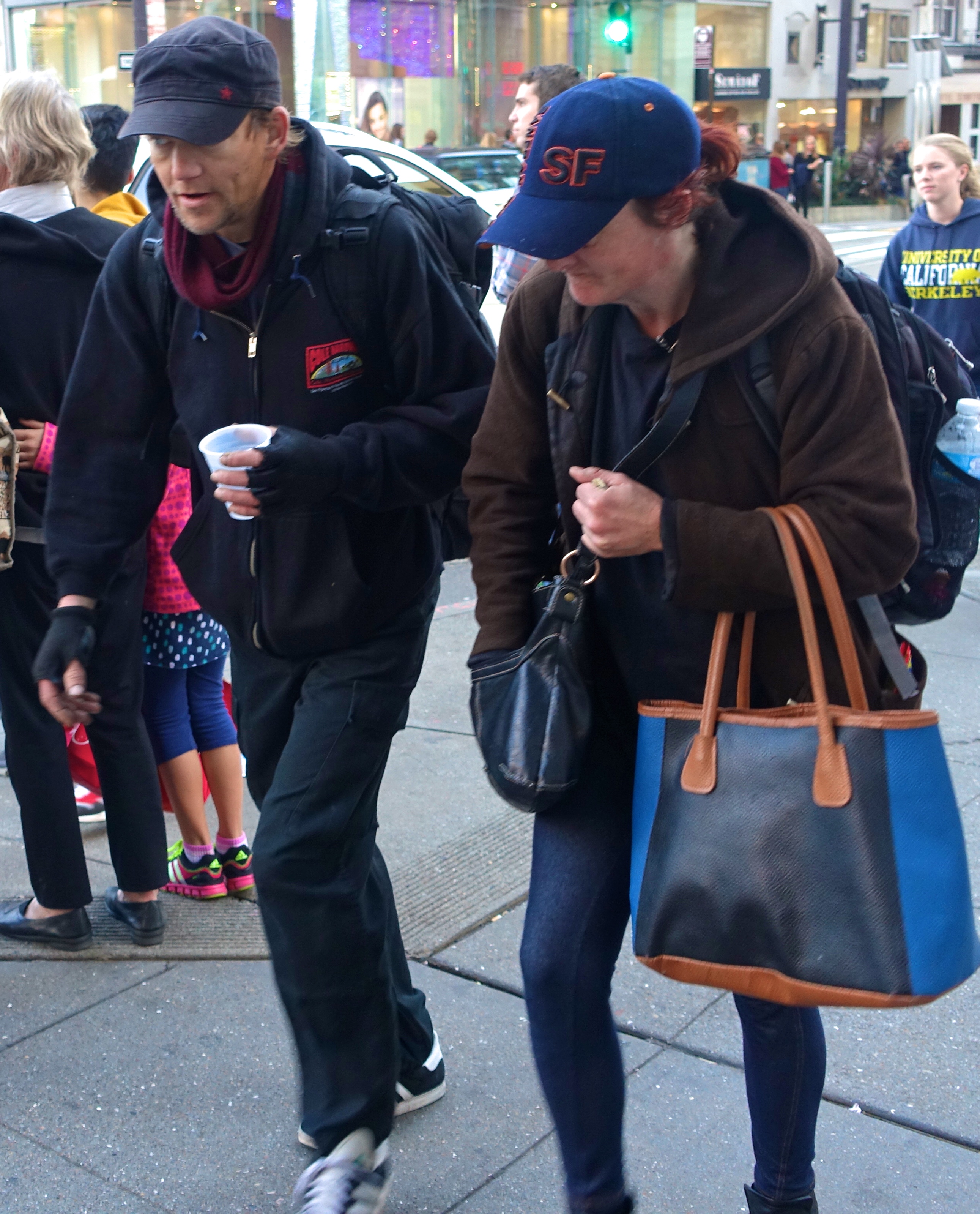 Some seem to start out that way, as you can see with our next pair of casual looking couples.
The theme below seems to be well covered ankles with a touch of grunge.
Speaking of touch, a dash of color on top is a nice one.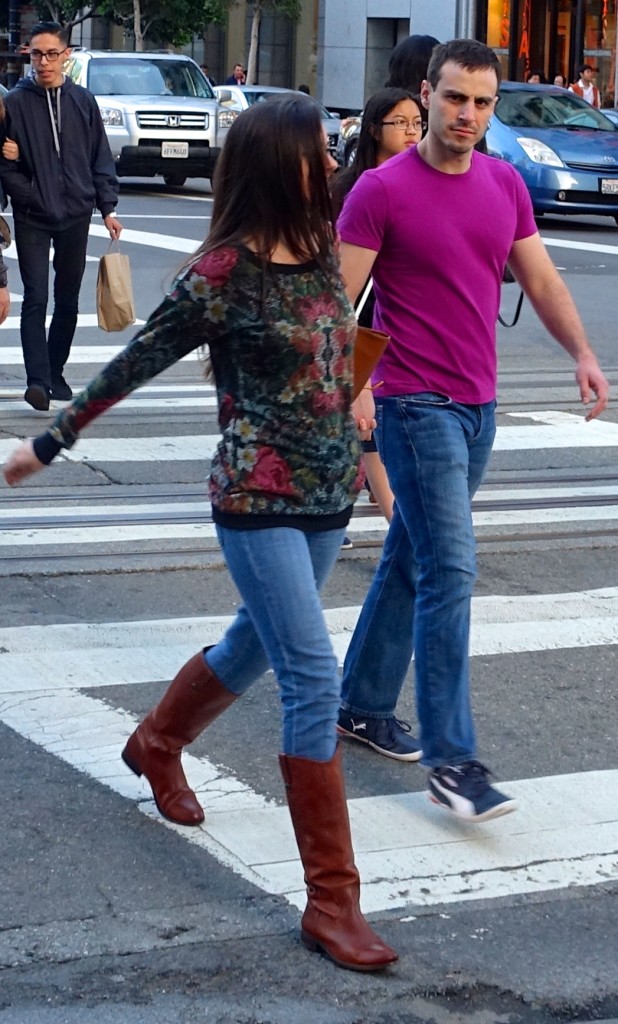 Neat casual works for the pair featured below.
A little more trendy casual for the next one.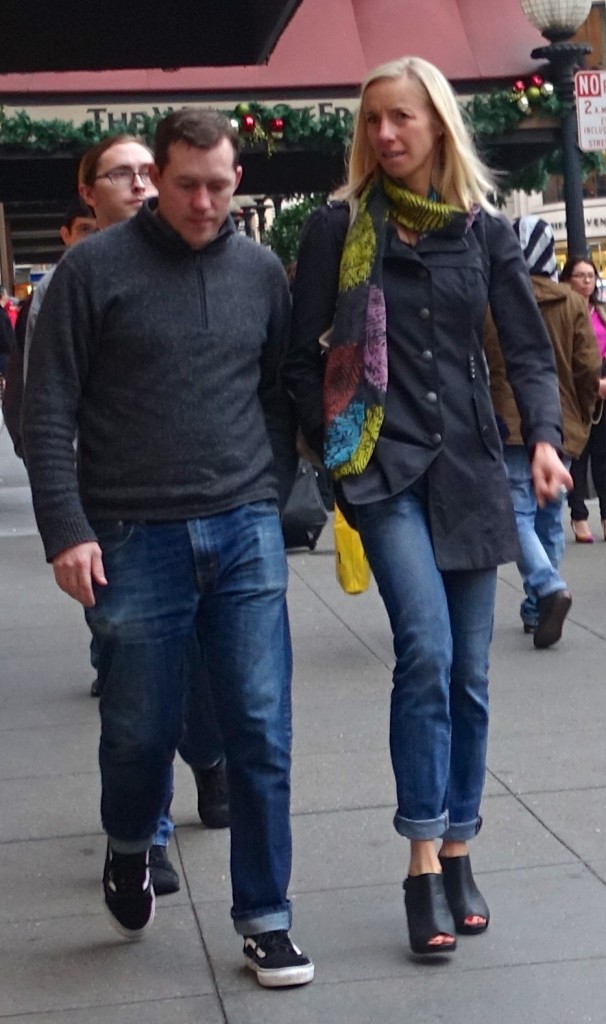 Then we have the duo with an appreciation for wearing black and cool sneakers.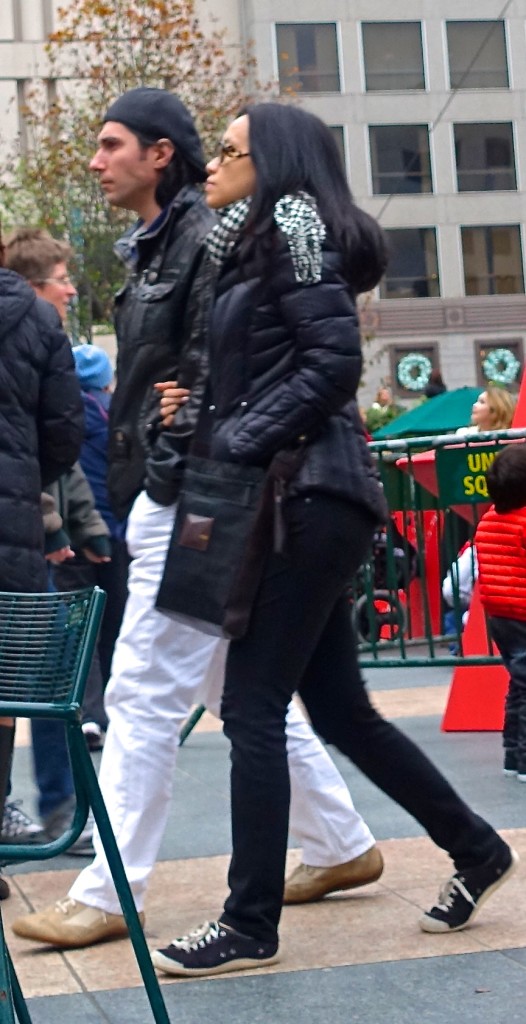 And the twosome which is more into poncho-influenced sweaters with interesting patterns.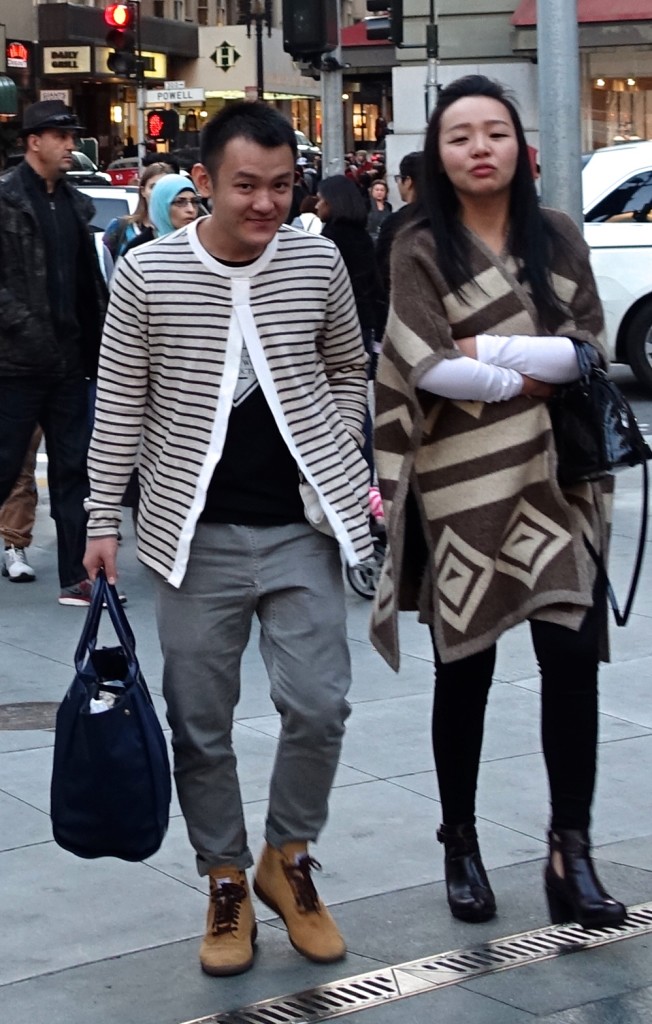 Some tend to be more stylistically daring.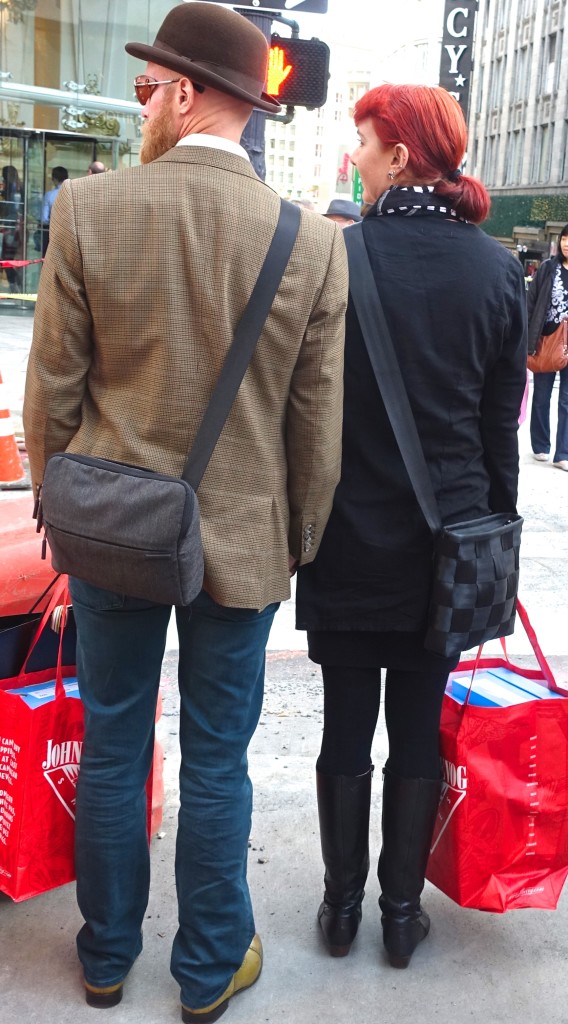 Others are simply similarly stylish. I love the look of the fitted jacket with button down shirt, skinny jeans and cool shoes. The ultra short haircuts are also very upbeat.
Our last couple reminds me of a modern day Fred Astaire and Ginger Rogers. Can't you just imagine them tapping up onto the step behind them? They look so perfectly in step and in sync. I'm lovin' it!
When I first became interested in the topic of whether there is more similarity or divergence in the styles of people in a romantic relationship, I was thinking I would find more people who dress very differently from their partner. Even though men's and women's clothing can be drastically different, I see more sameness than divergence of style amongst couples on the street.
I suppose it is only natural. When we truly love and cherish another, we most likely begin internalizing their qualities and perhaps unconsciously begin to emulate them. Do you dress like your partner?
XO, Janea
---