Do you remember when crop tops first came around? It seems that fashionistas are drawing upon 1990s inspiration these days, and one of the garments to get pulled out of the time capsule is the crop top. You've noticed, however, that it is not worn the same way…or at least it probably shouldn't be for we who wore one the first time around.
I started thinking more about crop tops after seeing a photo of Jennifer Lawrence in a beautiful black crop top and pencil skirt ensemble this summer. The style of the top was a little too much like a bustier for my taste, but I loved the look of an all-black ensemble (and shoes) with a tasteful exposure of midriff. 
As a result of my musings about crop tops, I have made a few observations and conclusions:
The gap at the waistline should be incidental, not the main attraction.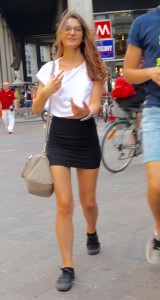 This can be easily achieved by showing only a bit of flesh in the middle and/or by wearing all black.
Although I don't normally care for a crop top with shorts, I think that it actually might work with an all-black ensemble like the one below, don't you?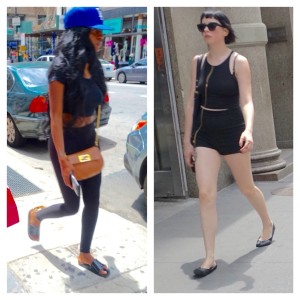 Another tasteful way to wear a crop top – which had not occurred to me until I spotted the lovely lassy pictured below – is to layer it over a tank.
Of course, I think it works better to wear a tank and crop top of very similar hue and tone – so that the two pieces work together rather than being visually set apart by contrasting colors. Despite the ultra casual leanings of this outfit, what greatly help to make the look stylish are a delicate black leather crossbody bag and closely matching ballet flats.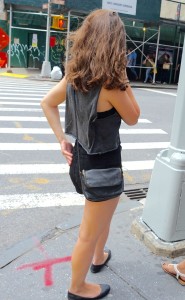 A couple ways I would not recommend wearing a crop top:
with a matching flared mini skirt (as seen below). I keep waiting for some pom poms to start shaking. Adding insult to injury are the sheer black hosiery and white platform thingys.

with short shorts, especially if the tank is as fitted as this one. We tread dangerously close to "

Daisy Duke

" territory here.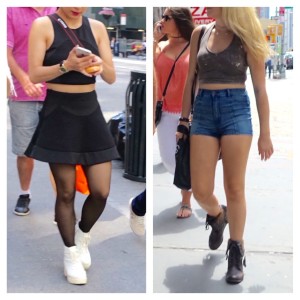 It gets worse:
Let's say you have an amazing body which you enjoy showing the world. That is no reason to wear gym clothes – as seen below – to walk around the city; it is not only unstylish, but a pathetic disregard for decorum. (The yoga/workout look on the streets is one trend I trust will never cross the Atlantic!) I must say, however, that this crop top would look super cute in the gym, and would undoubtedly inspire a lot of other women to work out harder.
Of course, there is always the exception to every style rule.
The woman pictured below beautifully pulls off a very cropped top with somewhat flared mini skirt and plenty of abdomen on display. It helps, of course, that the top is of a dressier broadcloth or poplin fabric and simple yet elegant design: short-sleeved with a top ruffle. The skirt is only slightly flared, with pleats and an abstract floral design, and large silver earrings, long silver necklace, and fine leather booties are also beautiful touches. The LV handbag is always a tasteful addition to any outfit.
Sadly, I must mention one caveat. This look relies on the wearer being extremely fit and slender, and to be honest, I would probably not find it as chic on a woman twenty years her senior.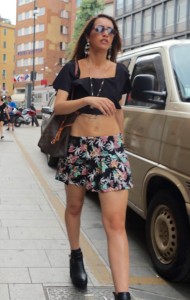 The success of the adorable looks modeled below also require a youthful figure, and the one to the right, a youthful model.
A tad bit more covering up on the muse to the left allows the look to be less age-specific, thanks to a longer black short-sleeved crop top, (less attention-grabbing) khaki shorts, and heeled shorty boots.
Our final muse demonstrates the epitome of refinement and subtlety in wearing a crop top.
I don't even know where to begin in listing my favorite aspects of this woman's presentation: from beautiful designer sunglasses and red lipstick to her floral sandals (with floral pattern on the heels!) I would be remiss, however, if I failed to mention this gem of a crop top, with high neckline and low-ish hem, baring just a enough for style and comfort on a sizzling hot summer afternoon. 
I equally love the semi-transparent puffy, pleated skirt with reasonably modest lining to showcase lovely gams. An oversized black leather clutch with visible zipper is just another exquisite feature of the mix. Notice that with so many details competing for your attention, not a single piece of jewelry is necessary.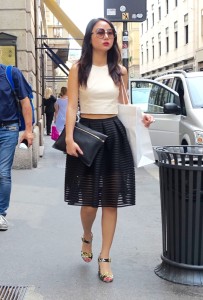 As demonstrated, especially by our last muse, crop tops can be a totally viable option for ladies with a lovely torso, even those who wore a crop top when they first came into vogue.   
And it is always nice to have more options, don't you think?
XO, Janea