Who says you must dress for autumn once Labor Day has passed? I don't imagine it ever coming from someone in southern California! This photo of Liliya shows just how non-fall it is there right now!
If you've followed the STYLetti a while, you'll know that Liliya is a huge history buff, which is what brought her to beautiful Dana Point. She visited the site of the Pilgrim, a replica of a 19th century ship immortalized by a classic seafaring novel. The brig starred in Steven Spielberg's "Amistad" and now serves as a floating classroom of the Dana Point Ocean Institute. As you check out the following pictures, you'll see that once again, Liliya chose the perfect outfit – with one minor caveat…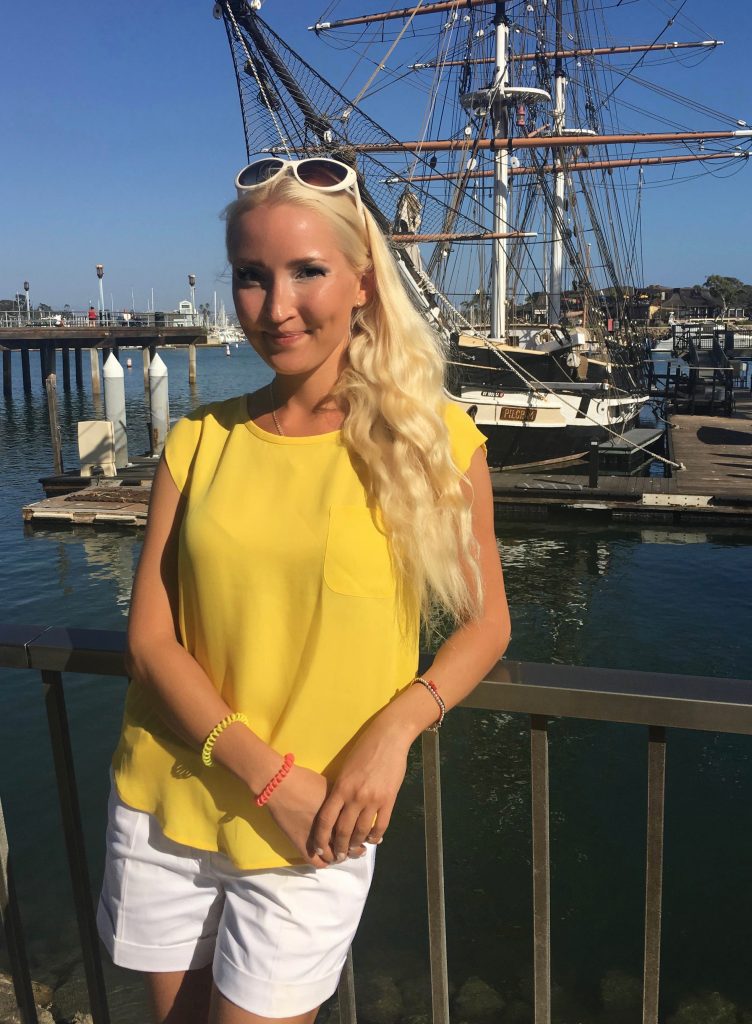 According to Liliya, "it was absolutely beautiful weather – not too hot like the summer I was experiencing in New York City, and although the evenings get chilly, the sun and a nice breeze made it just perfect for a lovely walk near the water."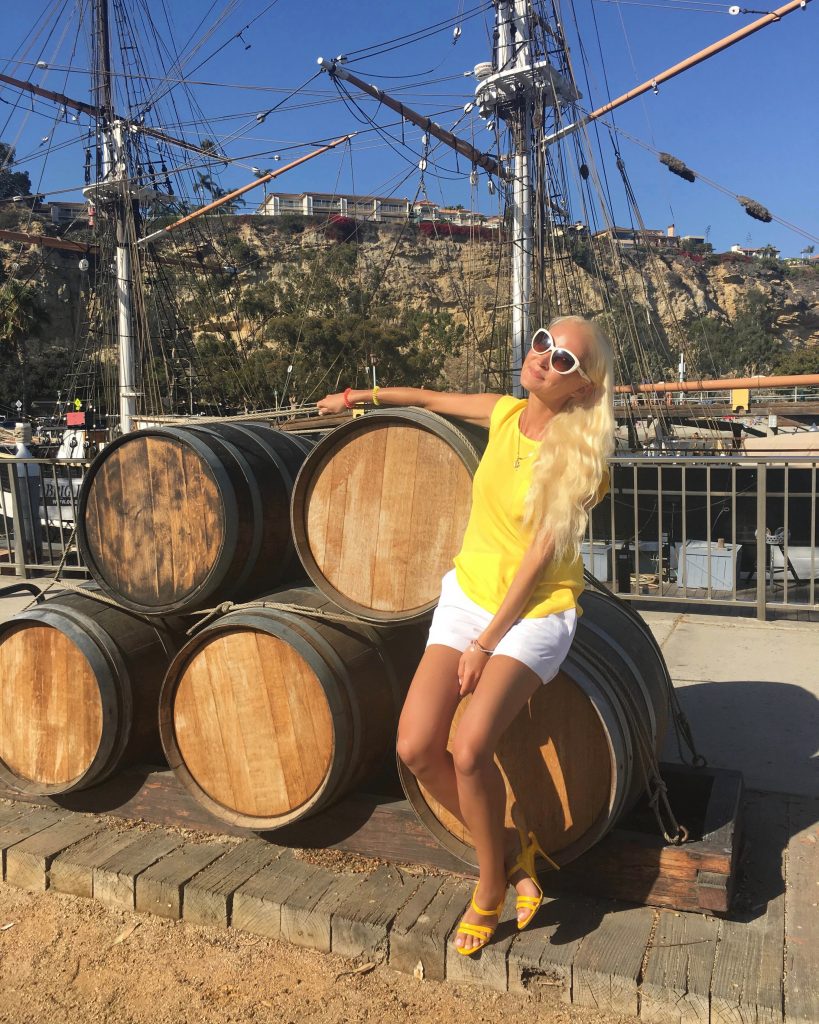 "Yellow is one of my favorite summer colors, and it's always appropriate, especially when your silk top matches your Manolos perfectly.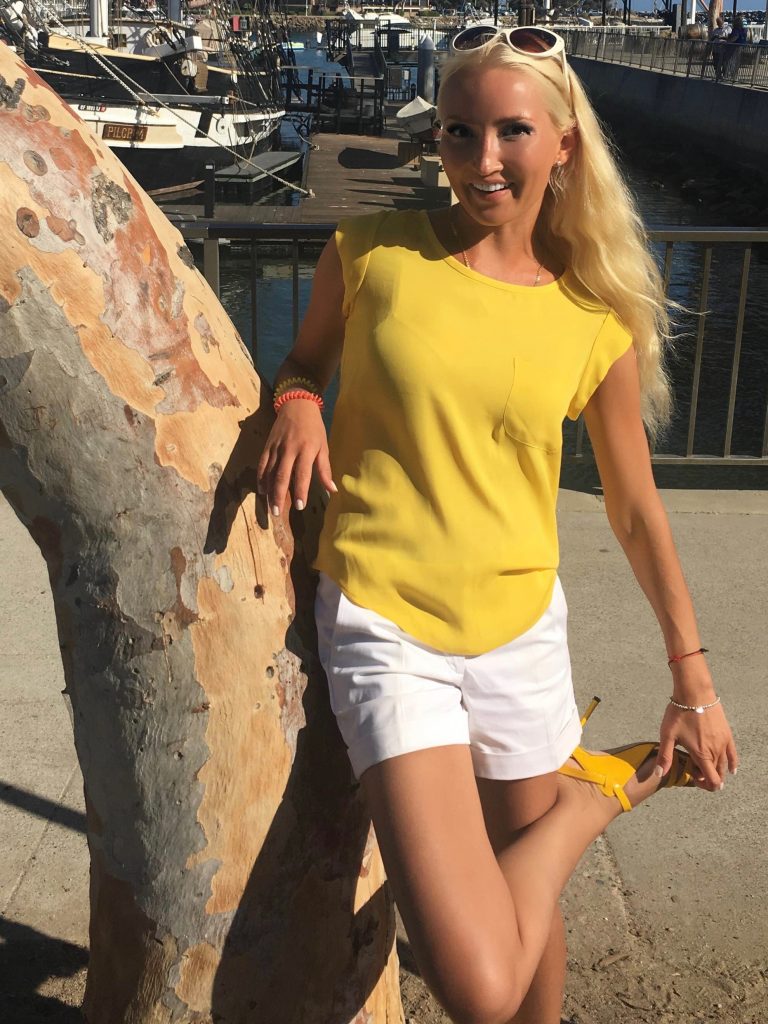 "The only down side is – and you may be able to see in some of the photos – that Manolos are not the most comfortable shoes, especially on the promenade. I had a hard time walking on the wooden piers in high heels."
Joie silk tee / Dolce & Gabbana shorts (sold out) – similar on sale / Manolo Blahnik sandals (sold out) – similar / Prada sunglasses (old) – similar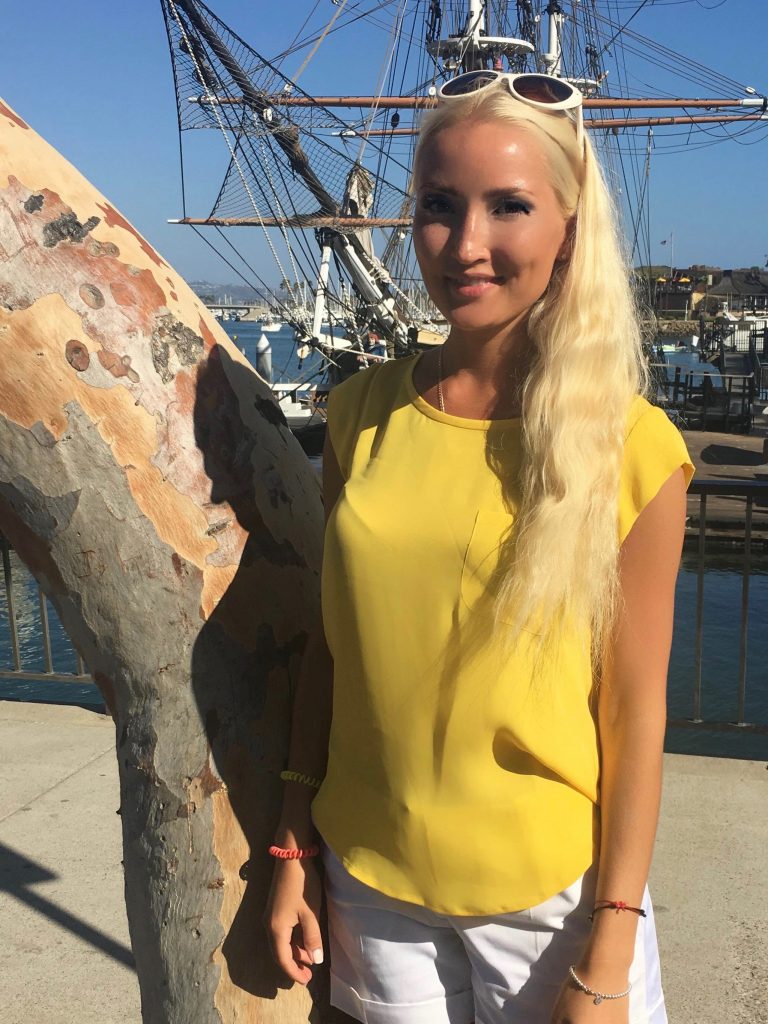 White shorts are certainly the perfect way to snub that outdated notion of how we should dress this time of year, and paired with gorgeous high-heeled sandals, they make for an ultra chic outfit.
And as for the tee, Liliya obviously subscribes to the idea that basics don't have to be basic. Yes, t-shirts are really hot now, and they work so well with many different outfits. But why not make sure that if you're going to wear one, that it's something special: in a soft silk fabric and popping color – maybe one that matches your Manolos?
XO, Janea
---