Is there any cooler way to go casual than with denim and chambray?
My friends Donilee and Liliya definitely rock it. During the morning of the selfie below, Donilee mentioned her search for just the right denim jacket: long enough (for her model's height) and with minimal embellishments. Century 21 in New York was the place she found this lovely prize. Liliya wore her blouse with the perfect compliment for Spring: floral printed trousers.
When I think of denim and chambray, my mind goes to Diego Rivera (and Frida Kahlo) and to Catherine Hepburn. Could there be a more classic choice when it comes to casual dress?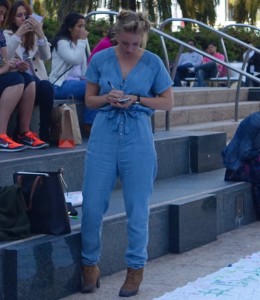 On my last trip to New York, I noticed some splendid ways (pictured below) of wearing denim/chambray. By the way, the two fabrics are extremely similar, the difference being that  "…chambray's warp and weft threads will alternate one over the other, while denim's warp thread will go over two threads in the weft before going under one." (http://propercloth.com/reference/chambray-vs-denim/) 
An easy way to differentiate between them is to flip the cloth over; if it is lighter on the inside, it is denim.
One thing I have noticed while people-watching in my new hometown of Seattle, Washington is a LOT of chambray and/or denim. It seems to go along with a common practice of combining casual with dressy. I'm telling you, people here get really gutsy when it comes to that: casual shoes with elegant attire or in the example below and to the right, a dressy pencil skirt with (I'm guessing) denim blouse.
Yes, I am amazed and often impressed with the daring of Seattle style(s). I would have to term one aspect as "dressy cazh." Some of it gets quite creative, which I look forward to showing you in upcoming posts.
And then there is full-on cazh, like the denim/chambray ensemble below and to the right. With those big-rimmed sunglasses, crossbody bag, and beige flats, the look is also full-on style, wouldn't you say? 
Denim and chambray have not always been my first choice, I suppose because I generally opt for more delicate fabrics. However, I am inspired by my fellow Seattleites to widen my perspective. I have to say I love the sassiness of the denim blouse/pencil skirt combination above, and this new environment could be a chance for new developments in my style.
How about you? Do you do denim/chambray?