SPRING IS HERE! The days are getting longer and warmer, flowers are blooming, and many of us are inspired to wear more color. It is a time to celebrate and embrace the change around us sartorially.
The thing about Spring in non-tropical climates is that we – at least I! – get so tempted to wear lighter colors and lighter-weight fabrics while weather isn't exactly permitting. In places like London, highs are still in the 50s and lows in the 30s (2-12°C). And New Yorkers get a warm day or two but then return to similar conditions.
So, how does a girl celebrate this lovely season comfortably? Here are 5 ideas I picked up on a recent trip to the other side of the pond…
1) GO PINK.
A pink coat in a thicker fabric or duster length is ideal for this season of transition. Light shades of pink don't always compliment very light complexions. But in that case, a turtleneck or scarf in a flattering hue works wonders (see below). And if pink coats aren't your thing, you might try a pink scarf, sweater, or shoes.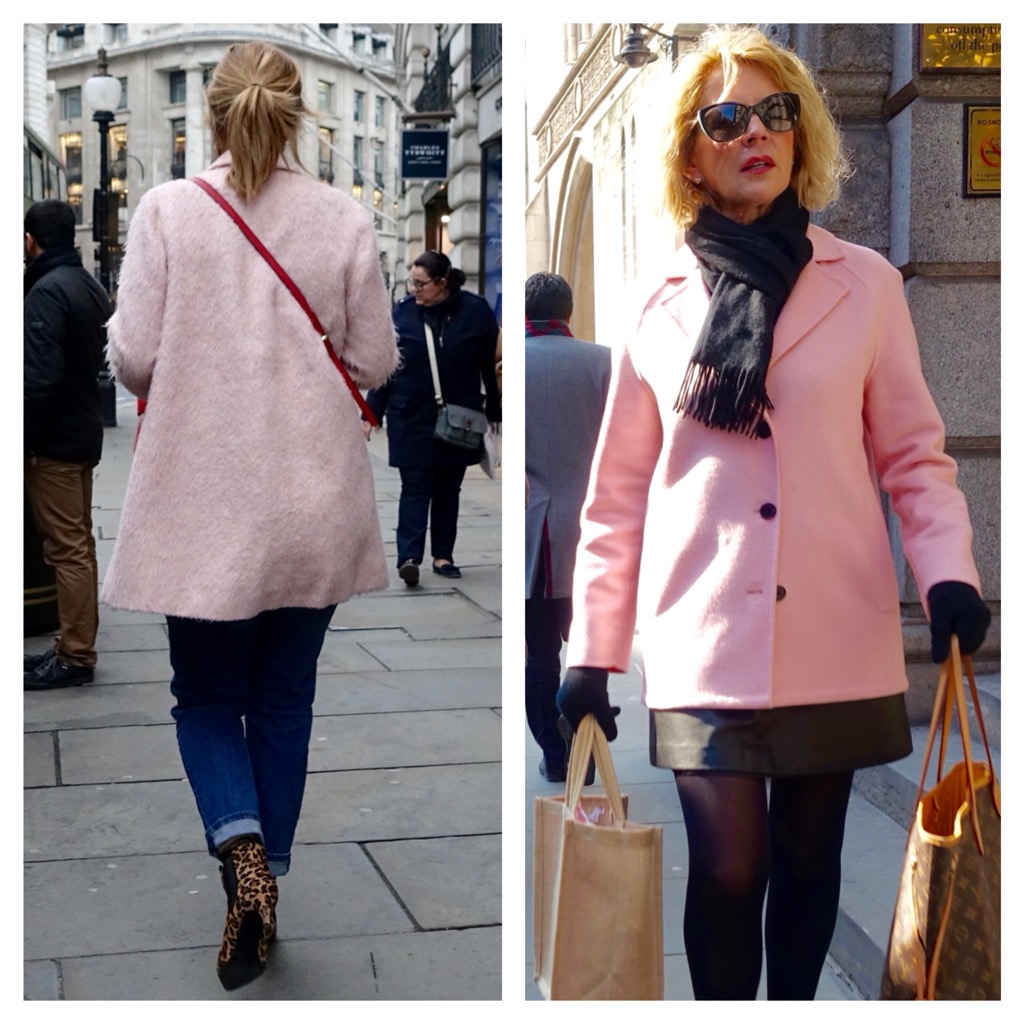 Can you think of a color which better expresses the lovely feeling and light conditions of the season?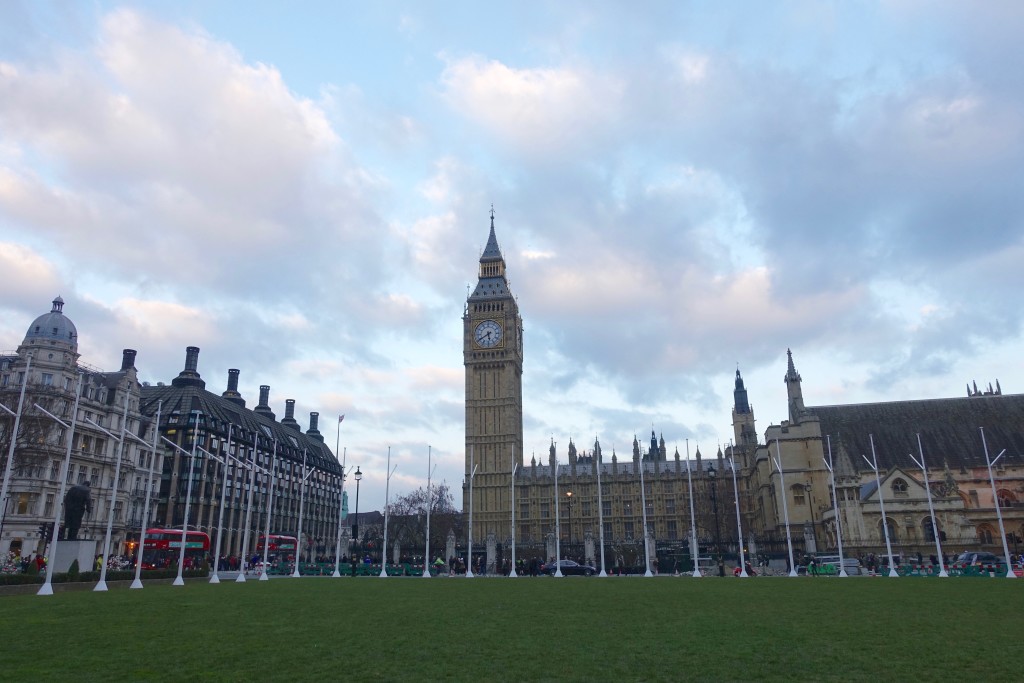 2) OR LET YOUR OUTFIT EXPLODE WITH COLOR.
I was mesmerized in London by this woman's coat of bright blue, teal, and green (seemingly a very popular combination right now) on a black background – and how she accompanied it with a bright pink scarf. Notice her jacket buttons – they seem to beg for a similar accessory.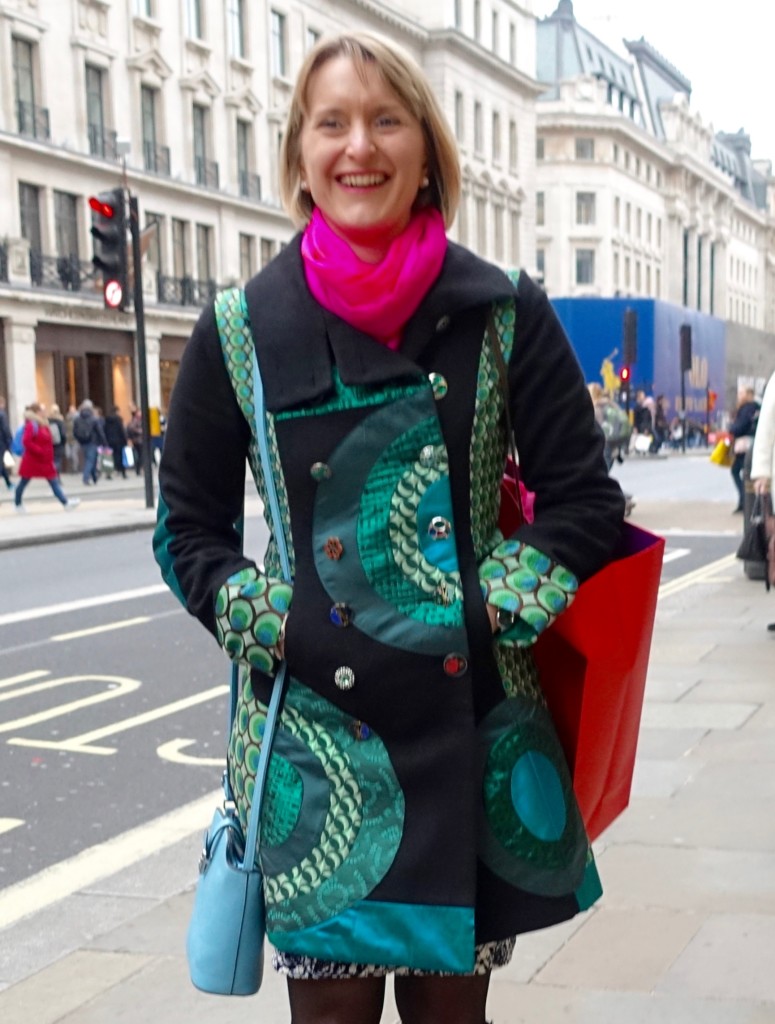 Of course, any bright color will do – even a solid. I love this woman's clean yet anything-but-boring look. Even her jewelry is spot on.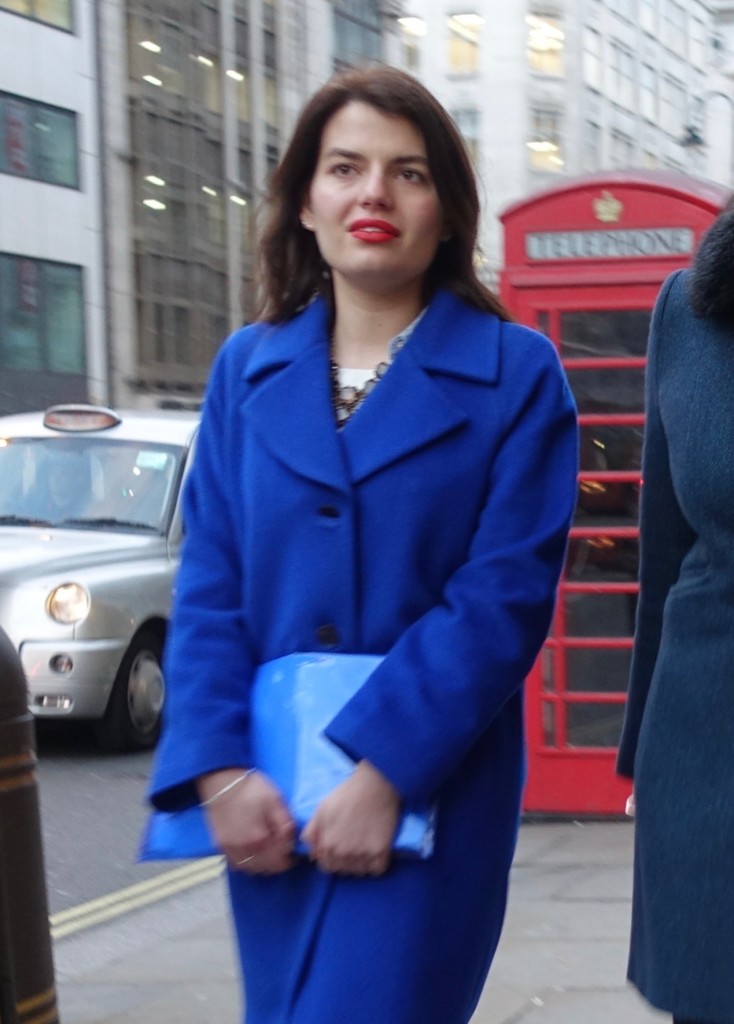 A poncho over a leather jacket (atop a sweater!) is an uber cool way of staying warm while showing your colors!
Reds say, Stop! – and smell the flowers! For women with slender legs, brightly-colored leggings look hot for spring with ankle boots – my favorite footwear this time of year. For those preferring a more slimming look for the lower body, another great option is to wear red in other garments – like the cool jacket pictured below in center.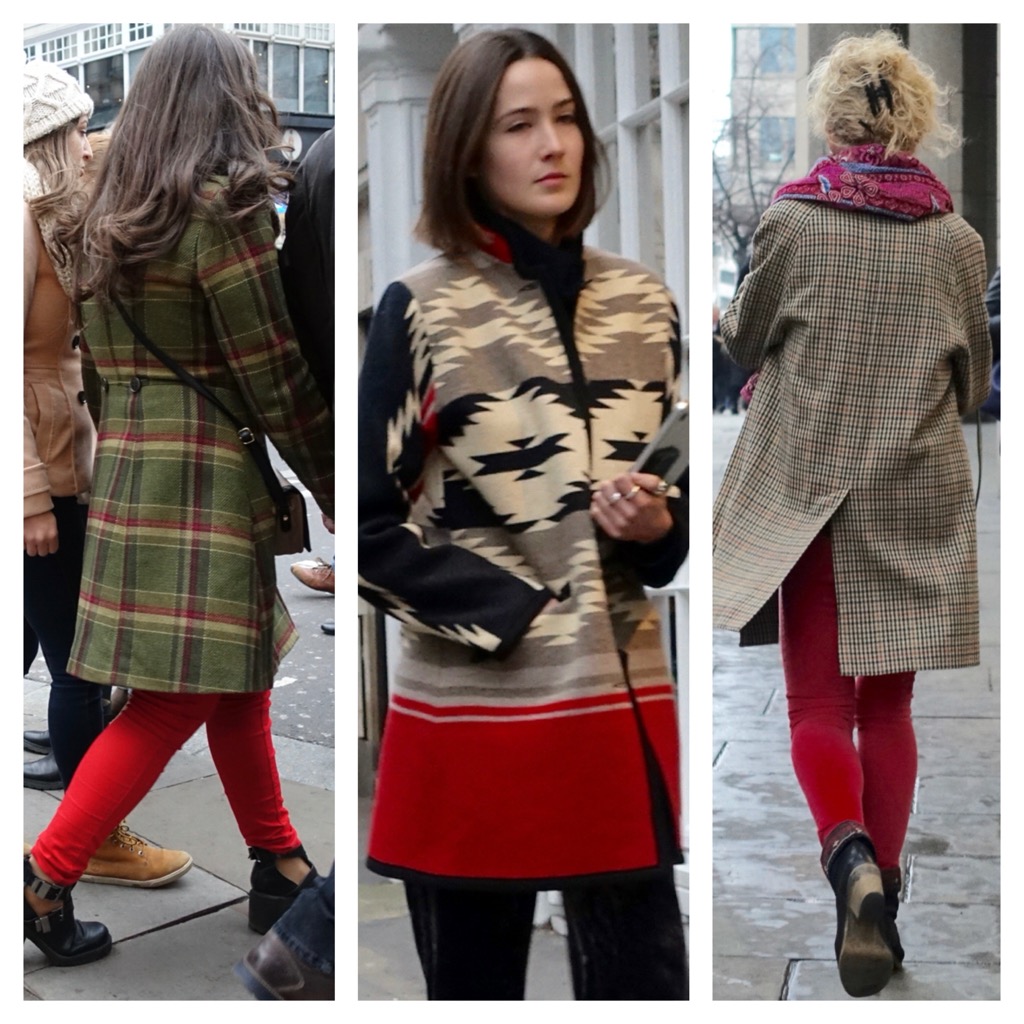 My friend Melissa recently pointed out how skilled many Europeans are at combining colors. The woman above and to the far right (above) is a perfect example – to my eye, her palette is not simple but works in a very sophisticated way.
3) LET YOUR SKIRT DO THE TALKING.
Notice the gorgeous floral print on this one. Sometimes a pop of color on a sea of black works just as well.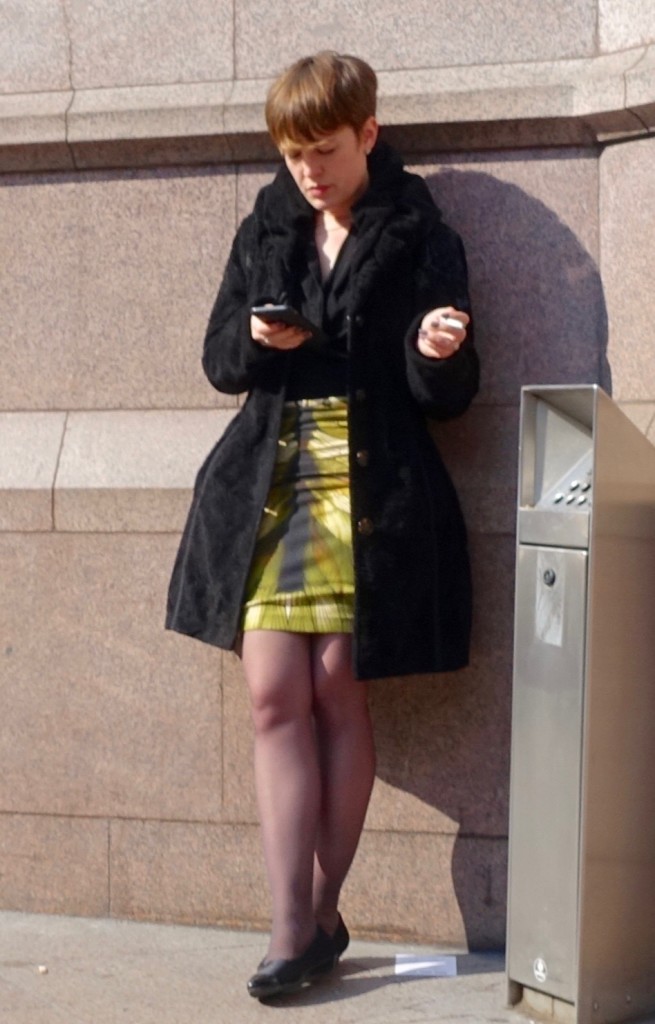 4) METALLICS WILL ALSO BRIGHTEN UP YOUR DAY.
While celebrating more sun, why not resemble the thing itself? Silver, copper, bronze, and gold all add a little shine, especially during April or May showers.
A skirt like the one below can be tricky to style; I love the way it is done here with super casual pieces.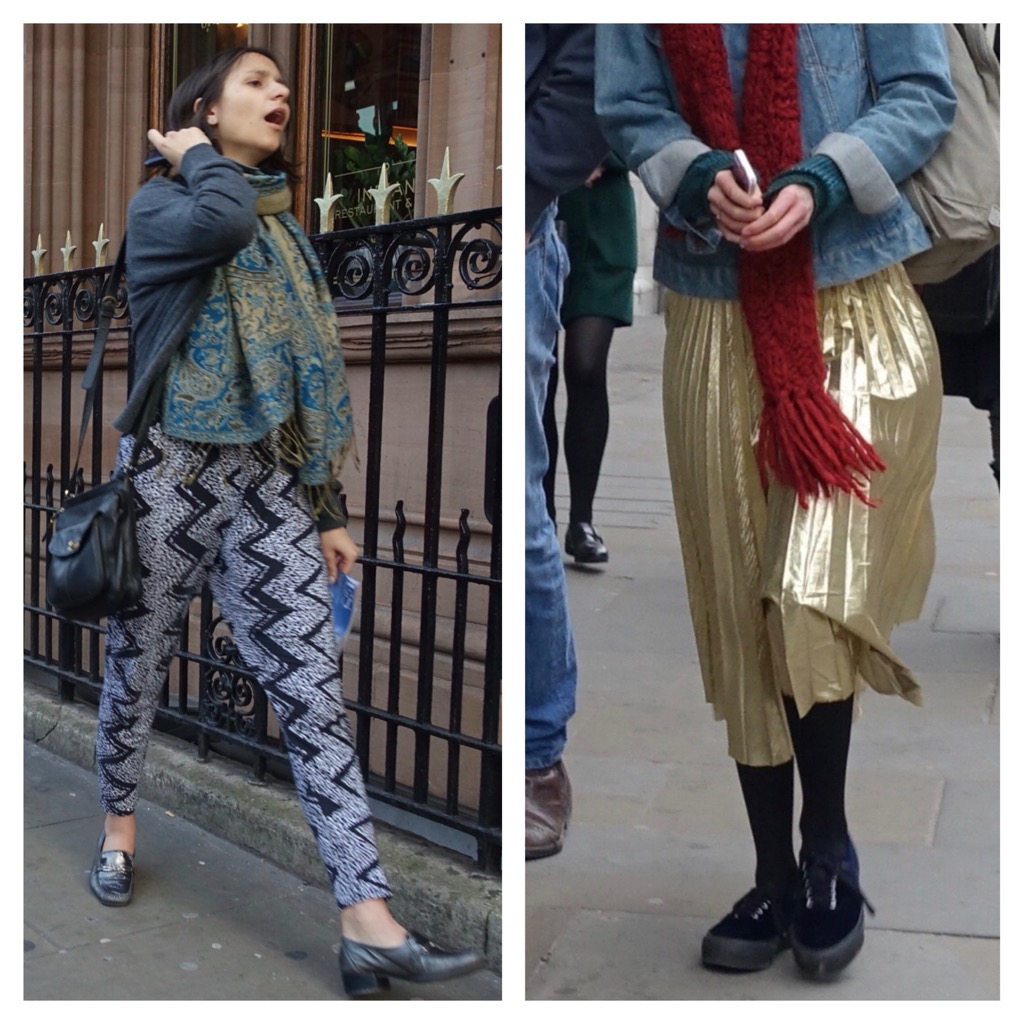 5) CARRY A BRIGHTLY-COLORED HANDBAG
I'm currently living in Seattle, and temperatures are a bit warmer (44-70°F/6.5-21°C). And so, I don't always need a coat. But when the sun starts going down, it's nice to still have a pop of color to go with one of my darker jackets.
I say that if we have to cover up in spring, we might as well be festive about it. I hope some of these looks have inspired you. Do you have any fun dressing-for-springtime tips to add?
XO, Janea
---
????