Have you heard of Project Runway? If you haven't seen it yet, it's a totally entertaining show where talented designers compete for a place at New York Fashion Week via a series of insanely difficult projects. They'll have to create a New York City-Inspired look from the contents of an abandoned storage closet or maybe an avant garde design using greeting cards. Designers might have only one day before sending their designs down the runway. I said insane, didn't I?
Well, for those who are seriously hooked like me, I'm sure you'll remember Emily Payne, that fabulous designer from San Francisco who specializes in edgy, luxurious streetwear – she was at the top in Season 13 and the last All Stars show.
I got to meet Emily in person last July in California and ask her all my burning questions, and so, it was a special treat to see her latest designs walk down a NYFW runway on Sept. 11 in a church in Chelsea – such a beautiful setting for an eye-opening collection. Check it out!
I loved the finale of the show, when Emily came down the runway with her (speaking of crazy – in the best way) "fashion family": artists Mary Rosenberger, beautiful first and last model who creates the prints on Emily's fabrics; Lance Victor Moore, maker of the face masks; and Mary's mom "Sassy T" (Theresa Reynolds) who masters textile layout. (She's the one yelling and shimmying at the end.) Sweeet!
Video by Charles Schoenberger
I don't think Emily will mind my sharing that in this family, she's "Auntie Em," and "dad" is behind-the-scenes photographer Charles Schoenberger. More and more designers are collaborating with artists, and I love how Emily has found this group for an amazing collaboration.
But, let's go back and look at some of these spectacular looks and new ground Emily's covering – so exciting!
This first dress is my absolute favorite – so modern with its oversized t-shirt feel, playful/edgy print, dramatic color, and surprising "peekaboo" opening in the back.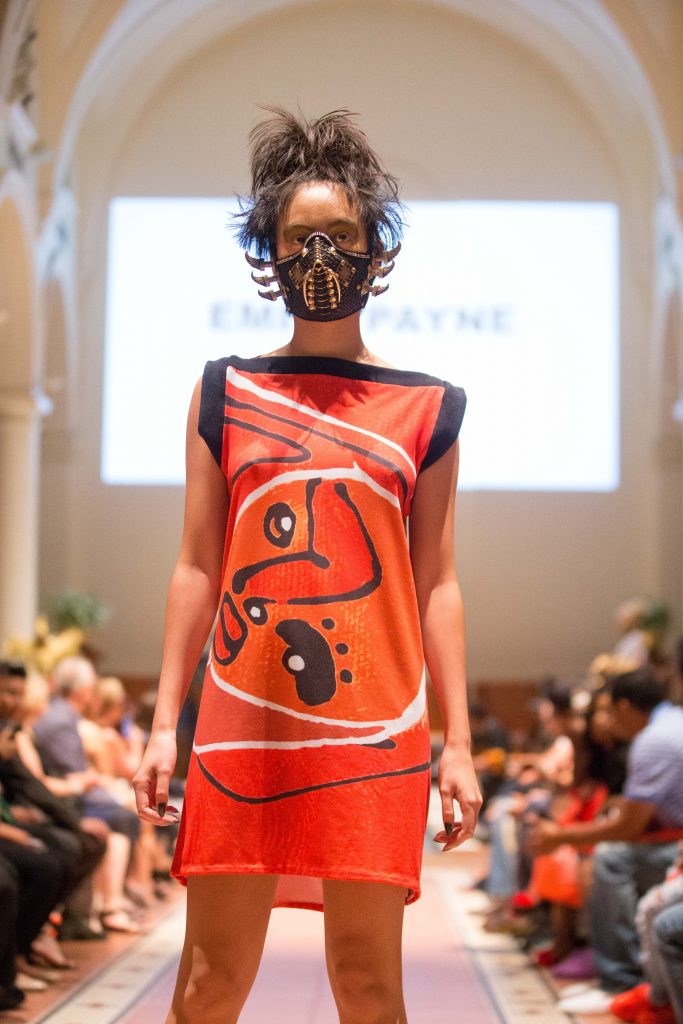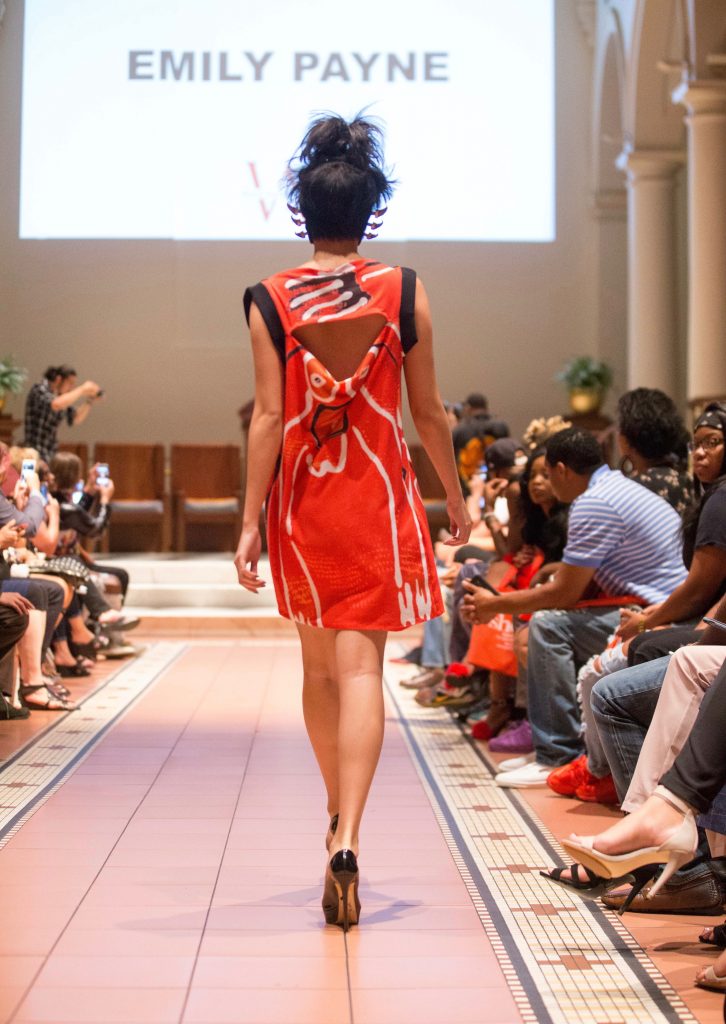 Although there are loads of fresh ideas in Emily's designs, I like it that she stays true to her personal style, which you might remember from Project Runway, includes a penchant for incorporating hoods. This body con piece has that great one-shoulder look of which I can't get enough.
"What is the meaning behind the masks?" you might wonder….Emily came up with the idea of using simple ones in a show to highlight the pansexual aspect of her collection: many pieces can be worn by men or women.
They were so well-received that she proposed that Lance create more editorial/runway masks aligning with Mary's prints: edgy, tribal, and reminiscent of African artwork. The result: natural punk masks: up close, you see that they are of all-natural materials but from a distance they're full-on punk rock / high end couture.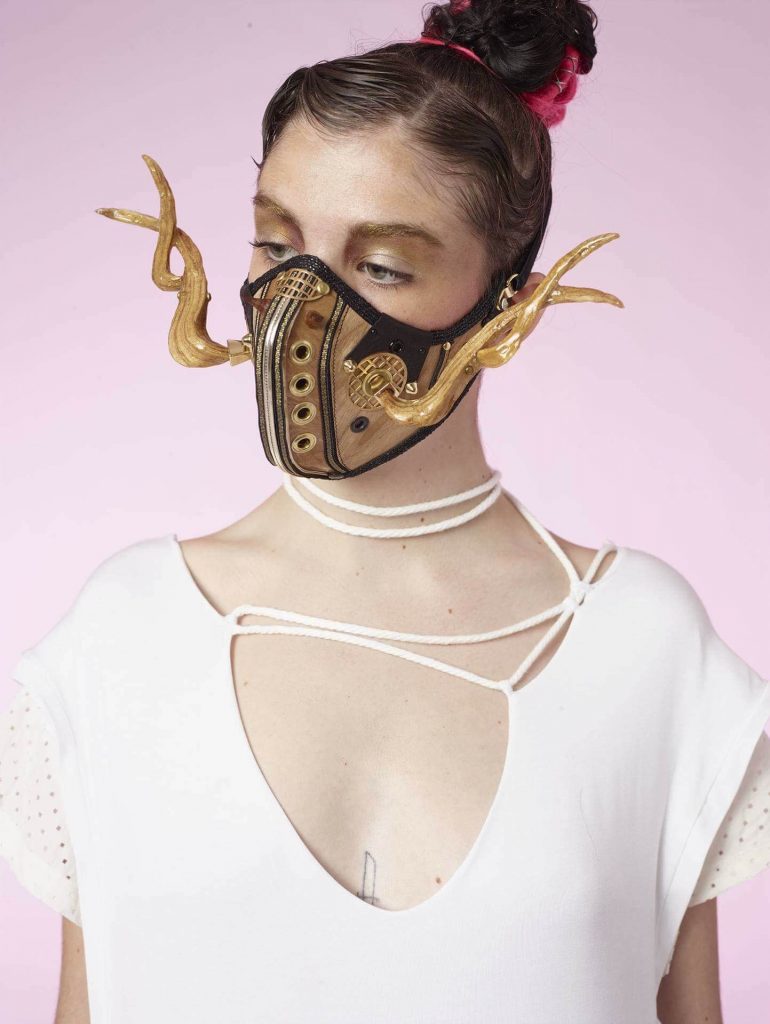 While Emily is a true artist, her clothing is not ridiculously over-the-top but rather ultra-wearable. Every woman needs a dress like this – eye-catching, flattering, comfortable, and sophisticated, because who wants to wear constricting skinny jeans every day?
Looking for a fresh way to wear denim? This is a super cool outfit for going out, especially with the leather cropped top.
And then there are these next two looks, which are an awesome merging of cool print and design.
I think I'll end this mini online fashion show with a look featuring one of Emily's super fun sportswear/street wear tops – one of which I aspire to owning one day.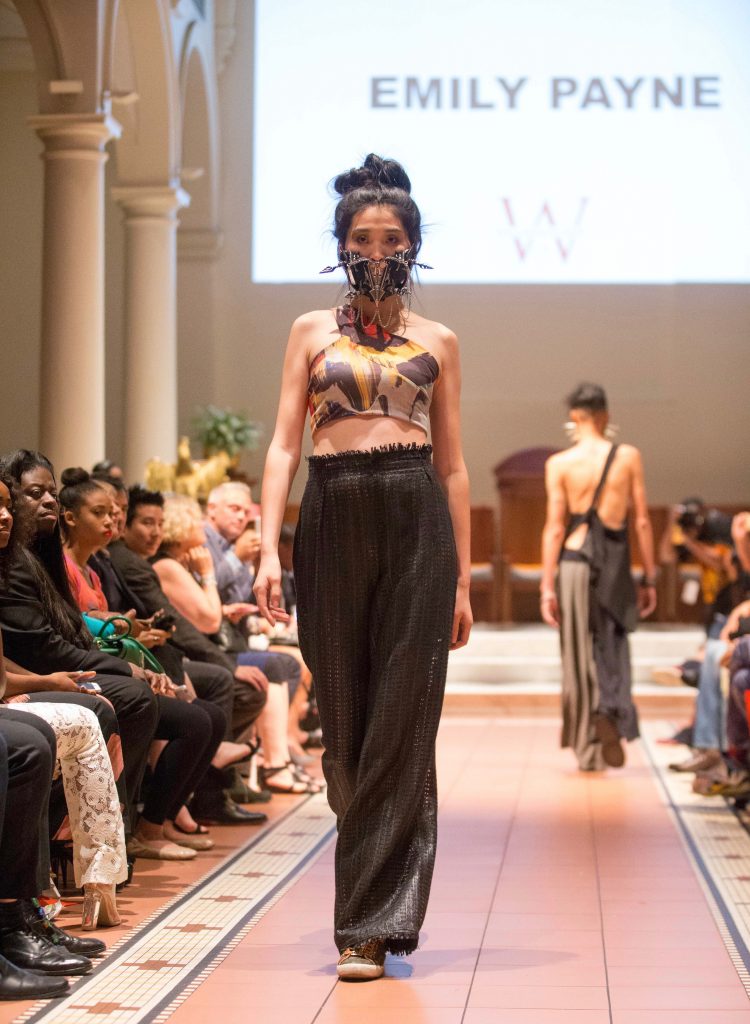 Here are some others, one shot by Charles in New York and another she wore when we had lunch in California. Must have one – so urban chic!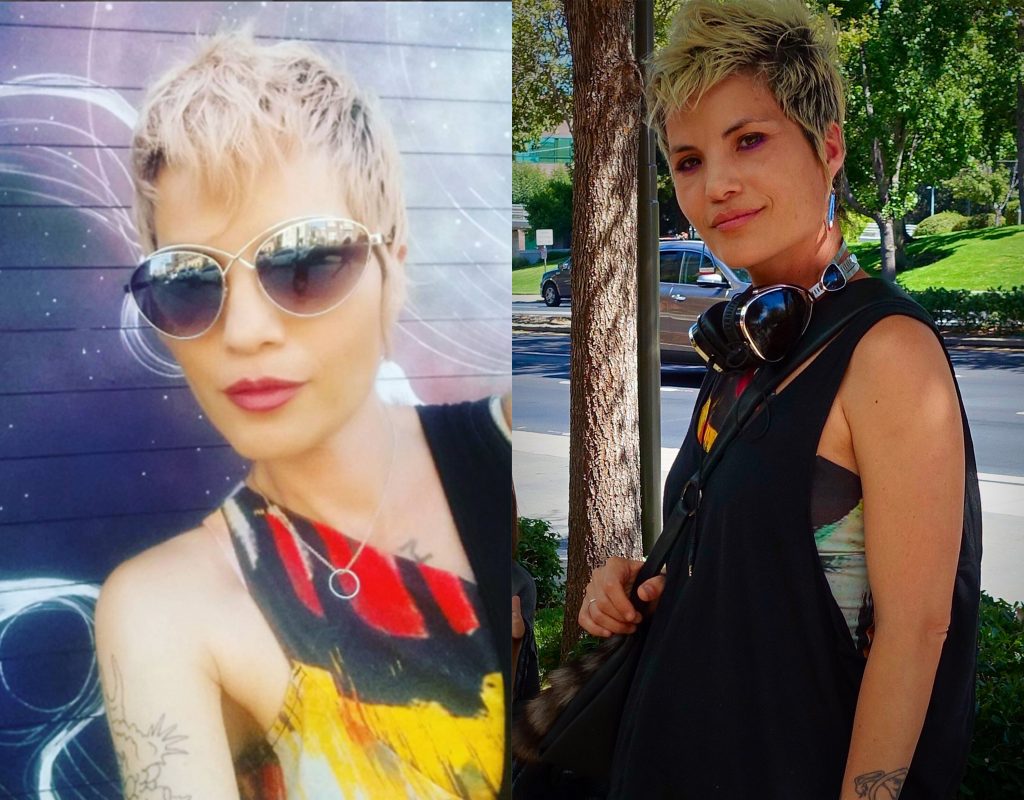 Emily Payne – Leather Tongue / Devon Rose Kids
As you read this, I'm headed to Vancouver Fashion Week and then a show of Emily Payne's in San Francisco. The plan is to bring you cool news on designs from British Columbia, Canada and more on this amazing designer – including a few new developments. Make sure to check back!
XO, Janea
---