Did you catch our post on Emily Payne's NYFW show? Well, her PROJKT Maiden Lane show for San Francisco Fashion Week was even more exciting!
Emily showed her edgy pieces created with luxurious fabrics, and the outerwear is just perfect for fall – not to mention how well it all fits in with that urban San Francisco vibe. I loved seeing garments worn by woman in New York donned this time by men and vice versa. It proves that the collection is truly gender fluid.
A velvet hoodie jacket with a dreamy Monet-like print was my absolute favorite! I love the way the zipper starts at the middle, leaving the bottom half open for ease of movement.
And here are more glimpses of the show, not to mention a few fun 'backstage" moments…
The runway was on Maiden Lane behind Britex Fabrics (the Mood of San Francisco), where Emily used to work. I got there early to see what goes on behind the scenes and caught a glimpse of the red carpet in delicious anticipation – what a dramatic and romantic touch.
I also got to follow Emily's collaborator, artist Lance Victor Moore backstage to see his custom-made masks up close. The two middle pieces are a set, but the rest are all completely original – and fabulous!
Emily's line was still on hangers, and oh, wouldn't I like to have that wardrobe!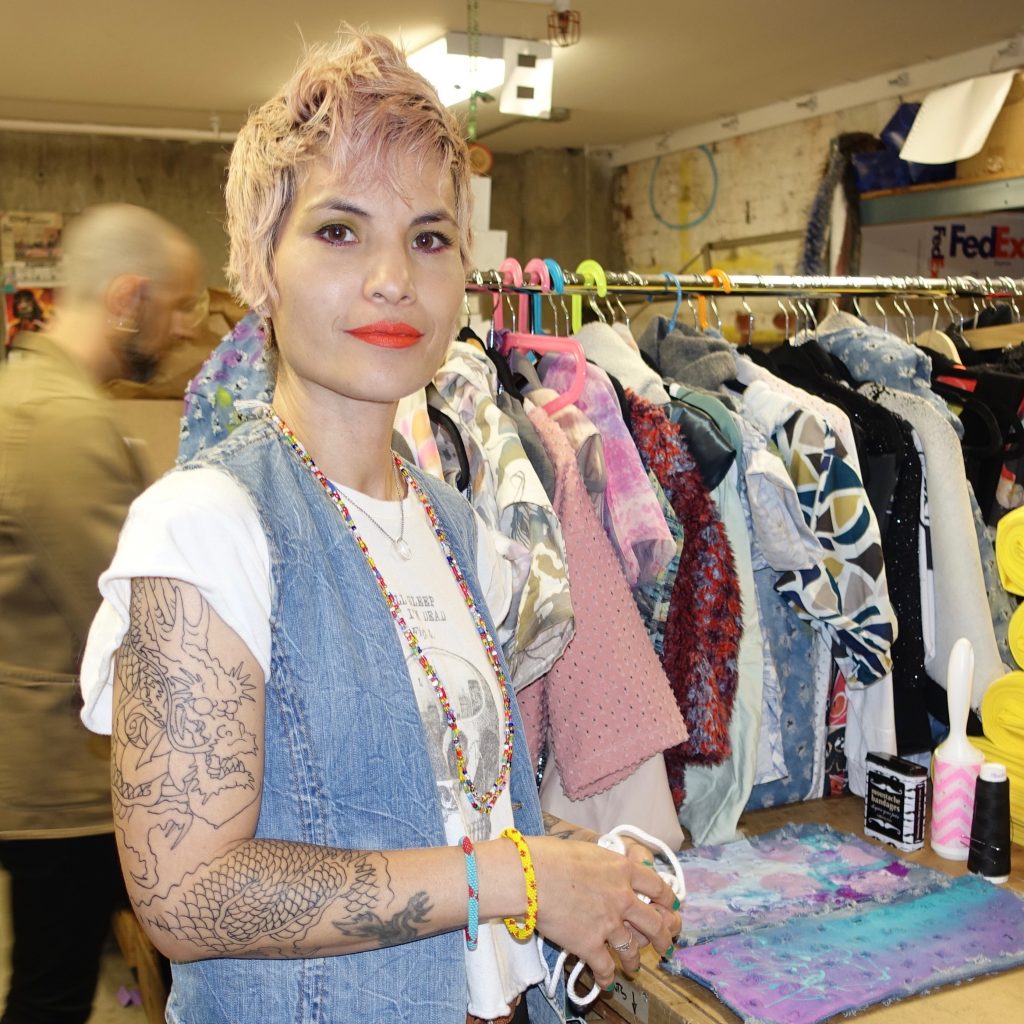 Once the show started, it was pure magic! The piece pictured below drew gasps from the crowd…and this crowd didn't seem like the gasping type.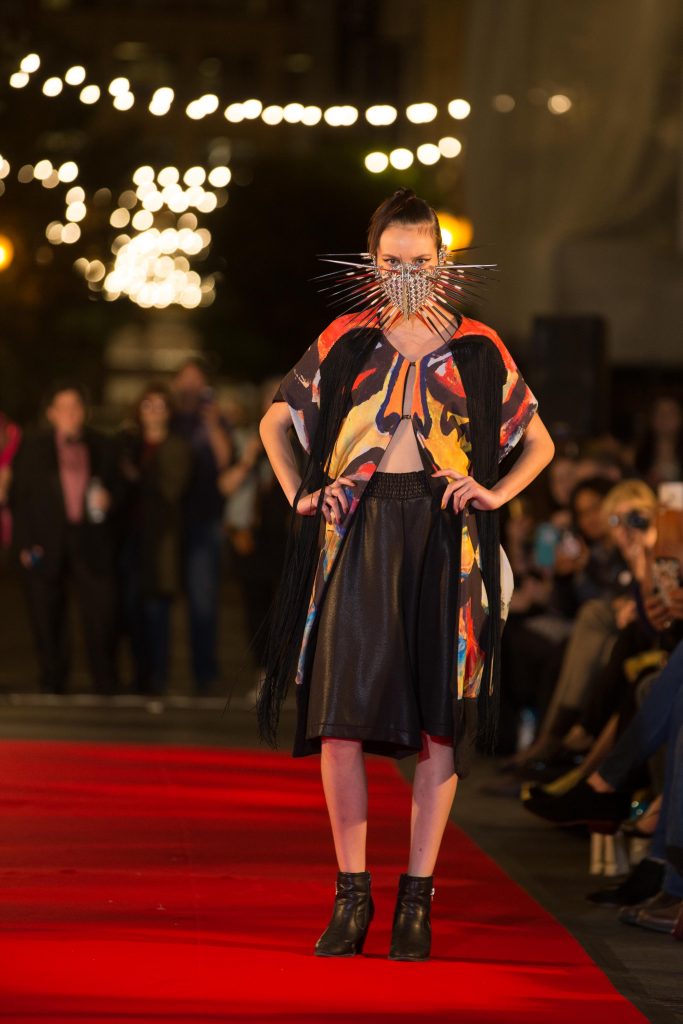 I didn't get to see in New York this asymmetrical piece, all in black. Truly unique and eye-catching!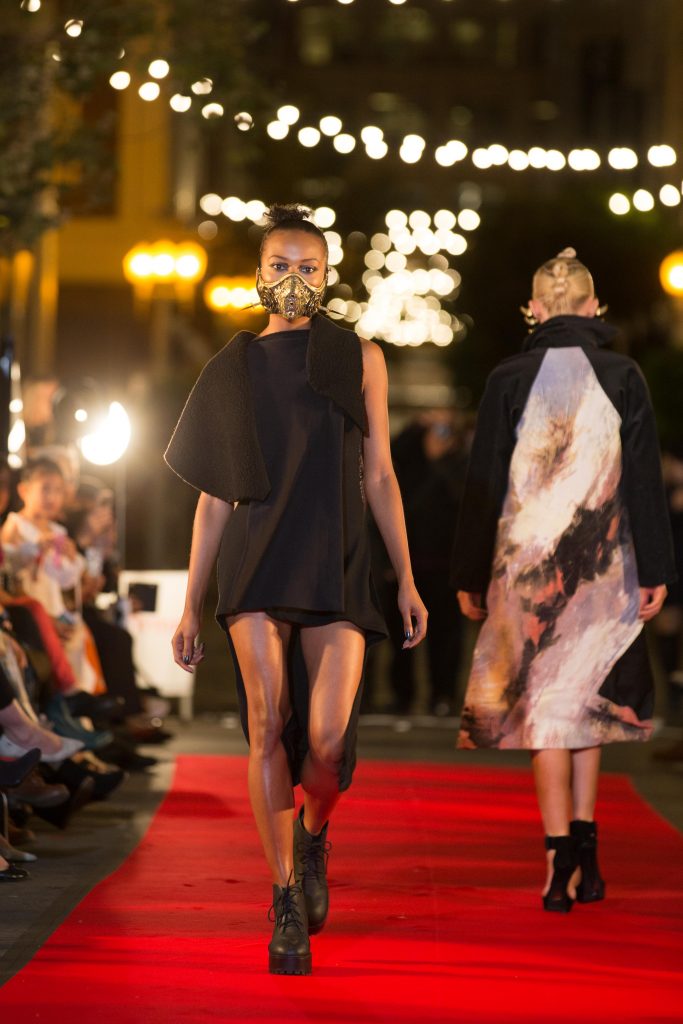 And here's the unexpected back of it, with a cool contrasting fabric.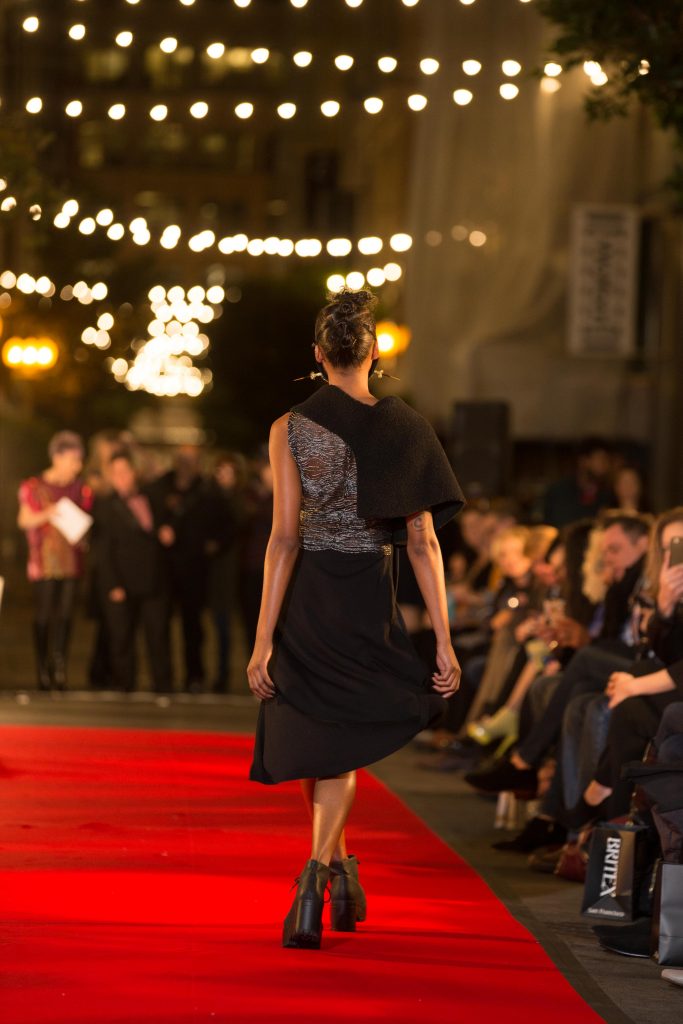 If you prefer more subtle asymmetry, this glitter jacket is also a beauty!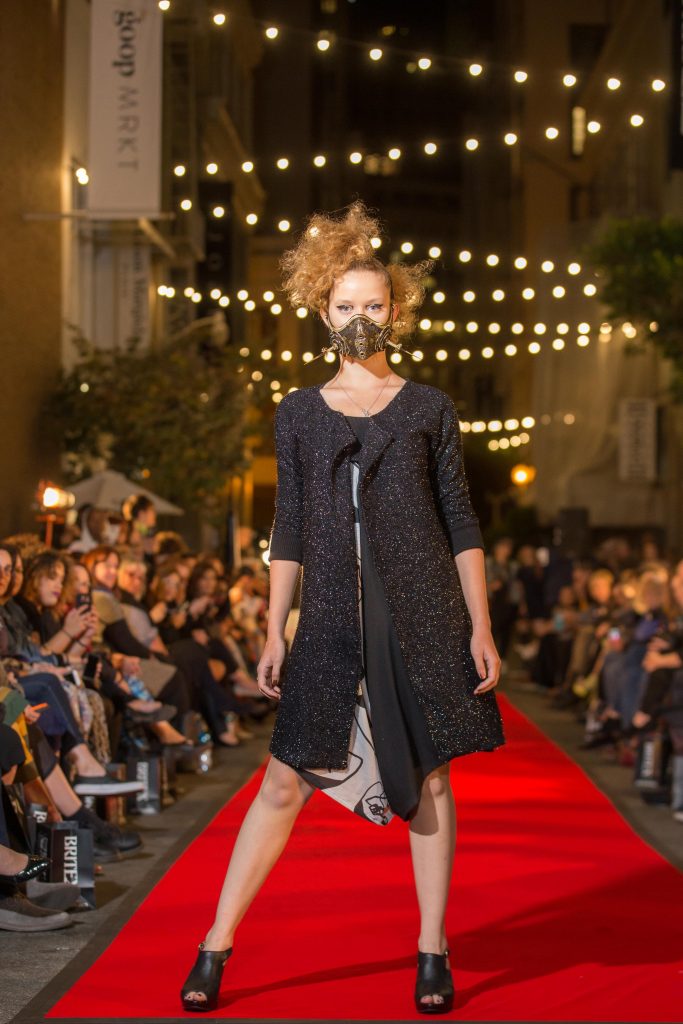 Now I have to fill you in on those masks! Here are close-ups of Lance Victor Moore's "punk rock" pieces made of natural materials for Emily's collection: a nautical-themed mask with gold shells (left below), one with a Nordic feel made of coyote bones and rabbit fur (center), and an antler mask using branches to look like stag horns with silver leaf, leather, and chrome. Stunning!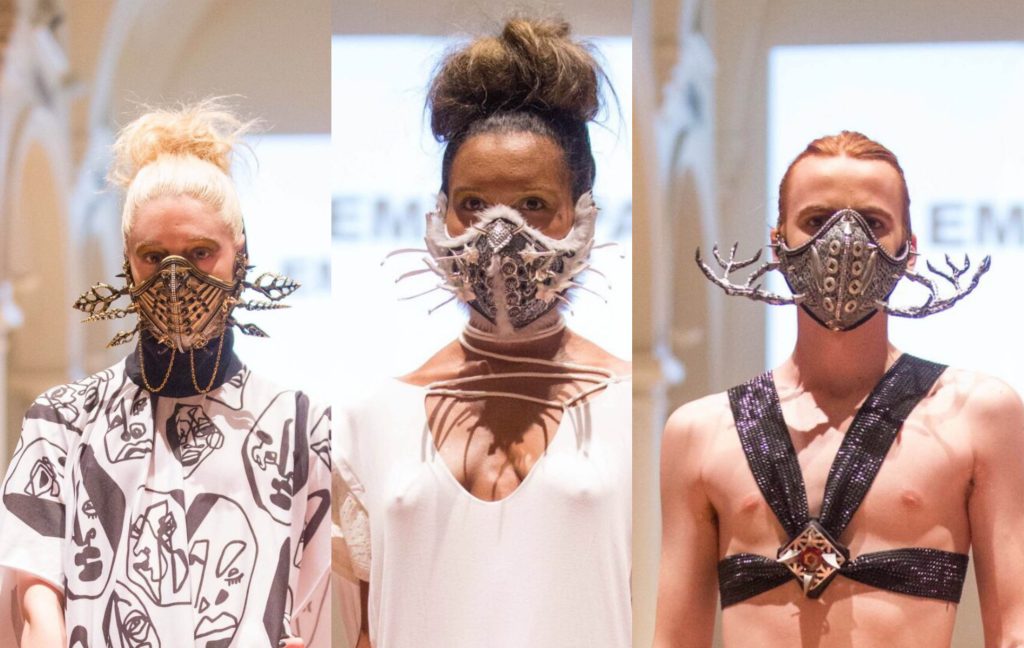 I also want to mention something else that's really cool about Emily's streetwear line: it can be worn with sneakers to kick around the city or heels to dine out – or anything in between.
A couple of times I recently saw Emily, she was wearing a cropped trouser (like the one below) that hits just below the knee. I love the look on both women and men and am thinking that I'd love to style some with heels and a long tunic or cardi. They are so uniquely Emily!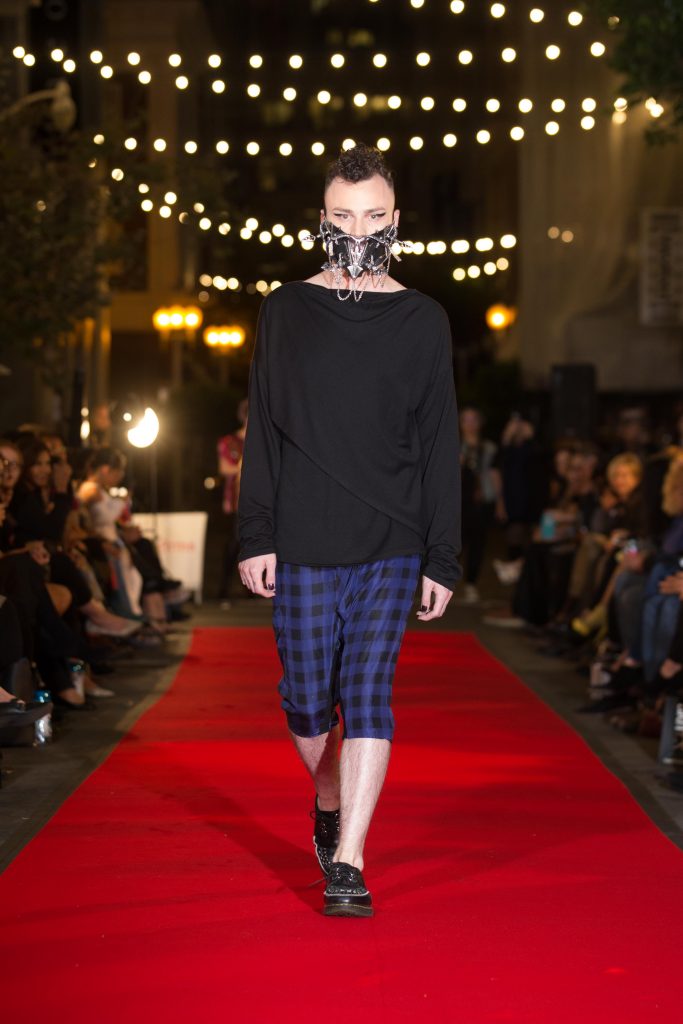 Of course, the dress below is still a favorite of mine, and it looks awesome with the jacket – swooning!
In concluding, I want to share with you the show finale to give you one last glimpse of a fabulous collection.
Video by Charles Schoenberger
I hope you've enjoyed this mini show of Emily Payne's Leather Tongue collection. I felt so honored to be able to share it. Which are your favorite looks?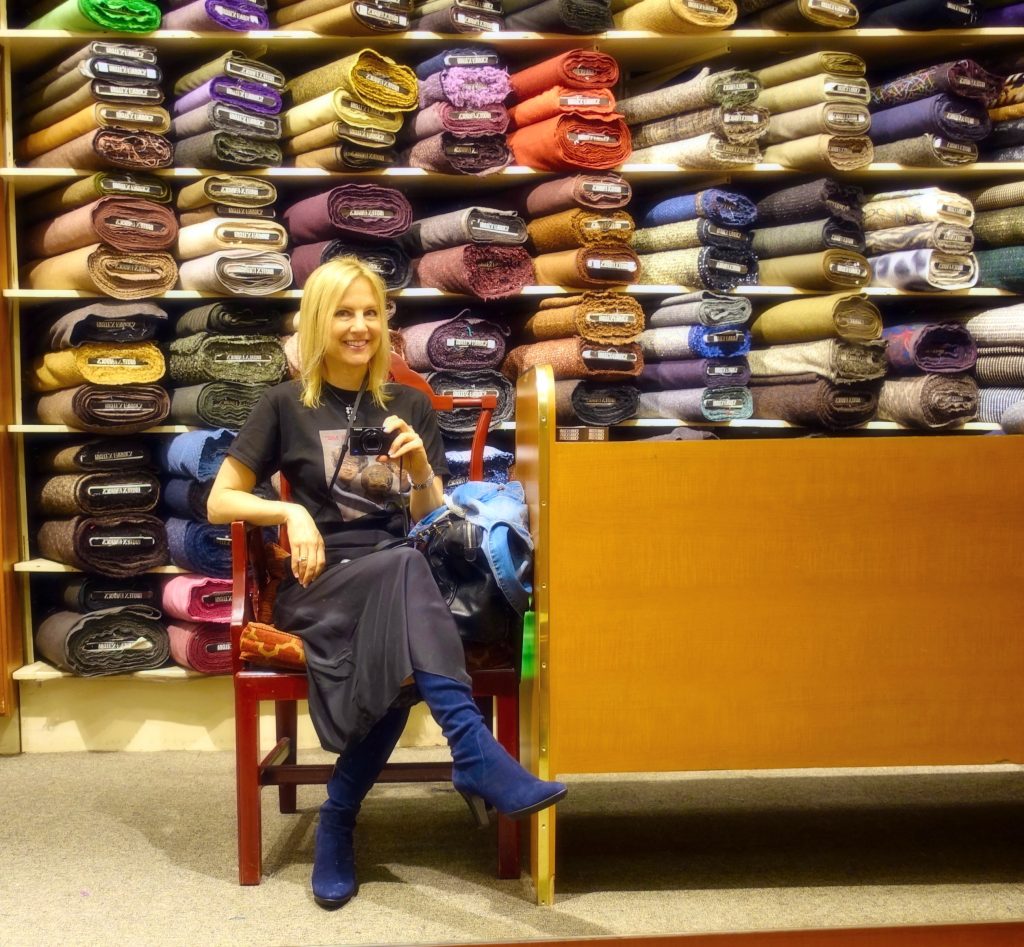 XO, Janea
---