While planning summer vacation with my husband this year, I decided that I would not leave you, dear reader, without something new and fun at theSTYLetti.com. And so I asked Adele of Adele Lydia to contribute a guest post – she's captivated me with her awesome writing – and she agreed! On her blog, Adele shares her aspiration to become the Carrie Bradshaw of Dublin (minus the one-night stands), and after reading this lovely post, I believe you'll agree that she is well on her way!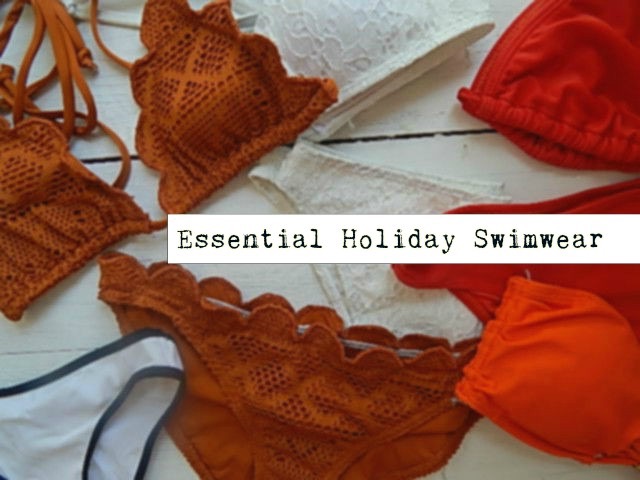 Coming from someone who has a serious swimwear obsession, over time I have learned that when going away on holiday, it is necessary to have more than just one swimsuit or bikini. "Why?" you might ask. Because of holiday events and situations that crop up requiring different swimwear. I like to treat my swimming togs like an outfit. You wouldn't wear the same outfit you wear on a night out to the shop to buy bread, would you? So why would you wear the same swimsuit to a water park and a boat party?
To try and demonstrate what I mean by this whole idea, I have rounded up my own swimwear collection and labeled each piece with an appropriate title and explained a little why that is and give an example of when and where it should be worn.
'The Practical One'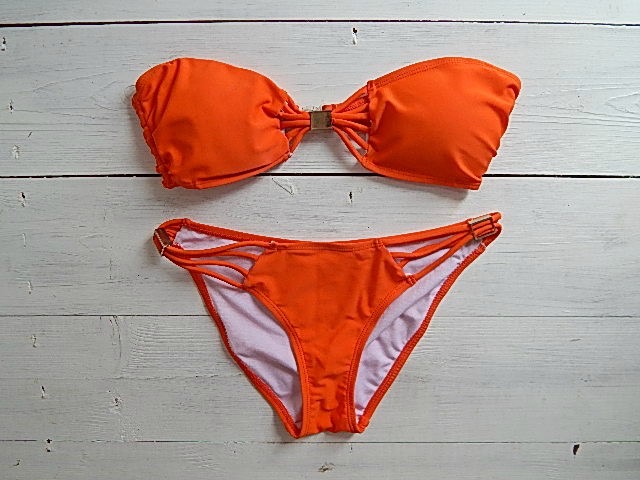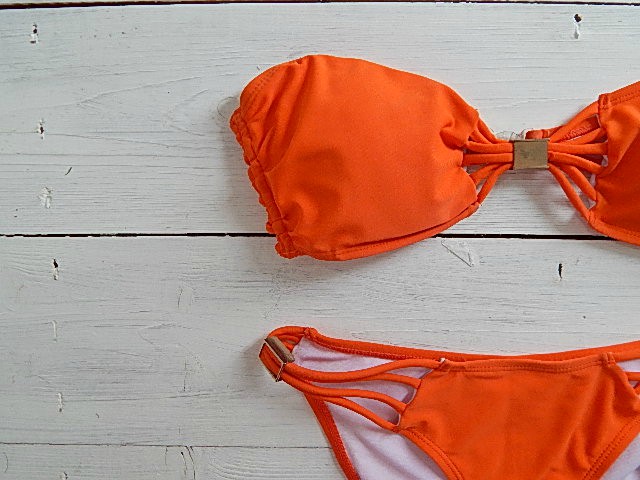 Bikini: Boohoo
As the title suggests, this bikini is practical in the sense that it is strapless; this ensures optimum tanning. It is pretty, yes, but the main purpose of this bikini is to avoid the hassle of straps. You can jump into the pool or sea, walk around town, and tan while being confident that you won't end up with dodgy tan lines.
This bikini again is best worn at the beach, pool, or any other time when you know you are gettin' your tan on.
' The Head – Turner'
Swimsuit: Asos
Every woman needs to own a bikini or swimsuit that makes her feel amazing. One that draws attention of the right kind and makes you exude confidence. This could be done with a bold print, a deep plunge, or a complimentary colour.
It is important to understand your body shape for this and know what your best asset is in order to accentuate it. For example, if you like your chest area, go for a swimsuit with a deep plunge like mine above. This kind of swimwear is best worn somewhere where there will be a lot of people, like a boat or pool party.
'The Cute One'
Bikini: Boohoo
This is my 'cute' bikini. By this, I mean that it isn't exactly the most flattering on my body, but it was just so adorable that I could not pass up buying it. It is the kind of bikini that doesn't exactly make you feel like a sex goddess when you wear it, but the print is pretty, and the color compliments a tan nicely; so that is good enough reason to wear it.
This type of swimwear is best worn at the beach or while having a browse around markets; throw a pair of shorts over the bottoms, and you are good to go.
'The Sensible One'
Bikini: Boohoo
Over time I have come to realize that when it comes to swimwear, it isn't always about the one that makes your stomach look flat and your bum look perky. It is so important to own a swimsuit or bikini that makes you feel comfortable. One that keeps you tucked in in all the right places so that there is no risk of any slip-ups.
 This for me is my red bikini. The colour is flattering with pale and tanned skin, and whenever I wear it, I don't have to worry about any parts of my body unexpectedly slipping out. This kind of swimwear is perfect for a water park or any other kind of water activity.
'The Flattering One' 
Bikini: Asos
Last but not least is the flattering bikini. But of course, depending on your body shape this could be another style of swimsuit. Again for this kind of swimwear, you need to know your body shape quite well.
If like me, you have a petite shape, a triangle bikini like this that fits well can work wonders. If you are self-conscious of your tummy area, you could opt for a high-waisted bikini that will pull you in at the right places and draw the eye to your waist. Or if you have a large chest, you could go for a swimsuit or bikini with a built-in bra; that will give you the lift and support to make your chest look amazing.
This one can be worn at any time that you want to feel good about yourself and confident in your own skin, whether it be lounging by the pool or going on a boat trip. Once you feel good about yourself, others will notice.
So there it is, my essential holiday swimwear.
How big is your bikini collection?
Adele x
Read more by Adele at Adele Lydia! – Janea
---