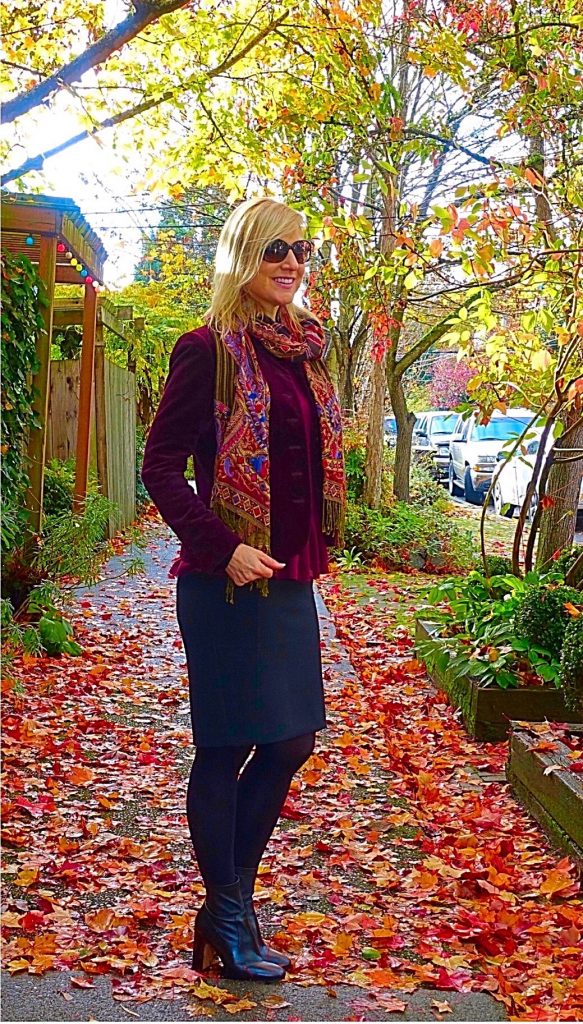 Do you ever get sick and tired of your work clothes? If so, I can relate! I find myself putting together outfits – shall I say uniforms? – that I simply rotate. Hey! It saves time and brain power – two valuable commodities when venturing out of bed at an early hour.
The tradeoff, however, is an opportunity to be creative! When I follow this routine, the fun, inspiring side of me lies dormant. That's why I wanted to share this fall-colored outfit. It's something fresh – even seasonal! After all, it was inspired by the beautiful autumn foliage around our Seattle home.
Now maybe like me, you don't really care for the passing of summer and darker skies. Perhaps you prefer bright colors that summer paints upon the landscape.
But who can deny that the hues of fall leaves – bright yellow, burgundy, and oranges – can be super dramatic against a dark sky? And wearing these colors is a refreshing alternative to the white, black, and neutrals that probably make up most of our work wardrobes.
THE COLOR BLACK IMPRESSES
Now there's nothing wrong with black and neutrals. In fact, a recent survey found that if you want to dress for success, black is the color which best conveys confidence. That makes it perfect for interviews and first dates.
But for those days when you want to add a burst of color to your workday, fall colors make for some great combinations.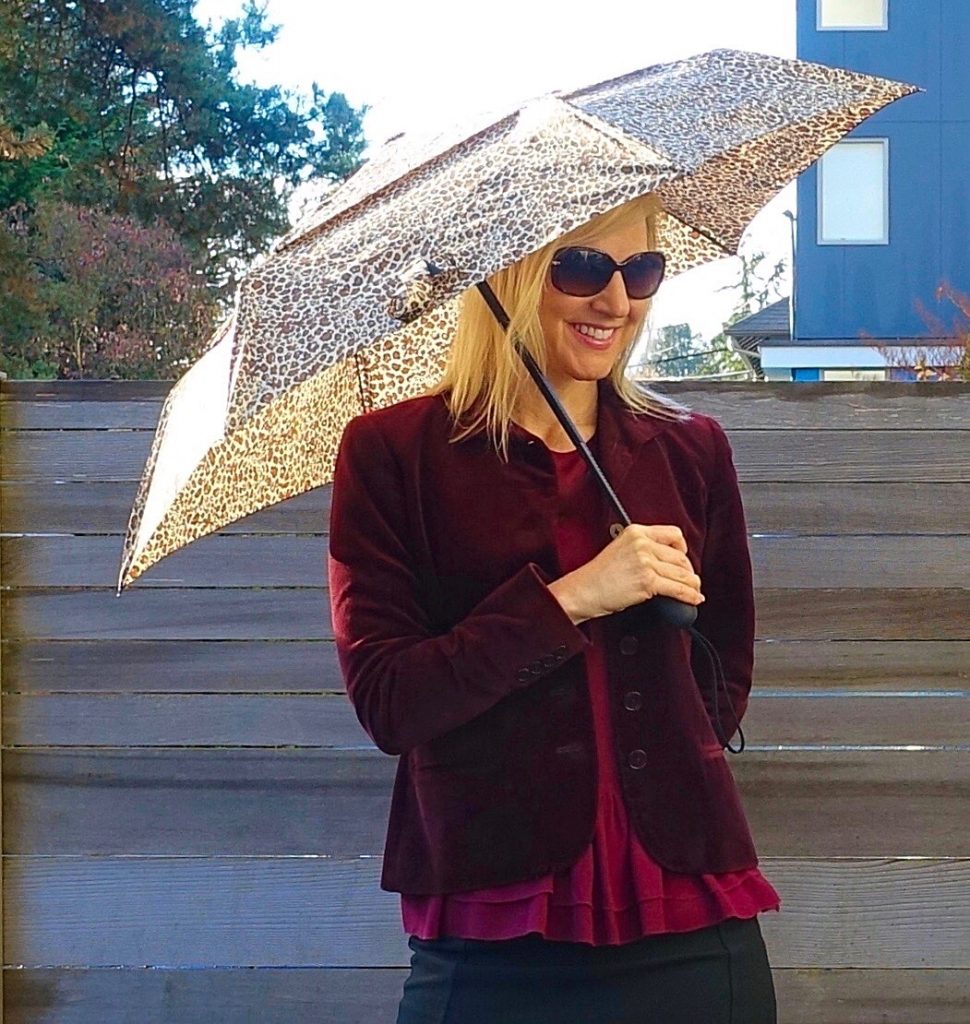 FALL COLOR COMBINATIONS
I recently read an awesome although complex post in Refinery 29 on combining colors. One takeaway for me was that in putting together a palette, it is very effective to mix a muted shade of one color with a brighter shade of another.
Nature already gives us hints of colors and shades that look great together. Sure, pairing primary colors like bright red and yellow works in certain circumstances. But a more subtle and reliable combination is mustard yellow with burgundy and a muted orange.
Another lovely combination – I especially like trios – is moss green with grey (like the sky!) and the lovely shade of yellow you see in the leaves below.
BACK TO BLACK (AS A BASE COLOR)
We can always add to any gorgeous color combination that confidence-radiating black. I use it here as a neutral base color. The black of my pencil skirt visually minimizes my hips – added bonus. And matching tights and booties create a continuous (slimming and leg-lengthening) line.
I do notice in retrospect, however, that the shiny leather of the booties might contrast a little more than I would like with the tights, breaking up the line if you look closely. And so, this outfit might be even more flattering with an over-the-knee boot. All the same, this look definitely brightened my day!
What do you think of this autumn look for work, and do this season's colors inspire you?
XO, Janea
---