Mark and I just celebrated our first anniversary! We exchanged vows last year atop a castle on Lake Como in Italy. (Here are pictures in case you missed them.) We marked the occasion by returning to the same places we went to the day of our civil ceremony in Seattle – before our "real" Italian wedding: the Fairmont Hotel for drinks and Palace restaurant for dinner. We love our special places, especially when it comes to major events in our life together.
Since the occasion was super special, my outfit also had to be. And this one was just that!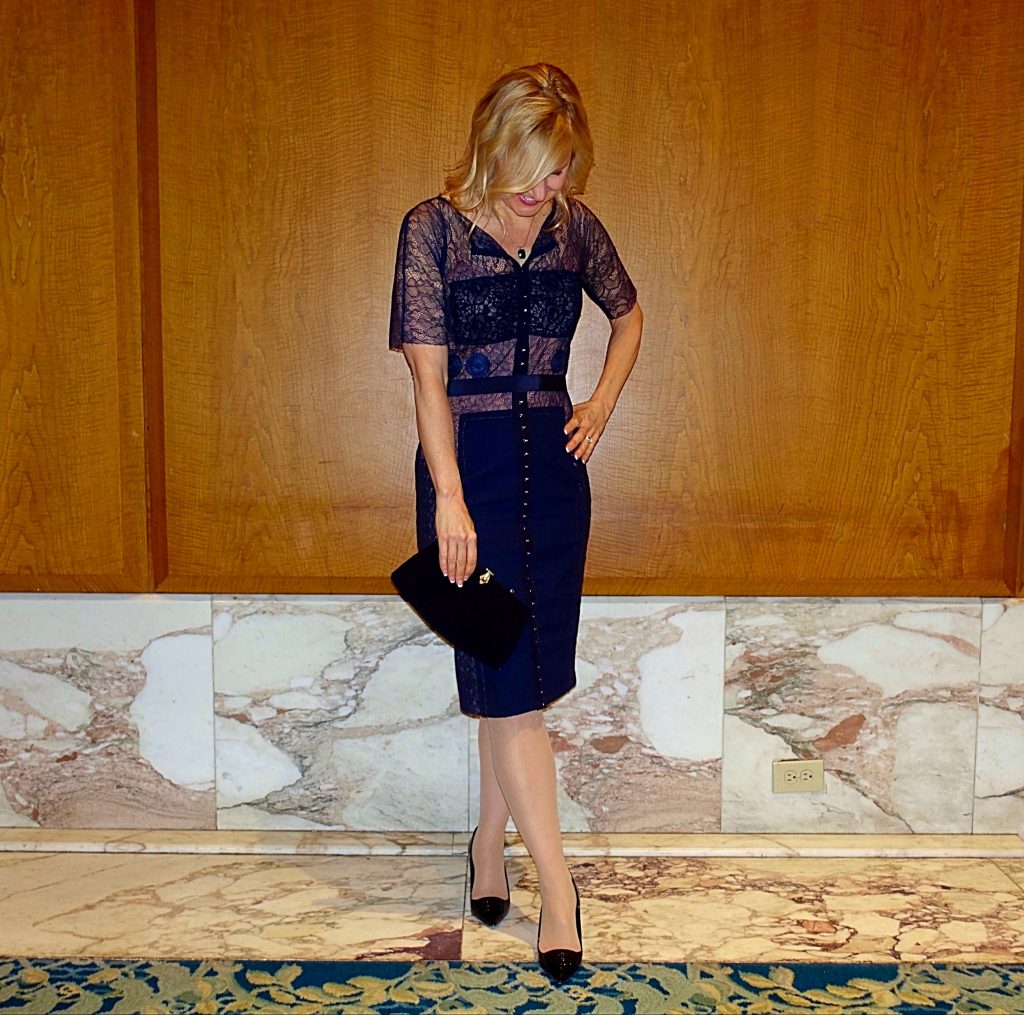 I found the dress and shoes at Driftwood, an upscale consignment shop in Seattle. On the hanger, the dress looked totally crazy: like strips of fabric held together by lace. I had no idea how it would look on my body. Once I put it on, however, I couldn't believe how well it fit – like a glove!
It also has a fair amount of stretch, and so although it looks tight-fitting, it's extremely comfortable. The cherry on top? It's super flattering. The horizontal panel at the bust visually widens that area while the more vertical panel below it visually narrows the lower body – a perfect balancing act for my pear shape.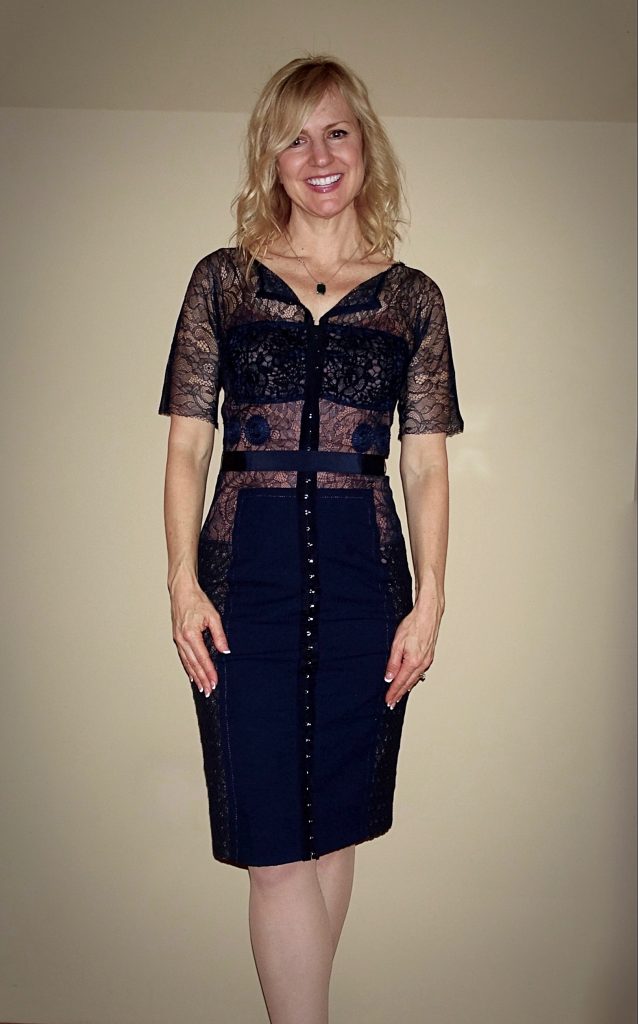 Since I was having so much luck at Driftwood, I decided to look at the heels and found this perfect match: patent leather Dior pumps! I love the way the pointy toe and high heel make my somewhat meaty calves look slimmer. Woohoo!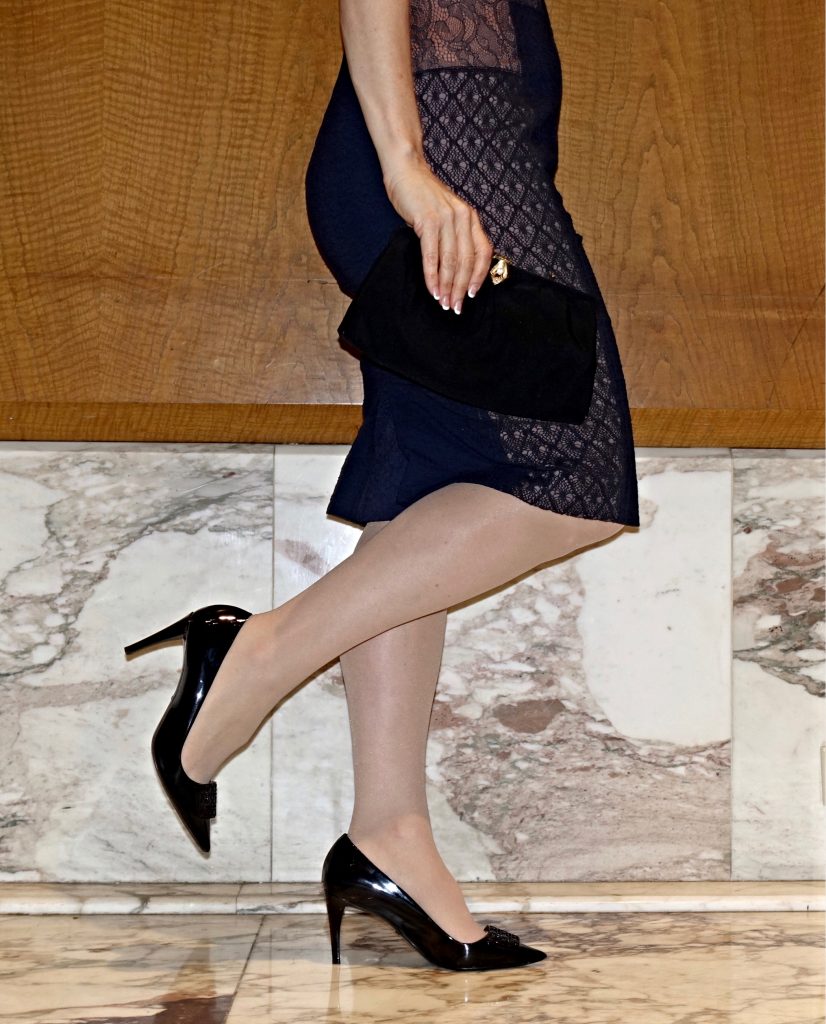 The pieces were almost new and in perfect condition but looked retro to me – something Audrey Hepburnish, reminiscent of "Breakfast at Tiffany's."
And so, the next weekend, I went to Fremont, a Seattle neighborhood full of vintage shops, to hunt for a bag to go with the outfit. And my luck continued: in the only shop still open (on a Sunday afternoon) among only 7 or 8 bags, I found this cool retro black fabric clutch with a fancy clasp.
The last but most special piece I wore was a necklace: my first gift from Mark – for my birthday during our first Lake Como trip. I had mentioned to him that I was looking and looking for a necklace worn by Eva Marie Saint in the Alfred Hitchcock classic, "North by Northwest," which we even happened to watch on the airplane on our way there.
I described that perfect necklace as having a simple vertically-oriented rectangular black – onyx? – pendant hanging from a simple chain. I love wearing black and thought it would be a lovely accessory for almost everything.
As I was unwrapping my gift and opened the box, I saw that there was a green pendant there. I won't lie: I was a teensy bit disappointed that it wasn't black.
But, apparently Mark had done his research, and the pendant I coveted in the movie was actually an emerald. Once I started wearing it, I realized that it beautifully compliments my eye color and goes even better with my all-black outfits.
Plus, it was nearly the exact same size as the one worn by Eva Marie Saint. This man was meant for me – so sweet and romantic!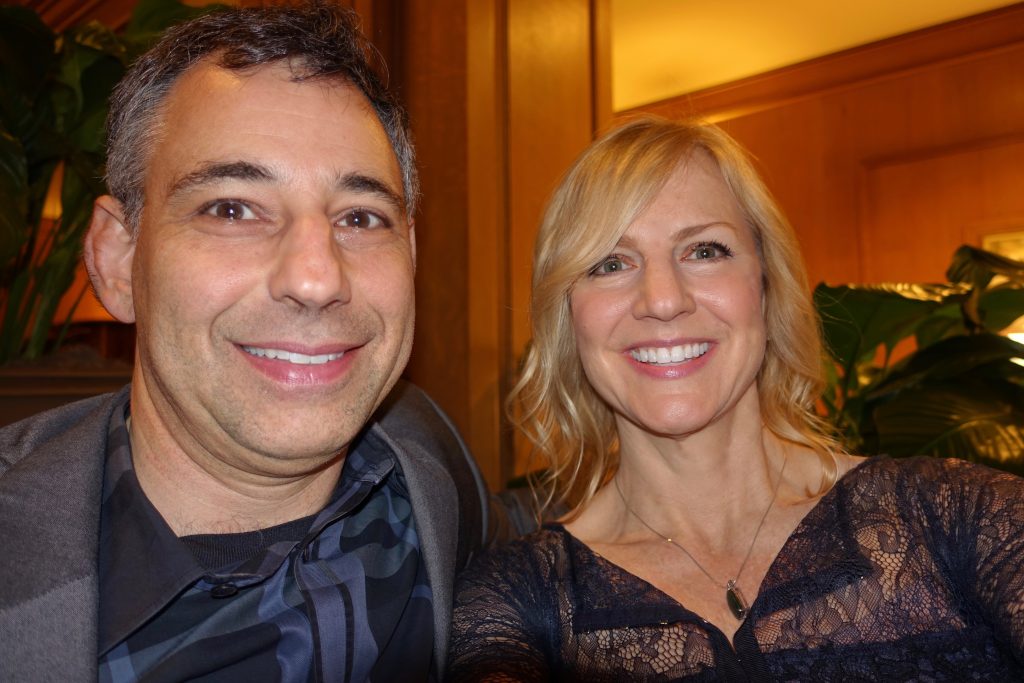 I like the fact that for my wedding I wore white, in spite of the fact that a fair number of people believe that color is only for nubile brides. I love my gown! And for our anniversary, I also wore something classic and timeless – this time in black.
What did or would you wear on your first year anniversary?
XO, Janea
---