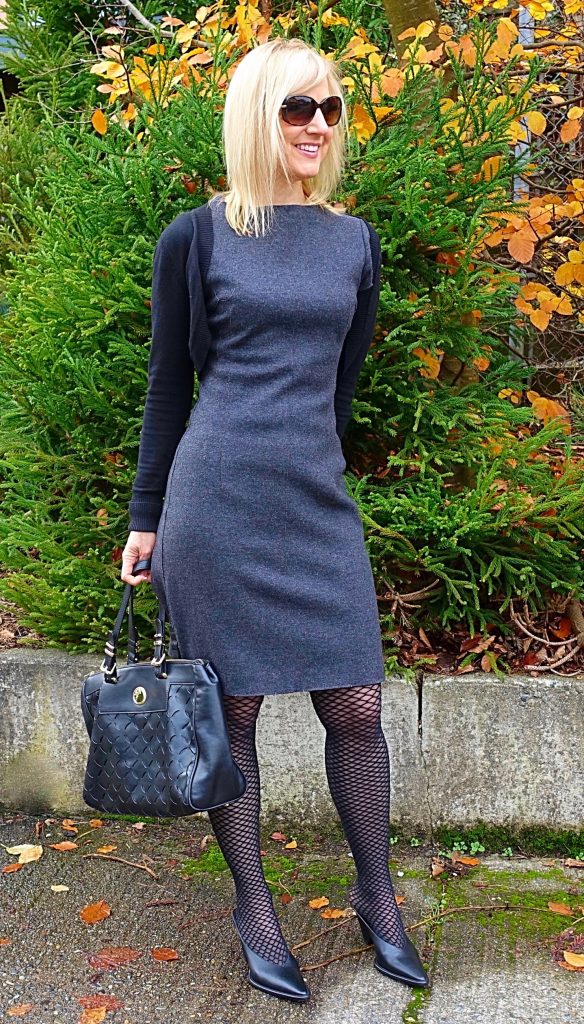 Should you wear fishnets to work? This is actually a very recent on-the-job look of mine. You may have noticed that fishnet hosiery has made a big comeback this fall. It makes sense. I mean, they are so much more interesting than regular tights and stockings. But how do you wear fishnets without referencing their bawdy past? I want to share 3 key elements to this look, which I believe make appropriate this example of fishnets for work.
And by the way, I work as a linguist in one of the most conservative environments there is: the courthouse!
1. A tailored-looking outfit and fine accessories are key to pulling off fishnets for work.
That's why I wore this grey wool sheath dress I bought years ago at Zara. It shows off my figure with the cinched waist but has a loose enough fit to be subtle about it. And I made sure to elevate my shoe and bag game. That means I accessorized with my most luxe work shoes, Stella McCartney mules, and Versace tote – which happens to have a cross hatch-like pattern similar to that of my fishnets.
This footwear, by the way, is more comfortable than I ever imagined. I recently decided that unless a shoe has some kind of strap – like an ankle strap or slingback – I'll have to pass on almost all the adorable pumps I see these days. They either squeeze my foot so that I'm in pain by the end of the day or my feet slip out of them as I'm walking. I've never considered my heels to be unusually skinny, but this is my dilemma. The Stella McCartney mules, however, feel like slippers on me – they somehow miraculously stay on my feet and make walking so comfortable.
2. Adding a trendy piece or two is another way to pull off fishnets for work.
The fact that my footwear is on trend – these mules were all over the NYFW runway  – raises my patterned hosiery to the category of stylish rather than trashy. It is important to count on non-sexy trends for this effect, however. I say (or blog) this especially for co-workers and administration who might not be as tuned into current fashion. I probably wouldn't wear my leopard-print pumps, for example, with fishnets for work.
The cropped sweater is also a bit of a trendy item. I chose it mostly because it keeps my arms warm, and the dress is short-sleeved. It is an extremely inexpensive sweater which I found on Amazon for maybe around $20, but I like the fact that it doesn't distort my silhouette as would a longer (more boxy) cardigan.
3. Stick to neutral fishnets.
I think that it is probably pretty obvious that colored fishnets will attract a lot more "second looks" – and not in a good way! – than flesh-colored, black, or grey. I would also avoid wearing the kind that have a seam down the back. And while we're at it, I imagine that going with a pattern that isn't the most traditional variety of fishnet, as I have done, helps. Some might feel that smaller fishnets are safer, and they are probably right. But I do love a challenge!
When I am ready for another pair, I might want to go with a brand of even higher quality. I believe these are by Hue, and I have had them forever. So, next time I might just have to splurge on some Wolford fishnets. Or, I'll put them in my letter to Santa. 😉
Might you wear fishnets to work?
XO, Janea
---