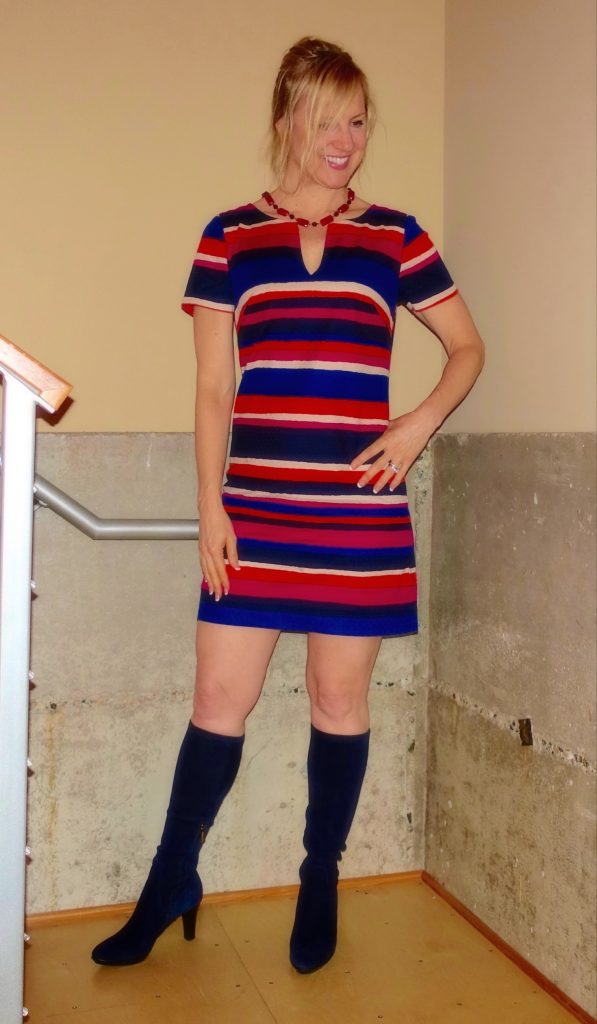 Horizontal stripes make you look wider. I'm the last person to argue with that morsel of wisdom about un-flattering stripes. I've done my research, and although psychological studies once disputed this notion, they've since been refuted. Of course, the principle only applies if stripes are wide enough to see – not so tiny that they blend together from a fair distance.
But is it really that simple?
This is what I had to wonder while first trying on this dress (above) with horizontal stripes. I mean, if anything, I think the dress is actually slimming! So, how do you wear stripes that flatter rather than "fatten" you? Here are a few tips.
1) Cut is just as important – if not more so – than whether or not you're wearing stripes.
Three street style muses I spotted at New York Fashion Week (pictured below) demonstrate the importance of the shape of a garment. The dress of the woman to the left – with a relaxed cut, shoulder cutouts, and shorter hem – for example, makes for a sexy silhouette which can handle a little added (visual) volume.
The other two women wear nearly universally flattering cuts which mitigate the widening effects of stripes: a fitted top (like many breton tops) and a fit-and-flare dress which narrows at the waist.
2) Vertical stripes are flattering stripes: they visually elongate an area.
Now if you want to appear a little more leggy or avoid having your legs look stubby while wearing cropped pants, vertical stripes are definitely your friend. And the narrower the stripe, the slimmer you will appear.
In the example to the right, the cinched waist actually pulls in the vertical stripes to appear more diagonal. You might notice here a benefit of the diagonal stripe: it can define or accentuate curviness.
That's something I definitely appreciate at the bust area of this dress – it makes it softer and more lady-like.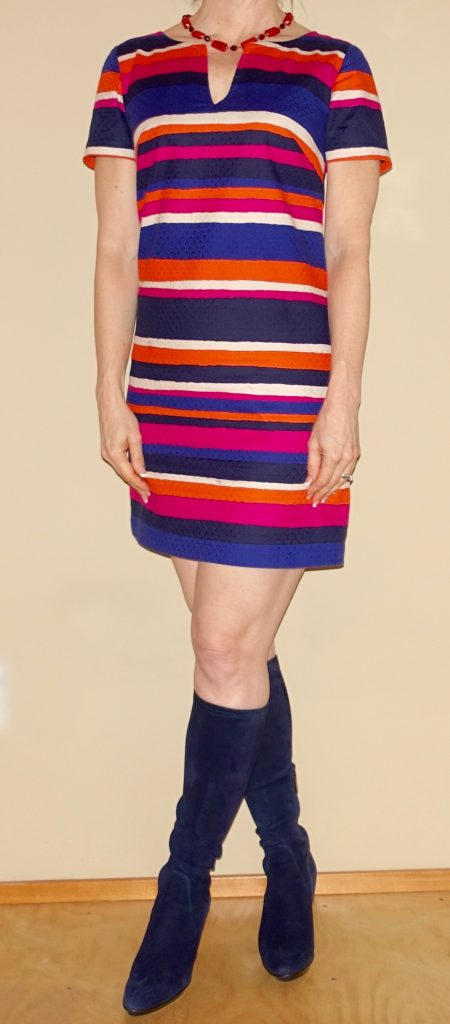 3) Exercise caution while wearing stripes on stripes.
All of this has been pretty straight-forward, right? But then we get to combining stripes – a bit trickier! First of all, it's super important to pay attention to the place(s) where the stripes meet; that is, since eyes are drawn to that area, and it can cut up your silhouette in an unflattering way. That's what happens in the photo below and to the left.
The dress in the photo to the right has more potential. A ruffle with horizontal stripes adds volume up top, and combined with vertical stripes below, it's a formula for success on pear-shaped figures. Unfortunately, the white shirt dress underneath adds volume as does the extra relaxed fit. Possible fixes: altering the dress to be more fitted and/or wearing it with killer heels.
4) A stripe down the side of pants or jeans lengthens and creates a slimmer-looking leg.
Now let's get back to something easy and no-fail. As I demonstrated in my last outfit post about oversized pants, you can't go wrong with a side stripe. For pear-shaped girls, it's super flattering, but the principle can be extended to a single stripe on a dress for a slimmer silhouette or side stripes on a blouse to narrow the upper body.
5) When your goal is to magnify an area for dramatic effect, get out the big guns: wide stripes of high contrast.
Then there are times when you just want volume – hey, why not!
6) Stripes which extend continuously to your sleeves can create an illusion of broader shoulders.
The dress I've featured in this post has a great attribute for you inverted-V-shaped beauties: stripes are "cut up" at the sleeve to break up the horizontal line. I could have actually used a continuous horizontal stripe up top to balance my pear shape, but overall, I'm giving these stripes two thumbs up – especially since they've proven to me that even horizontal rainbow stripes can work!
Do you have any tips for wearing stripes?
XO, Janea
---