I wore this outfit for a recent girls' day with my friend Alona: shopping, being silly, and finally making dinner at home – with of course, a little wine!
Girls' Day
Alona came over to my temporary place in Boston in the early afternoon to pick me up, since she drives. You might remember her from this outfit post. After I demonstrated Snapchat to her (see our goofy photos below), we headed to Boston's Back Bay.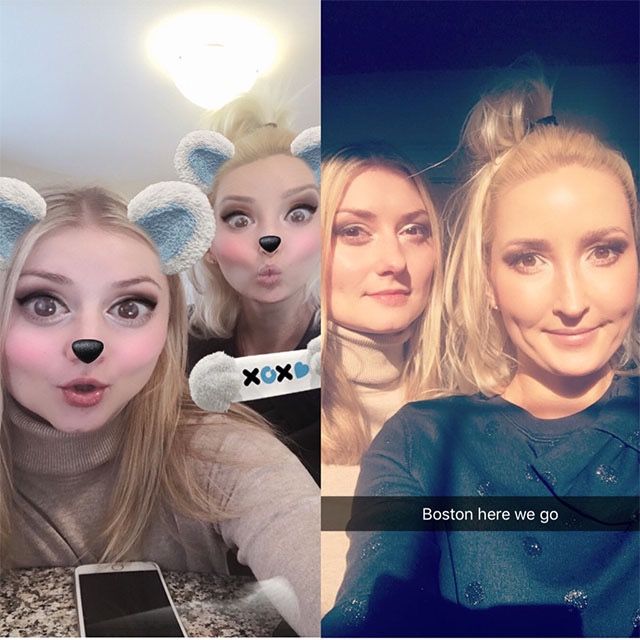 Our first stop was the Burberry flagship store to see about a coat of mine. Feathers kept popping out of it – so frustrating! I had emailed Burberry customer care, and they called me  verrrry early one morning from London. (Apparently, they didn't bother to calculate time differences!) And they recommended I take my leaky coat to a tailor at this store.
That's actually why I wore all black. I wanted to illustrate the effect the jacket has on dark clothes. That is, you end up covered in little white feathers!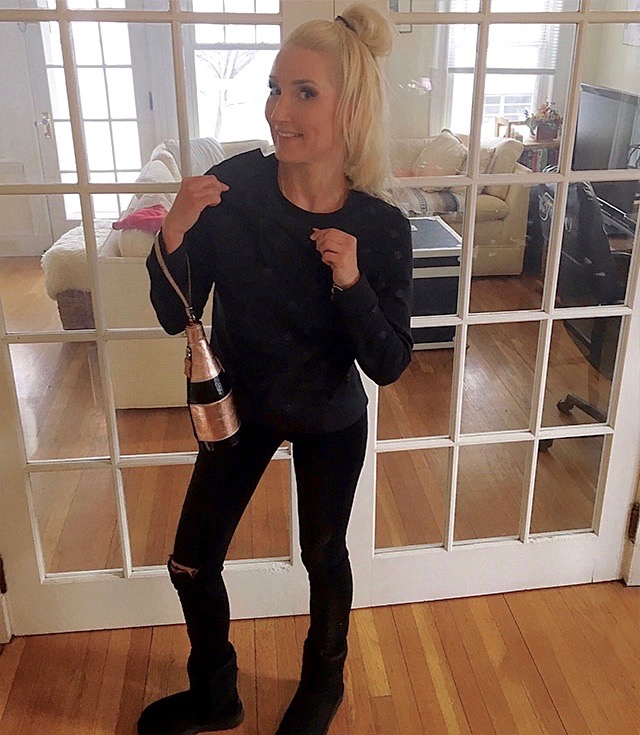 First-of-the-year sales scores
Aside from wanting to wear all black, this look is actually the result of very successful post New Years' shopping. I got this glittery polka dot sweatshirt and bottle clutch at Kate Spade in Dallas, Texas at a huge discount! And I've been looking forward to blogging about them.
After leaving Burberry, Alona and I hit Sephora in the Prudential Center. It was pretty much a required stop. I mean, Sephora gift cards from the holidays were burning holes in our pockets. I was very excited to get some gold eye mask. 🙂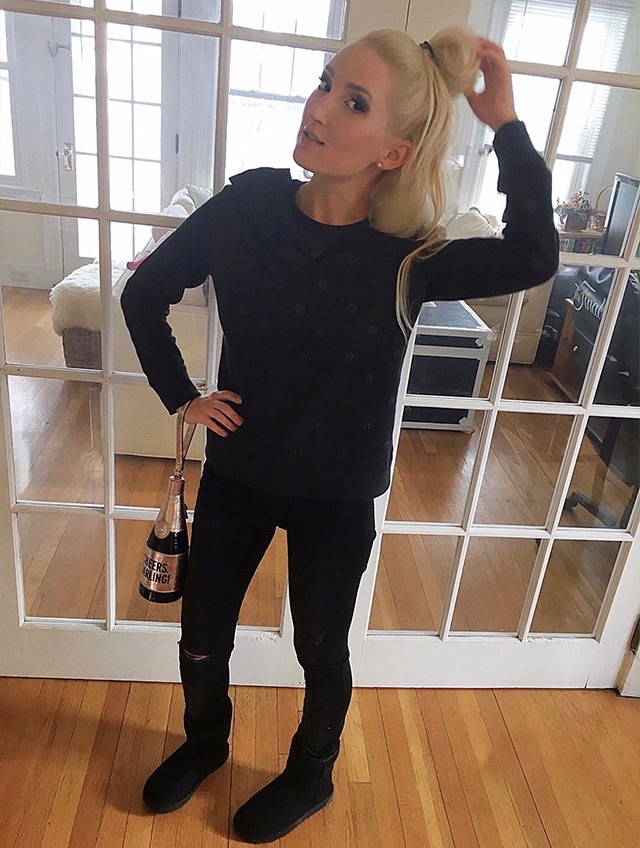 Kate Spade sweatshirt (sold out) / The Couples jeans – similar / Kate Spade handbag / Uggs with Swarovski sparkles / Half bun in my hair to make the look a little funkier 🙂
Home clothes
Once we got back to my place, I changed into what I call my "home clothes." With this outfit, I can't claim as much cleverness. Once I discovered how much colder apartments are in New England than in New York – it seems that people here don't like to run the heat! – I had to borrow a friend's fleece snowboarding underwear.
I found this ugly sweater on an H&M Christmas clearance rack for $7. It says, "You used to call me on my elf phone." Lol. It seems that I'm not the only one who's grown to like it. My friend Tali recently confided, "When you showed me that sweater, I was horrified. But you actually pull it off."
---