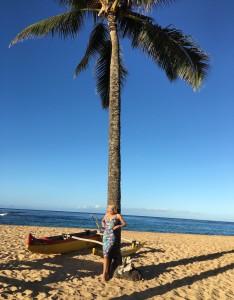 The idea of a spontaneous trip to Kauai, Hawaii during a New York autumn brings to the table the question of unpacking summer clothes. All of mine were already deeply buried, hidden in drawers when my friend Yana and I recently searched online for trips to Hawaii. But after finding an awesome Expedia deal, we couldn't resist moving from online surfing to the real thing.
Of course, as a normal adult I found and packed all my favorite Marc Jacobs t-shirts, Havaianas flip flops, Abercrombie short shorts, some dresses, hiking clothes, etc, to head off on this new adventure. However, what I find even more fun while on exotic or long-distance travels is to try blending in with the environment, wearing something I would never wear back home, something super local. Or I might combine my own clothes with those I buy on my trip. 
Okay, I admit that sometimes I might look a little silly, and Yana always makes fun of me for it. Regardless, this time I really wanted to get an aloha shirt with traditional flower print. And so, I did.
During our first day on the island, I bought this floral shirt; it's a boy's shirt – there isn't anything like it for ladies, only similarly patterned dresses. And the men's shirts are obviously too big. A 12-year-old boy's shirt fit perfectly. I also bought a super soft, incredibly comfy yellow dress with pink flowers – it too is from the kids' department –sized for 14-year-old girls.
And here's the best part:
Both of these incredible finds are from Walmart!
Never underestimate the Hawaiian Walmart. It's cheap, and so, you don't feel overly extravagant if you leave behind your purchases after 2 weeks of use. They won't cause your suitcase to exceed weight limits, and you don't need to worry about taking care of them while embarking on a hike or some other adventure. And for the time being, they look super cute.
As for my particular pieces, I was impressed with the quality. I'm even thinking about taking both purchases back home.
I bought this blue top and skirt ensemble at a boutique which sells goods by local artists. I saw it while driving to the north shore and had to stop there on our way back. Yana and I both got the set – in different colors.
A tiny top with a high-waisted pencil skirt has been a popular combination for the last couple of seasons, but I like this one because it's also very Hawaiian!
Aloha,
Hui hou!