Last Sunday I spent the day in New York City. Temperatures hovered around 90, which must have been the percentage of humidity in the air as well. However, New Yorkers never fail to amaze me. Even in the most stifling of conditions (or frigid), style is on full display in the streets.
A fun trend I saw everywhere was STRIPES
. That all-time, classic pattern is as popular as ever. 
Whether bold and in-your-face or subtly tasteful, stripes were the main ingredient of some awesome looks on the street…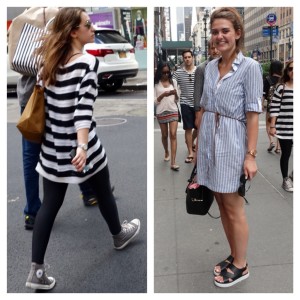 while other looks reminded me that cool-looking, fun patterns might work much better on the rack, in my imagination, or in theory than on the human form.
Warning:  Large, bright stripes – especially in opposing directions – tend to visually enlarge an area. 
This may not create the most desirable silhouette.
When stripes vary in color and thickness and the contrast of hues is less distinct, however, it can be pulled off beautifully.
While wearing stripes, fit is crucial. I recommend avoiding the shrink-wrap effect…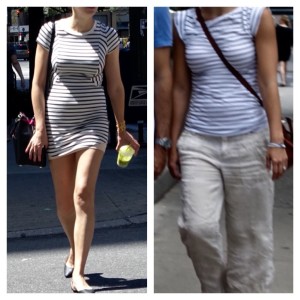 as well as an extra loose fit.
Our muses below have nailed the fit of their striped dresses. A little more structure and design to the garments (and lithe figures) also make for winning looks.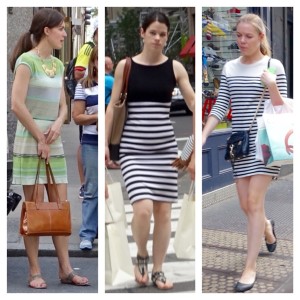 The striped cotton jersey dresses featured below – midi to maxi – are all over the retail scene. On the rack, they look cool and refreshing for a summer day. On just about any female figure, however, they resemble a not very flattering nightgown.
To my eye, striped cotton jersey sleeveless tanks are much more successful.
Just as the architectural lines in this New York building might appear unsettling…
so does the line distortion on many shorter cotton jersey striped dresses. I mean, aren't stripes generally made up of straight lines? So, who had the brilliant idea of creating relatively simple, straight cut striped dresses in a stretchy fabric for the female figure?!

The answer? Fit and flare, my dears, fit and flare!
As you can see, there are a few pitfalls to avoid while going striped this summer. But with a good fit, maybe a little more structure and a bit of a critical eye, it can be marvelous. Enjoy!
XO, Janea