Graphic tees are everywhere, and not just for kids or dudes. I was recently disappointed by one of my favorite retailers; one of their stores featured a table covered in cool graphic tees for men, but when I asked about the same for women, I received a vague response as to departments I might search (with no luck, thank you very much).
Let us not dwell on retailers though, because in one way or another loads of people (including women) are getting and wearing graphic tees; some rock the look while others…well, not so much. Let's take a peek at some of those looks I've recently spotted in San Francisco, Seattle, New York City, and Oslo (Norway)…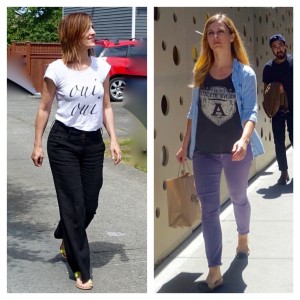 Do's…
It is important, in my opinion, to wear a graphic tee with some finer elements for balance. In the look above to the left, Melissa dresses up her French-inspired linen Joie tee with Judith & Charles black linen trousers and lime green patent Christian Louboutin sandals with toe ring and cork heel. The woman to her right cleverly softens an edgier cotton Harley tee and open chambray button-down with lavender (nice choice!) skinny pants and ballerina flats. 
Have you thought of wearing a graphic tee with a suit? It definitely works, as you can see below. So does the ensemble of neutrals – cool grey wrap of Greco-Roman squiggles, faded fatigue skinny pants, long grey tee featuring sporty patch-like graphics – with a couple of pink accents: sneakers and uber petite patent cross-body bag with chain strap. I love the interplay of opposites: both the suit with a t-shirt and androgyny mixed with prissiness.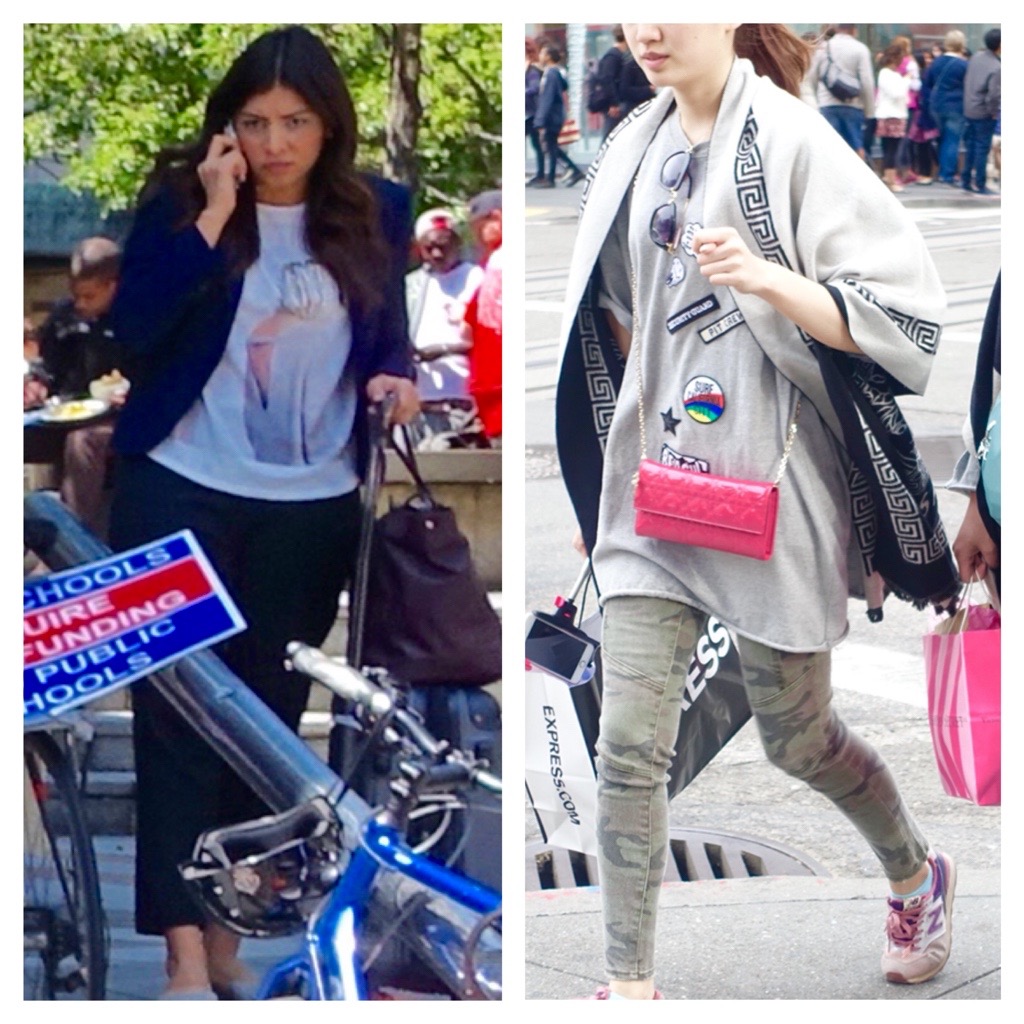 Each ensemble below takes advantage of black's potential for drama – like a backdrop – to draw attention to an artistic tee. I don't normally advocate wearing jeans with sneakers, but the ones to the left, with some bright yet subtle splashes of color, truly add to the whole, don't you think?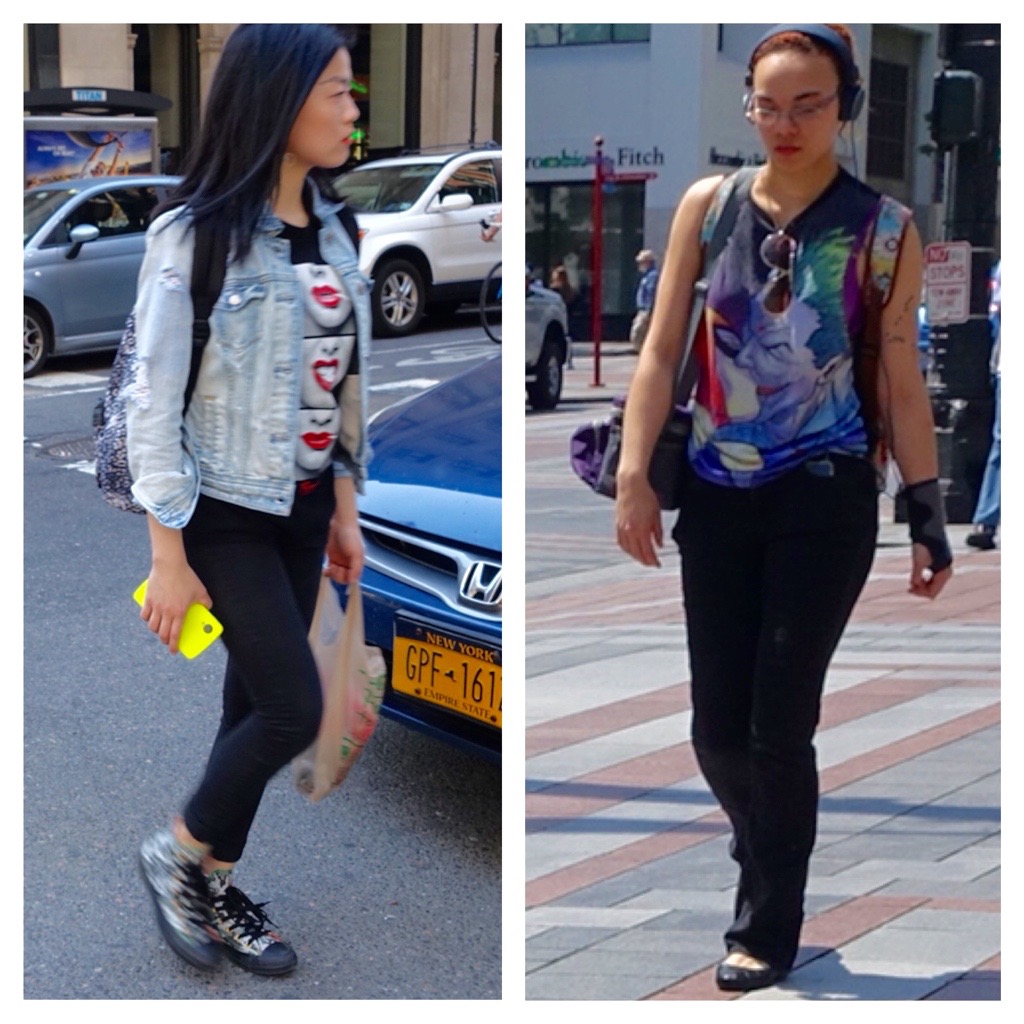 Next we have my sci-fi fan fiancé, Mark (to the left) wearing a tee portraying the Star Wars City of Clouds superimposed upon his favorite city, San Francisco. He prefers wearing it with ultra casual gear, although I wouldn't mind if one day he paired it (hint, hint) with an open button-down, dark denim designer jeans, and Michael Toschi shoes. The chap to his right with a similar sci-fi inclination was spotted in New  York. The high tops match in color, but what would you think of a pair of navy loafers instead? Very European. 
I grouped together the following two photos because I didn't see much point in the graphics of either. If you are going to display a message on your chest, it ought to be meaningful in some way, don't you think? I mean, whether you like it or not, it forms part of the total statement of an ensemble.
However, the more I looked at the dude to the right, the more his t-shirt grew on me…to the point that I now like it very much. I suppose it is a little like modern art in that way. I also happen to like the way he combines it with a smart looking hat, shorter shorts (neat and modern) and loafers.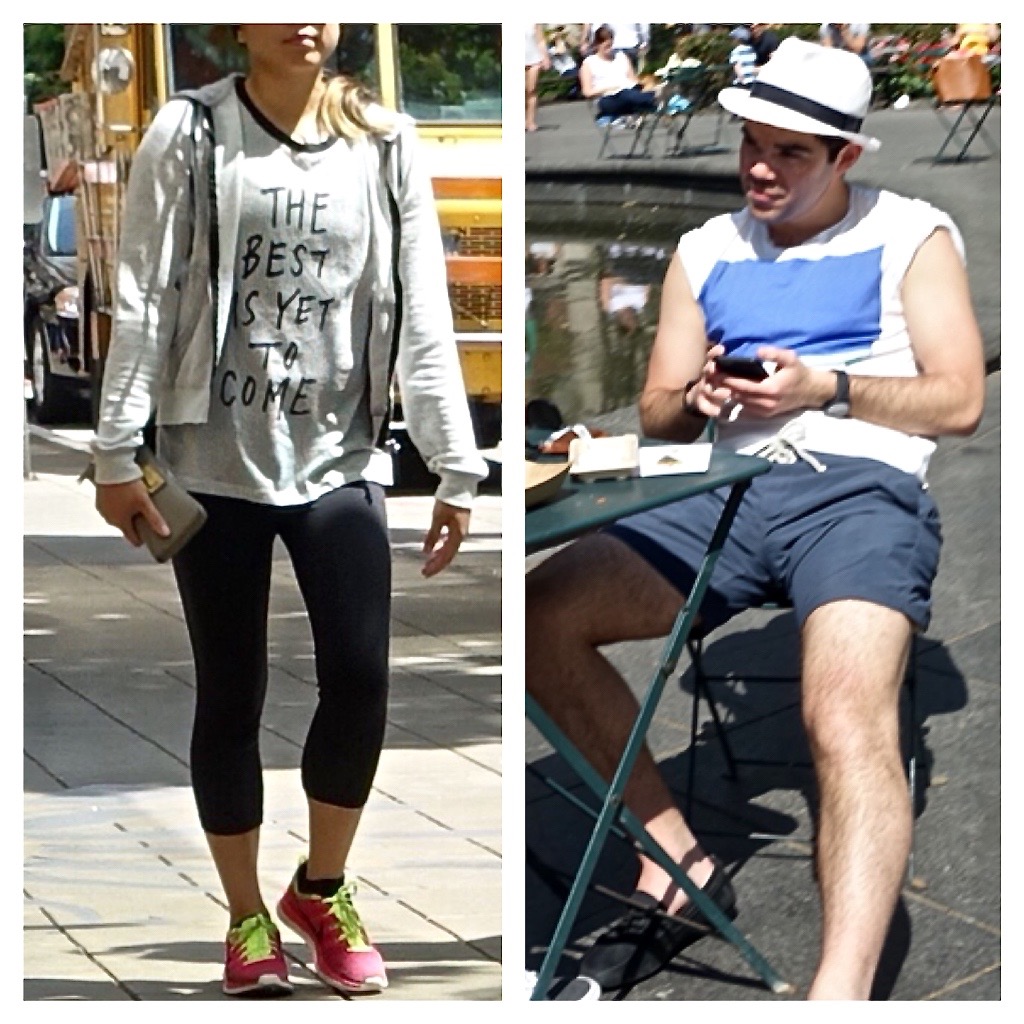 And don'ts…
On the contrary, here are some ways I suggest you avoid wearing a graphic tee. First of all, some tees are simply immature. Although I enjoy the Simpsons as much as the next Marge, I don't think anyone over the age of 15 ought to be wearing an image of Homer on a t-shirt. The same goes for illustrated baby shapes. 
Furthermore, I don't find wearing a tee with old jeans or sweats and sneakers anything but lazy. I know it's harsh, but my honest opinion.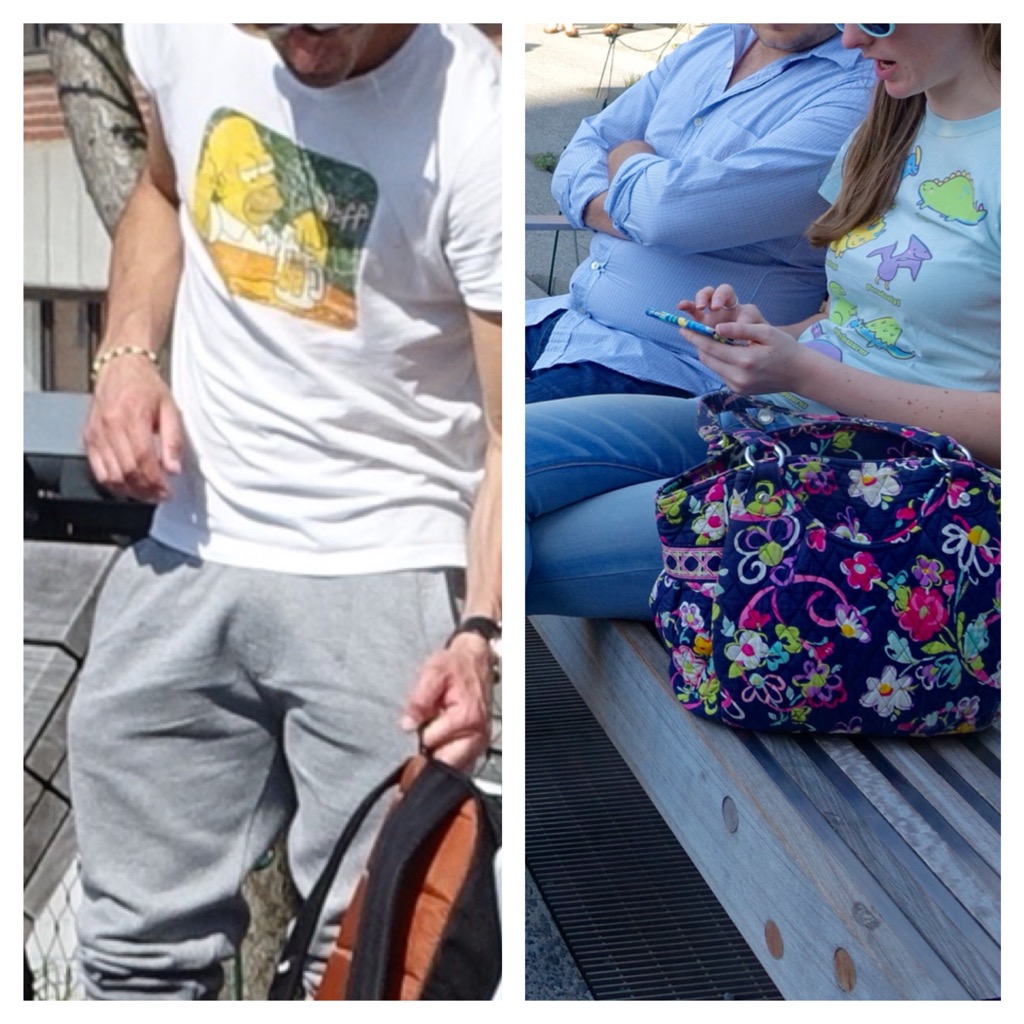 I love the images on the tees below – and that's as far as the love goes. Why can't these people pair them with dressier bottoms (read here: no yoga pants!)? At least a pair of dark denim jeans with some structure (less baggy/wrinkly) would be a huge improvement. And of course, avoid wearing a tee with jeans and sneakers.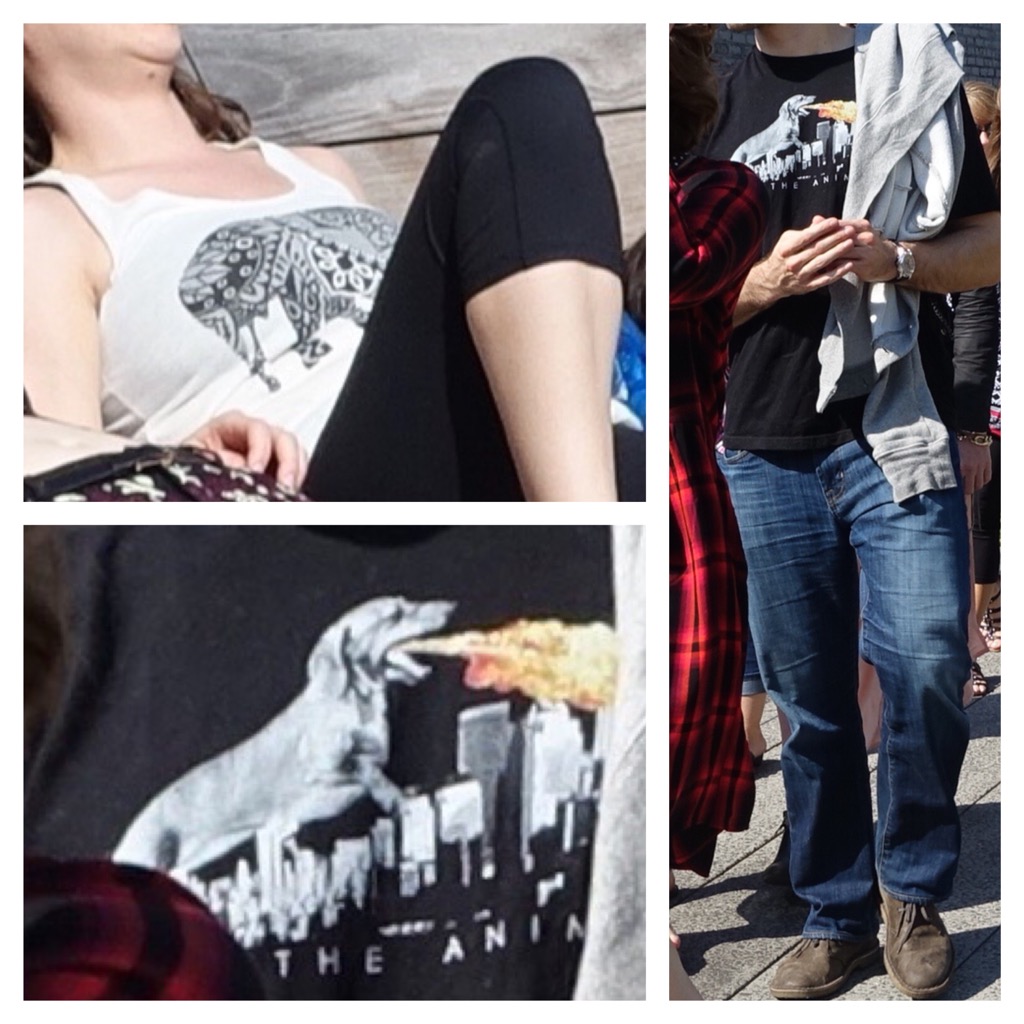 The next three looks exemplify nice tees coordinated not so nicely, albeit the one to the left has great potential. Granted, the content of the tee is youthful (the woman was spotted in Norway and so, I may be unaware of the cultural context) but can you imagine how it could be rocked with high-heeled beige strappy sandals or  pumps?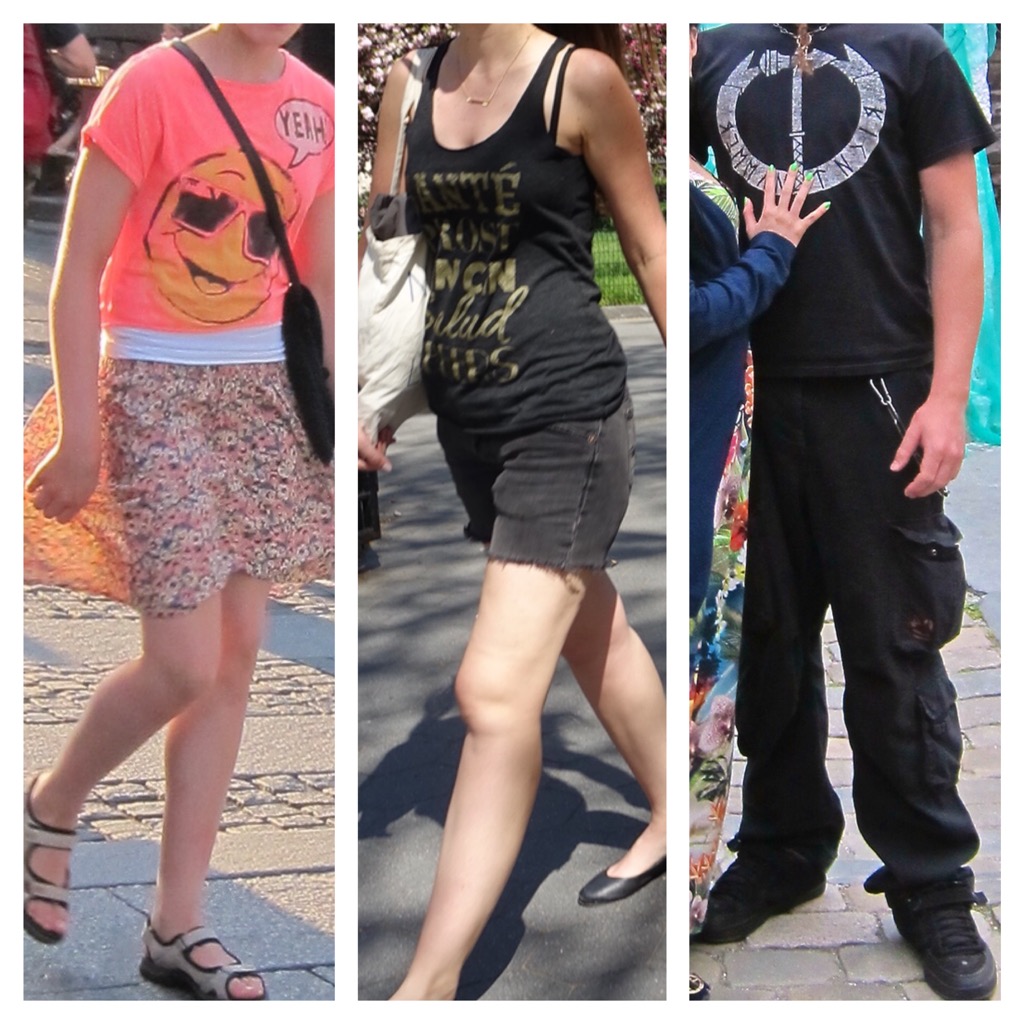 As for our last set of muses, Hello Kitty and R-rated imagery are equally reflective of a lack of maturity and sophistication. Enough said!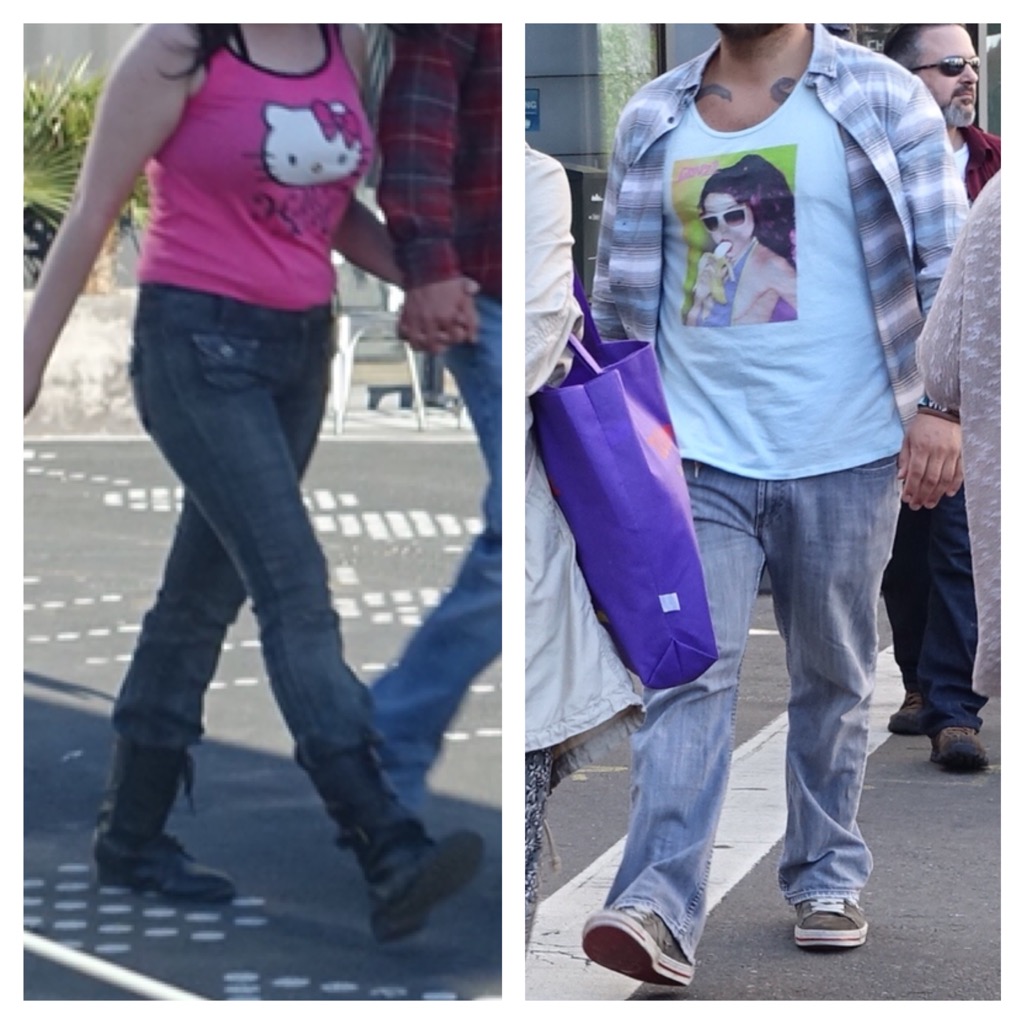 Our graphic tees can be a form of art worn on the body, not so dissimilar from an image I recently spotted of a wildly-painted van in front of New York's elegant new Whitney Museum. As with the tee, the juxtaposition of casual/irreverence with greater formality/structure/convention make it interesting. 
So, a great trick to pulling off the graphic tee is wearing it with something a little finer, a little more sophisticated, a little more elegant. In my opinion, style is a form of art, and one of the principles of art is balance. Rocking a tee, in a nutshell, requires maintaining that fine balance.