Santa Cruz has a reputation for being weird, similarly to towns like Portland, Oregon and Austin, Texas. Because of a common penchant for expressing creativity through dress/costume, it is an ideal spot for a Halloween evening stroll. A couple of my earlier posts featured everyday Santa Cruz style. This one shares that Santa Cruz character/weirdness on steroids. I hope you enjoy the following shots of immense creativity and street theater of Santa Cruzans in costume.
Halloween or All Hallows' Eve is a remnant of a Celtic festival (Samhain) which originally entailed disguising oneself as a spirit in order to confuse those spirits returning to roam the earth between summer's end (harvest) and winter. Animal heads, skins or masks were worn to avoid being bothered by wandering souls, and hollowed out gourds were lit from the inside to help friendly/family spirits to find their way.
Although the holiday carries different meanings for us today, I can easily imagine some of the costumed muses pictured below scaring off a variety of spirits. This lovely lady pictured would more likely lure supernatural beings closer with her jellyfish get-up. 
Below, a pair of merry spirits engage in some live improv. Costume-wearing seems like the ideal opportunity to express or even amplify a part of ourselves which lies relatively dormant the rest of the year (at least in public), don't you think?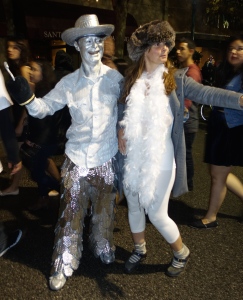 This next woman represents the famous Mexican skeleton caricature, la Calavera Catrina. La Catrina illustrates a rich amalgam of folklore from pre-Columbian times to the present. During the Mexican revolution, she represented impending death of the privileged class (eschewing her own culture in a fancy French hat).
Here in California, Mexican Day of the Dead celebrations with Catrina effigies are a big hit even among non-hispanics. In case you are unfamiliar, the day's preparations include flowers, drink, food and candles set on an alter to offer nourishment and delight to visiting departed relatives and loved ones.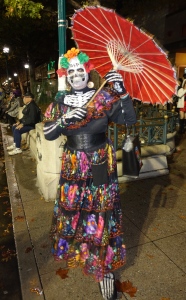 The corpse bride's eery beauty is an eye-catcher.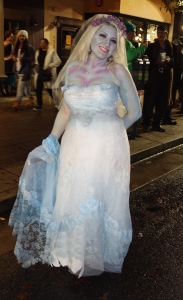 Notice below a band of chums resembling skeleton figures found in Day of the Dead displays. Their symbolic representation of the cycles of life and death mark the beginning of the dark months.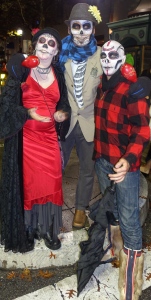 I love this lady's solemn, powerful facial expression as she walks down the middle of the street with ginormous black wings. Any spirits roaming the earth who encountered this damsel surely scurried straight back to the Otherworld.
A cool – and creepy looking! – cat pictured below demonstrates an amazing job of face painting.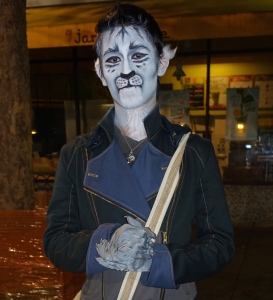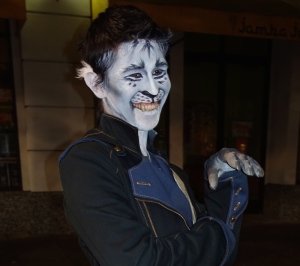 And a gentleman centaur below got just as much attention as a nearby group of ghouls dancing to "Thriller."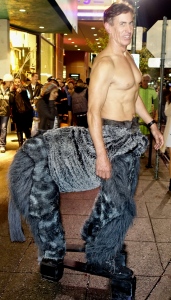 The woman pictured below seems to be "in character" all evening. I can't help but wonder if this reveals her shadow side. I wouldn't want to cut her off in traffic!
The evening was perfect for role-playing.
Santa Cruz's proximity to Silicon Valley makes this Halloween contraption regionally appropriate. Dork-reepy!
This final costume was spotted on a woman walking in San Francisco one Saturday in the beginning of October (not Halloween). As a friend put it, "I don't know how she put all that together, but I'm feeling like it works!" Yes, it is extremely odd, but there is something about it which makes it captivating, don't you think? I have to wonder what it would be like if as adults, we just played dress up when we felt like it. This is pretty much what I would choose!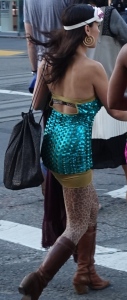 XO, Janea