About to dash to a picnic or to the beach or shopping or just to stroll around in the sun? Just a minute – don't forget your hat! Besides protecting your delicate skin from the aging rays of the sun, a hat can be the ideal way to make your ensemble – whether it's a swimsuit with cover-up, maxi skirt with a tank or rompers – even more chic.
As I recently walked around New York City, I was inspired by several hat-wearing women who stood out from the crowd. Some of their hats were smart and sophisticated, others were edgy, and my favorites? The elegant hats.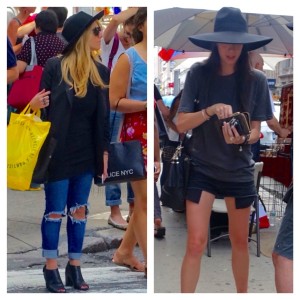 I would not have thought of black as my first choice for a summer hat. However, I have to say the women pictured above and just below have definitely elevated the cool factor in their looks by pairing a wide-brimmed black hat with torn jeans and peep-toe booties; floppy black hat with matching casual shorts outfit; and black newsboy cap with a floral summer frock.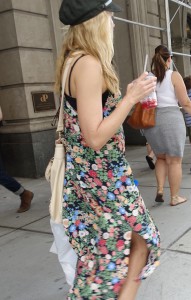 Great Gatsby! The muses below inspire me by their timeless elegance – with a dash of modern. I have found that it takes me a bit of courage to put on a stylish hat before going out, but once it is on my head, I suddenly feel an amazing surge of confidence. Have you had that experience? 
An ivory fedora is oh-so versatile! As demonstrated by the muse below, you can pair it with sandals of a similar hue and then add a beautifully colorful ensemble in the middle. For even more room to play, you can always switch out the ribbon in the fedora for something more colorful.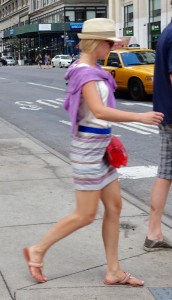 The following muses from Milan illustrate the ideal color, in my mind, for the summer hat: white. It looks so refreshing – don't you think? – combined with mostly white attire.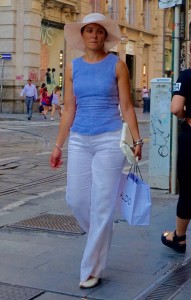 There are a huge variety of hats out there, and they can be so much fun to mix and match with your summer wardrobe. If the muses above haven't inspired you to start thinking more about wearing one, I'll eat my hat!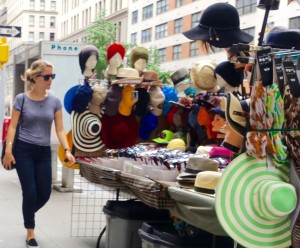 XO, Janea