Want to know how you can kick up your style quotient a notch or two? Wear a hat! Now I'm not talking a baseball cap, especially one stuck on your head backwards. I'm talking about a fedora, beret, beanie, or sun hat, for example.
Okay, I get it. Wearing a hat doesn't come naturally to many of us. It requires extra thought, and on top of that, a bit of a devil-may-care attitude. With the exception of cold winter days, the streets haven't been full of hats since the 40's and 50's. So, naturally if you're clad in one, you stand out. The reward, however, is getting an extra boost of confidence. Not a bad trade off, eh?
I believe you will see with the muses pictured below that a hat can totally spice up an otherwise more ordinary look.
The gentleman pictured above might have been wiser to wear a cycling helmet, but a fedora definitely gives his look a dash of cosmopolitan. 
Did you know that the fedora was first worn by women?
In the late 1800's actress Sarah Bernhardt wore one to interpret the part of a Russian princess in the play "Fédora". As a result, the hat became fashionable among women. It wasn't ubiquitous among men until the 1920's when Prince Edward of Britain integrated it into his wardrobe.
Our next muse pulls off a straw fedora with a sundress. It's a perfect look for hitting the nail salon sans makeup and hair fussing on a lazy Saturday morning (hence, the sunglasses).
These young gentlemen in Oslo, Norway look strikingly more stylish and sophisticated than many of their Californian counterparts – no baggy pants! – especially with the fedora on the center dude. 
Don't you think the floppy brimmed fedora on this woman in San Francisco elevates her look from nice to stylish?
Our next gentleman muse was featured in a recent post about skinny pants on men, and I must refer to him again as demonstrating a fantastic employment of the fedora with more formal attire. At one time, the fedora was de rigueur for men in business and formal attire.

Check out the man in the flat cap! This headgear first came into use in the U.S. and U.K. around the end of the 1800's and (by boys) into the early 1900's. The flat cap is popular among san franciscans of both sexes right now, and you have to admit that it gives this lad's look a cool vibe.

A close relative is the mod cap, reminiscent of the mid to late '60s. I love how our next muse styles hers with narrow-legged trousers and pointy flats: groovy!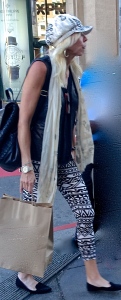 For another slightly retro look, we have this white bell/cloche hat with a black ribbon.
These next two ladies in San Francisco show impeccable taste when it comes to hats. The one on the right gives the wearer a cool, cosmopolitan look, while the hat on the woman her left is of a color that contrasts beautifully with a chic and interesting shorts suit.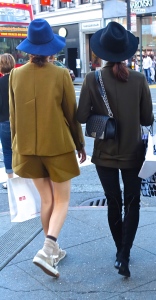 Finally, we must not forget the fascinator or "cocktail hat"- awesome for formal events such as the San Francisco Symphony performance at which I noticed her. The fascinator dates back to Queen Marie Antoinette, who donned headpieces of jewels and ostrich feathers.
A revival of this style was witnessed at the wedding ceremony of Prince William and Catherine Middleton. One piece by Philip Treacy and worn by Princess Beatrice of York led to more than one Facebook page dedicated to the hat.
I have to tip my hat to these wonderful hat muses and hope they have inspired you as much as they have, me.
Now one last tip for you. Gentlemen, remember to remove your hat upon entering someone's home, a church, theater or elevator, upon entering a restaurant or if the national anthem is being played. Ladies, remove your hat only if it blocks someone's view at a performance or movie theater. Not all hats are equal (yet)!
XO, Janea
---
?