Far be it for me to advocate that women wear high heels. I happen to be a fan of heels. But, I also recognize there are valid reasons for avoiding them: safety while walking on not-so-dry-or-grippy sidewalks, back health, foot comfort, yadda yadda yadda. Of course, the high heel council has not done nearly as splendid a job of discovering benefits to one's health as have the coffee, red wine or dark chocolate councils.
Nonetheless in Seattle, land of comfy footwear,…
I have personally witnessed it: someone who goes against the tide, someone who risks sliding to a serious knee injury, someone who subjects herself to "Are you serious?" looks from members of the low-heeled tribe, someone who dares in Seattle to wear heels.
If you are visiting the Emerald City, it may take a while to begin spotting them, but yes, there are sightings of Seattelites in heels.
A favorite style this Spring seems to be the open-toed booty/sandal. It is a fairly obvious choice, I'd say, for an area where it is possible to get both sunburned and a cold on the same day. The design offers both warming – leather up to the ankle – and cooling features – ventilated toes!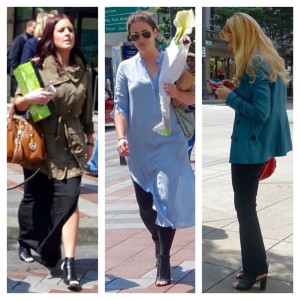 The boots pictured below are a sure-fire way to stay high and dry in variable weather. A little walking on tip-toe might be considered by some to be a sacrifice of comfort, but in my world, the leg-lengthening feature is a pretty awesome payoff – especially with low-rise trousers.
I must confess that in my as yet brief time in Seattle, I have transitioned from slipping and stumbling to work in stilettos (Oh, how I pine for mostly dry, mostly even sidewalks in California) to arriving with flats on my feet and heels in a tote.
Of course, there are occasions – like going out to dinner with my sweetheart – in which nothing beats a pair of killer heels. Then I tread nimbly, rain or shine, in my strappy stilettos or sky-high platform booties. Seems I'm in good company!