While honeymooning in Northern Italy, I was super inspired by the way Europeans dress even while on vacation. I had packed what I considered the essentials: a long trench coat, a couple skirts, dresses for going out to dinner, one pair of jeans for the plane, tops, and some cardigans. I was proud of myself for limiting my shoe wardrobe to a pair of booties, 2 pairs of high heels, and walking sandals. But after noticing the European travelers around me, I realized there was definitely room for improvement.
The setting:
Mark and I visited two tourist destinations: Lake Como and Venice. The lake is our favorite for summer vacations: it's quiet, the tourist population includes a lot of European families, and the surrounding beauty – a large hazy, lazy lake;…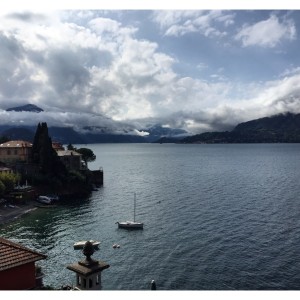 …ancient architecture;,,,
…and the Alps in the background – cannot be beat. Temperatures normally reach the high 80's to low 90's (F).
Visiting the lake in fall, there was a surprising change. The tourist demographics switched to groups of American retirees (a bit above the age of our peer group) and the air was substantially cooler – including a bit of rain. We still had an amazing time, exchanging our vows atop a castle overlooking the lake (stay tuned for photos in a later post).
In Venice, the crowd was much more varied in terms of age and country of origin, and this is where street style inspired and gave me new ideas on how to pack for autumn travel to Europe.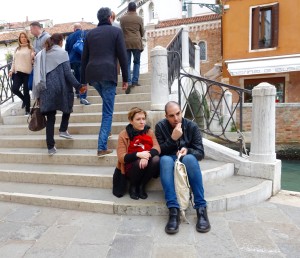 I came to the conclusion that aside from the obvious (toothbrush, underwear, cardigans, etc.), there are 5 must haves for visiting Italy or similar parts of Europe in fall. 
A warm coat for wind and rain. As pictured above, I packed a black trench coat. Although it worked to cover dressy dresses, not many tourists were as dressed up as I was. I don't mind being an odd duck (actually, I'm quite used to and relish in it!) but let's just say you don't have to dress up. A stylish coat, however, is highly recommended. After all, it's ITALY (or Paris or London…)!

While puffer coats are cozy (and popular), bright neon or leather jackets and unusual long coats make a statement.

Boots/booties

– but maybe not beige suede like the ones I packed.
Although I didn't experience Venice's famous flooding, I was prepared; on my way to Venice (in Milan), I picked up black leather boots and booties at Nero Giardini (i.e. shoe/boot heaven for women who don't want to pay an arm and a leg for very stylish Italian footwear!)

Jeans

– I know, it's a no brainer, but I had to list a common denominator of well over half the stylish ensembles I saw in Venice. I could have definitely used more than one pair!

A scarf

– for warmth and a style boost. Besides, it's so European (pardon the generalization, but it's true!) The 2015 Venice Art Biennale was going on during our stay, but I doubt that any town in Italy needs another reason to evidence artful touches of street style. 

I found this one in a boutique in Bellagio, Lake Como for 25 euro.

Extra room in your luggage to take back those treasures you purchase on the trip. 

At the end of our honeymoon, we had 3 extra pairs of boots, 2 extra pairs of shoes, a set of 6 hand blown glass drinking glasses… (you get the idea!) We checked an extra bag and used as a carry-on a waxed paper shopping bag – thank goodness it held up!
Or else:
Pack a soft bag which can be used for a trip to the market or as an extra carry-on for the flight home. This idea was actually conceived before the trip and forgotten – indispensable!
I hope that these tips will help you pack for your future autumn travels even more comfortably and with some great style tools. Stay tuned for an upcoming post on some not-so-necessary extras you might also consider bringing along for an even greater style boost – like tights!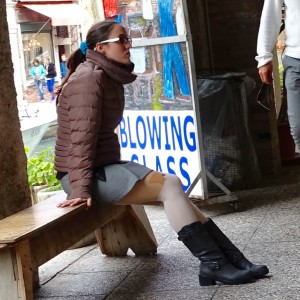 XO, Janea