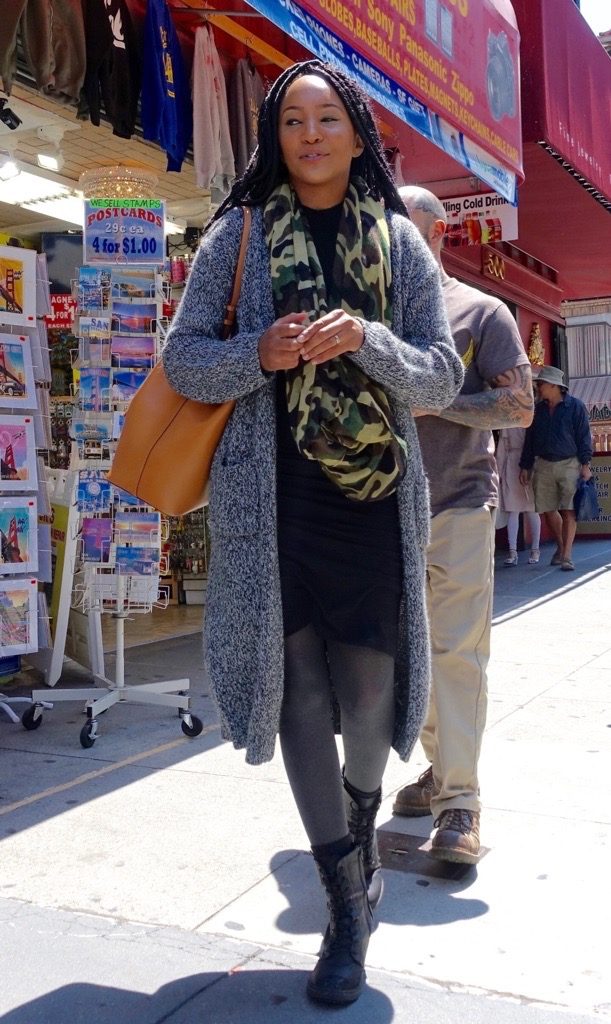 Have you noticed how over the years, our style becomes more sophisticated? Over time we stop adopting every trend we see on a blog, in a fashion magazine, or on the street and instead, start exercising the power to pick and choose what suits our personalities and flatters our bodies. Of course, every now and then we'll give something outside of our comfort zone a whirl.
One of my favorite trends right now is the long cardigan, and in some cases, the longer (more dramatic and slimming), the better. Intuitively, it's totally comfortable for pear-shaped women like me who get coverage in all the right spots. However, there are tricks to concealing or covering without visually adding on weight.
In taking street style photos lately, I'm seeing long cardigans everywhere. What better opportunity to illustrate do's and don't when it comes to styling them? At least this is what I've gleaned while observing and shooting dark- and light-colored cardigans, long cardigans which didn't seem to work, and some newer and interesting ways of styling them…
Dark-colored cardigans
You almost can't go wrong with black (or charcoal or navy). I mean, how many of us will forego an opportunity to look slimmer?
Here's another bonus of a very dark color: you can use it to highlight an interesting outfit underneath. Great examples are the contrasting white tee to the left with a pendant necklace or the bold red crop top with large striped trousers to the right. Since long cardigans have the potential of looking frumpy, a little skin exposure at the ankle or the middle can do wonders.
Another great look is black on black, as pictured below. If you have slim legs, a cigarette pant in a lighter color is a very chic compliment. This is an especially flattering look if you are short-waisted or have a larger top half and want more balance visually. It also helps that this sweater is so fitted.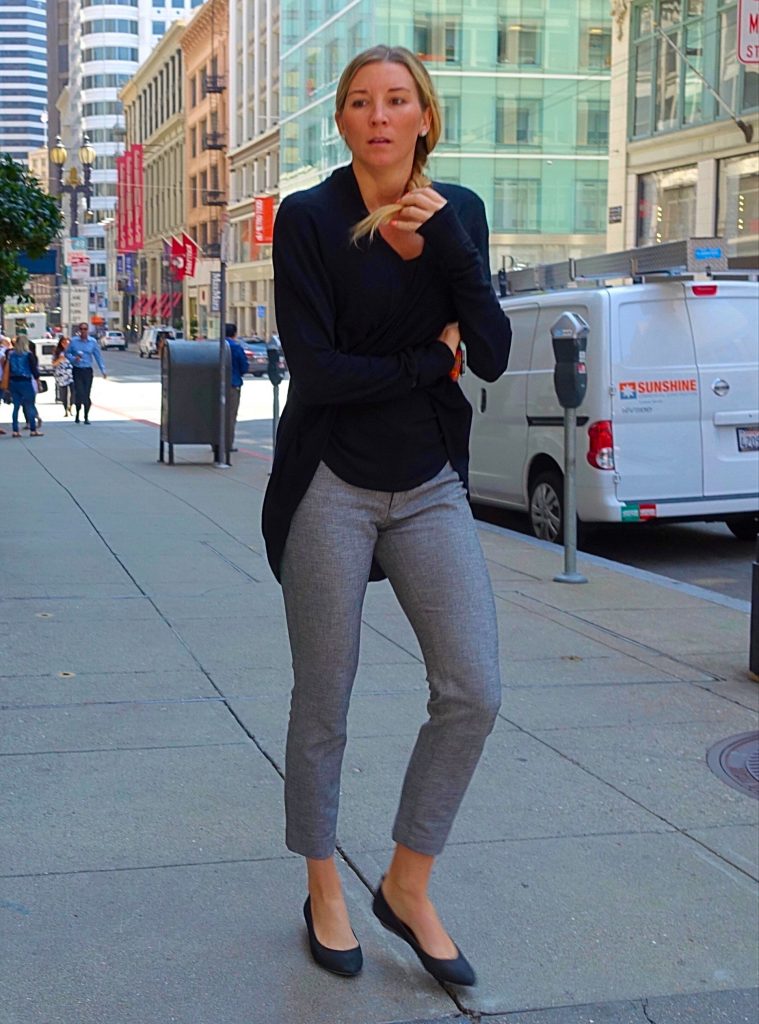 What to avoid when styling a long cardigan
One potential issue with a long cardigan is that it can bury all curvature and create a boxy – "refrigerator box" that is – look. If the cardigan is light-colored and similar in shade to your garments underneath, it can also make you look wider.
Pairing a long sweater with a maxi dress is a cool option. If you have wide shoulders (as seen to the left below), you'll create a more flattering silhouette by choosing a dark-colored cardigan and/or one with dolman sleeves.
And if you want to pair a long cardigan with a dress that has a full skirt, it's best to go for a cardigan with an equally long or longer hem – to avoid a boxy appearance.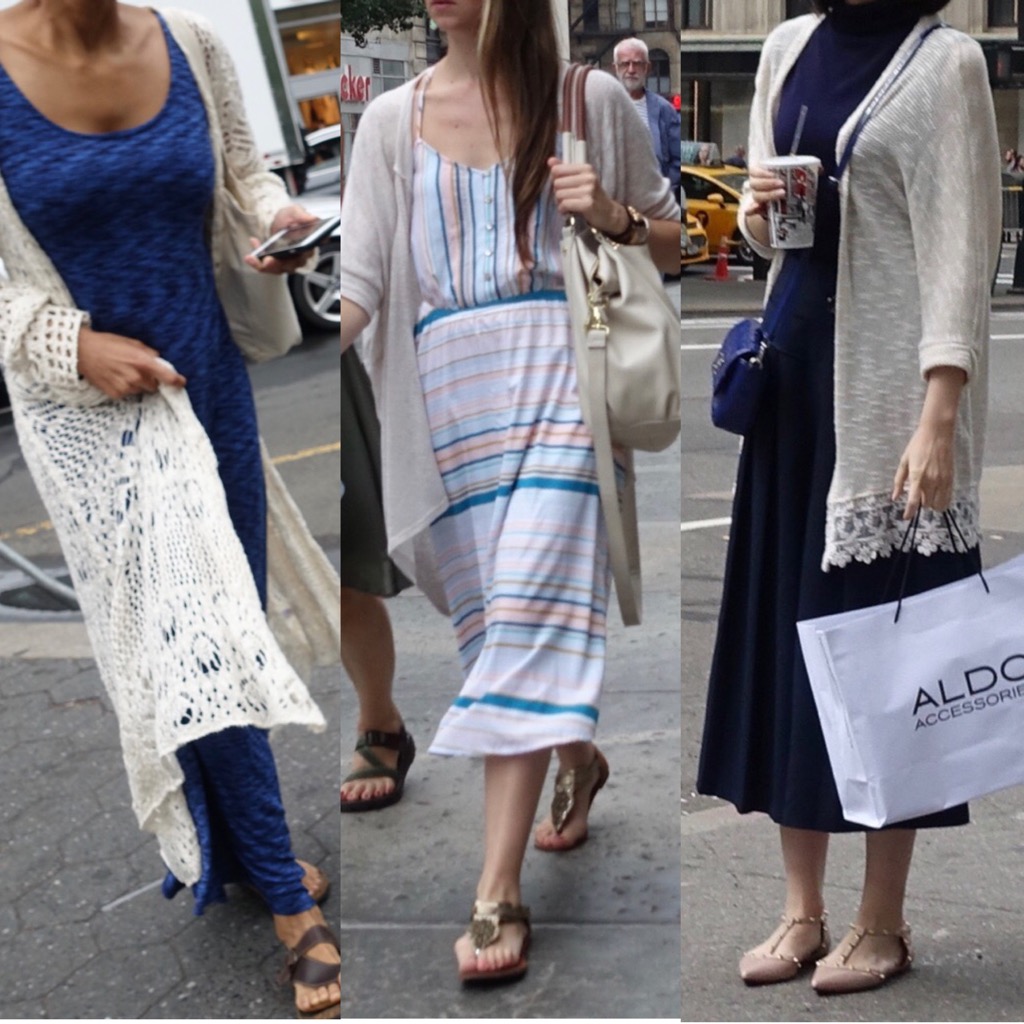 Light-colored cardigans
While it's still summer, a white long cardigan is a great transitional piece. Since white adds volume visually, it can be especially helpful to think of ways to accentuate the waist, like this very obvious transition below, and/or (once again) exposing those ankles.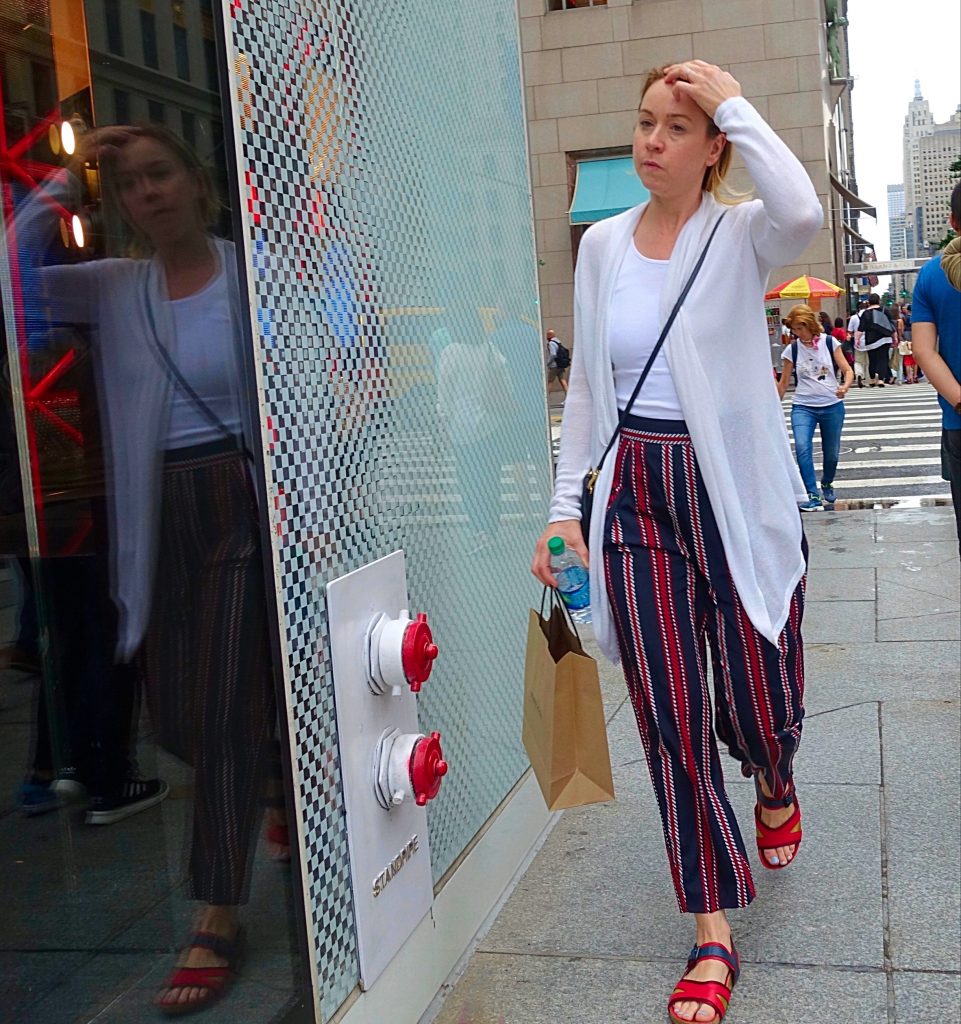 A super slimming option is the white cardigan over an all-black outfit underneath. For petite girls, a higher heel avoids that look of being "swallowed up" by a long sweater.
And if you want a boho look, a little fringe at the bottom will do.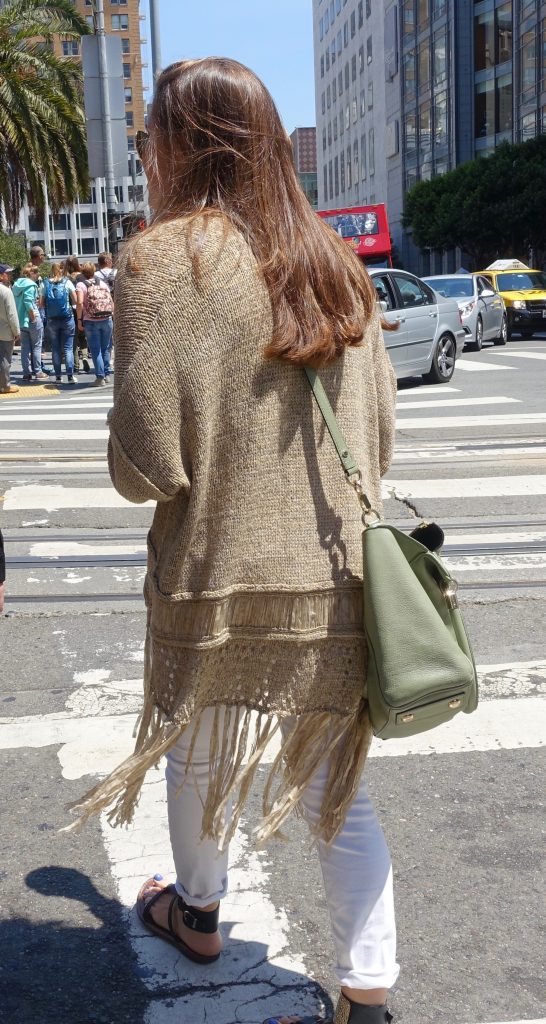 Extending the wear of your summer dresses
One chic / edgy way to wear a long cardigan is over a short dress or skirt. When temperatures begin to drop, just add tights (as seen below) or for a sexy vibe, over-the-knee boots. For an interesting counterpoint, you can pair a short dress with an extra long (think ankle-length) cardigan.
A fun look for end of summer is a long cardigan over a romper or shorts. That's because showing a lot of leg definitely keeps a long cardigan from looking dowdy!
My favorite look with a long cardigan
This sweater is my favorite right now. It's dense and therefore toasty and yet is so fitted that it doesn't look bulky. Unfortunately, it must be retired, since it's gotten a little fuzzy. 🙁 One of better quality is on my wish list!
One last tip: to avoid shapelessness and dowdiness with a thicker, less-fitted sweater, try belting it at the waist. Or, style it with an attention-grabbing long (read here: visually elongating) scarf as did our very first muse.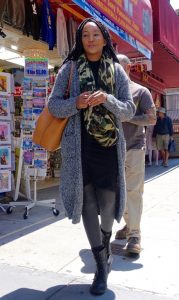 `
Are you embracing long cardigans right now? If so, I'd love to know your favorite way(s) of styling them!
XO, Janea
---