Do you consider your gams to be among your finest physical assets? Well then by all means, don't hide them under a midi dress – at least not all the time and certainly not during this exceedingly hot summer! 
Now:
I'm not suggesting that you go around in a Daisy Duke getup. Among the short shorts I have observed this summer, I have come to the conclusion that there are definitely Dos and Don'ts when it comes to wearing short shorts. Let me share some advice I gleaned while style-watching, particularly in New York City and Milan.
Do:
Wear cuffed denim shorts. The cuff detail is minimal but adds more interest (style) and polish. It also keeps a snug hem from appearing to dig into the leg. 
Do:
Wear your short shorts with something which adds to your style quotient. I'm talking about the star-spangled Chuck Taylors (to the left, below) or the faded denim jacket to the right of her. The muse to the far right makes cutoffs and the 90s overall-with-one-strap-down thing work! Savvy coordination – retro red headband, clean white tee, and black gladiator sandals – makes for a virtually timeless look.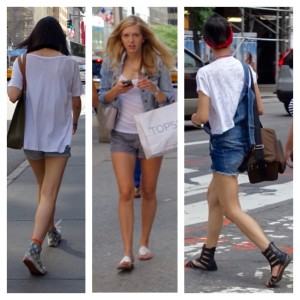 Don't:
Wear shorts which cut into your thighs.

Wear a crop top with regular shorts

.

Wear a fitted top with fitted shorts – either tucked in or cropped – and unremarkable shoes.

Wear light-colored high-waisted shorts with a tucked-in white fitted short-sleeved tee and white sneakers. There is such thing as boringly retro, and if you have an inverted triangle body shape, your proportions might not look balanced.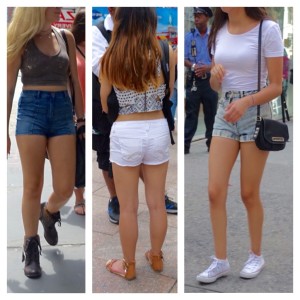 Do:
Wear a messy bun with a tank in a vibrant hue, cuffed shorts, and multi-colored, sporty watch: subtly tasteful!

Light-colored shorts with a neat, white sleeveless top, and metallic thong sandals – a nice feminine touch – it especially works on a petite, girlish figure.
Do:
Walk with confidence in your short shorts (or short skirt). Of course, it's even easier in a posse! 🙂
Do:
Wear patterned shorts with an untucked white tee, cool shades, black designer handbag, and black oxford sandals (love them!) 

Wear bright-colored shorts with an untucked white tank, stylish sneakers, and anything-but-blasé handbag.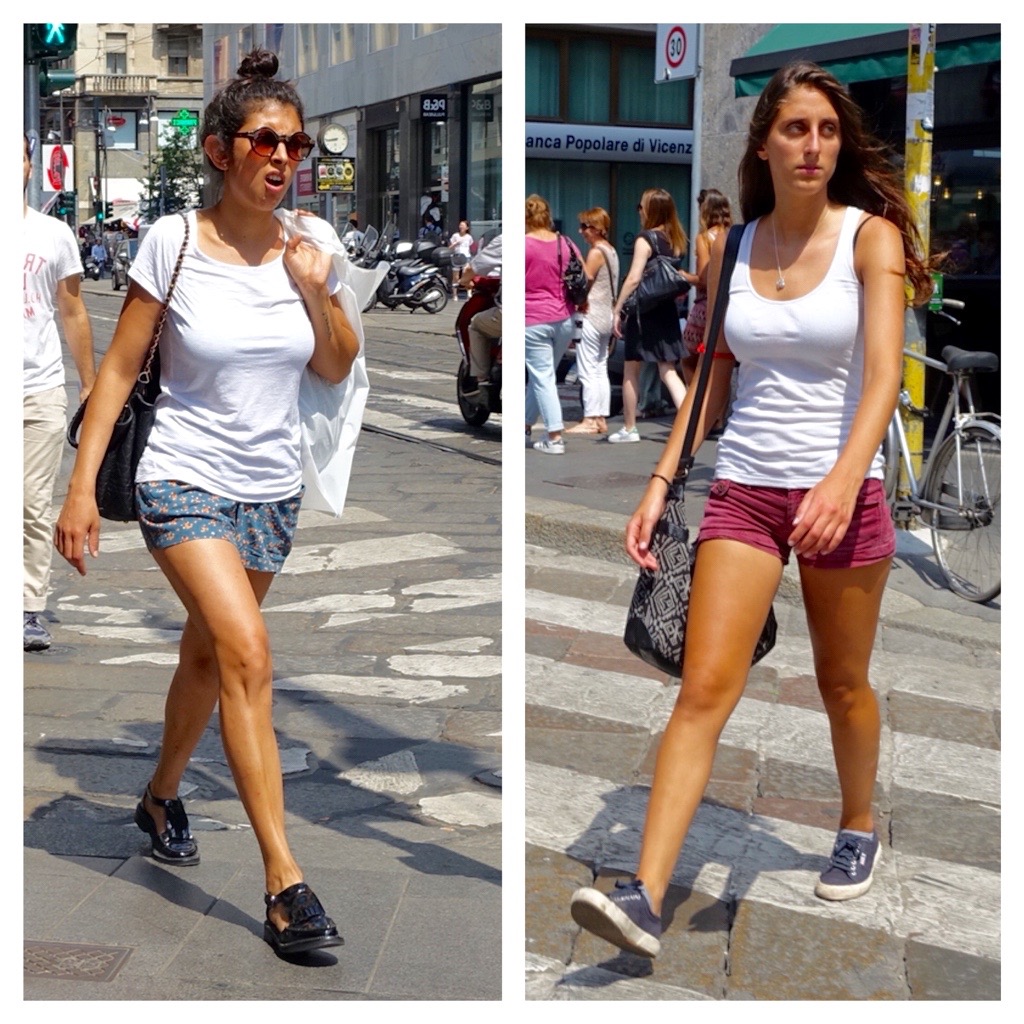 Do:
Play up contrast, pairing ripped cutoffs with a gauzy, flouncy, ruffled off-the-shoulder top – while matching accessories: beige hat with black border and beige sandals with black straps.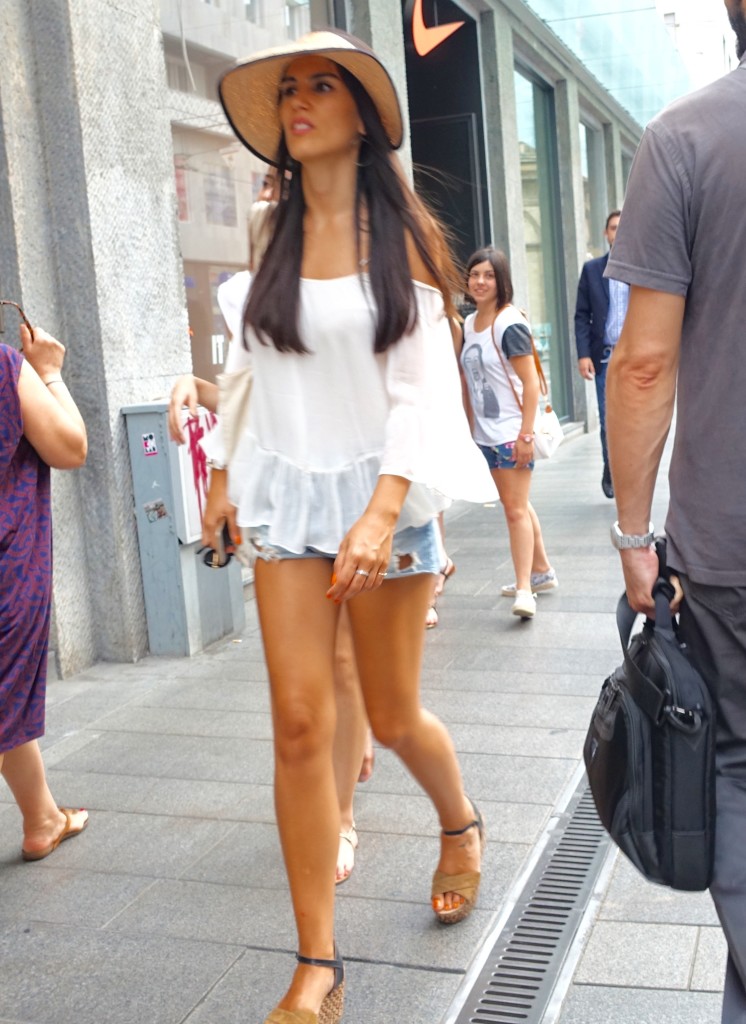 Whether you are in New York where styles tend to be more urban, edgy, sometimes a bit gritty, or in Milan where even casual looks are wonderfully coordinated for balance, interest, and taste, short shorts can be a stylish answer to hot summer days in the city. What's your favorite way to wear short shorts?
XO, Janea
---
☀️