About this time of year, I go crazy over boots. Whether they are sassy, sophisticated, provocative or simply warm, there is a style for every woman or you could say, every mood. The streets of San Francisco are replete with awesome boot muses. Hope the ones featured below inspire and spark ideas for you as they have for me.
Part Two: Tall boots!
Long and sleek, tall boots have a few advantages over booties. For one, they often give you – I mean, your legs – a longer line. Wrapping feet and calves in leather, so to speak, also provides a heck of a lot more insulation from the cold, especially if you have your heart set on wearing a short dress or skirt with bare legs. Plus, they look amazing with tucked in leggings or skinny pants.
Feeling a little bohemian? The boots pictured below fit that spirit, especially with a pair of ripped jeans and mod cap.
The next look (below) is clean and simple. Notice how the light color of the boots – especially next to dark denim – draw your eye toward them? A large, even brighter colored scarf does an excellent job of balancing out the look by drawing attention back up to this muse's face.

Skinny jeans are the best thing to come along for boot aficionados since the "boot cut", don't you agree? And wearing them tucked into a slim fitting boot is oh-so sleek and sexy.

Bagginess at the knees is not hot. Skinny pants should fit well all the way to the ankle in order to avoid this; it also helps if the fabric of your jeans/pants is stretchy and your boots zip rather than requiring pulling.
Brown boots with black leggings is a popular look on the streets and is often a winner. For curvier women, it can be tricky pulling off a color contrast between boot and pants, something which clearly breaks up the silhouette. For those who dare, it is most flattering to wear a boot which rises all the way to the knee. The boots pictured below end pretty much at the calf (widest part of the leg), thus widening the appearance of the whole leg.

If you are blessed with – or work hard for – relatively slender legs, contrasting your boots with leggings or pants can look awesome. Since boots appear "weighty", a scarf is an excellent way to visually create balance.

 Or you can simply wear on top, a crazy leopard print jacket!

As seen below, the most flattering pant-boot combination is of course, all black.

Yes, pants tucked into boots are super cool, but I have to say I am an even bigger fan of another look: boots with bare legs and a short hem dress or skirt. If you're into leg lengthening like I am, some great ideas I've seen on the streets are to 1) pair boots and/or skirts matching your skin tone and/or 2) stick with black. Higher heels and pointy toes obviously extend the vertical line, as do fitted black over-the-knee boots.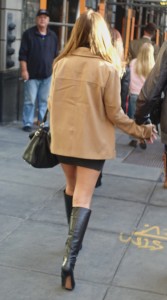 A short hemline can also be paired successfully with over-the-knee boots if you take care not to slip into "trashy" territory. Wearing an otherwise conservatively cut dress or skirt and avoiding skyscraper stiletto "pleather" boots can help ensure it is a sexy rather than slutty look. Opaque hosiery or tights can also help to keep the look from going over-the-top.
There is one more boot disaster in my opinion (apart from jeans bagging at the knees and tacky pairings of ultra high boots with short skirts). Socks with tall boots seriously do not tickle my fancy. While in my last post I featured a photo of great sock-booty pairing, a couple images below show not so attractive (in my opinion) socks hovering over tall boots.
Although I'm not a fan of wearing boots with socks, wearing them with stockings/tights is a wonderful way to insulate your gams from cool winds and rain. Notice the way a black skirt/dress, black tights and black boots assist in giving the impression of extra long legs?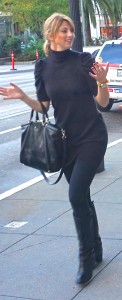 As my final boot illustration, I wish to include an exceptionally noteworthy pair of footwear. I like to refer to them as "boots on blocks". I spotted them in a matinee ticket line for the San Francisco symphony. Totally radical! 
I hope you are inspired by these examples of great boot looks in San Francisco and have come up with new ideas on how to wear boots to fit your personality or looks you might care to adopt. Although I have pointed out my preferences, I would like to invite you to share with me your favorite boot looks. Feel free to leave a comment below to start a conversation about which are your most or least favorites.